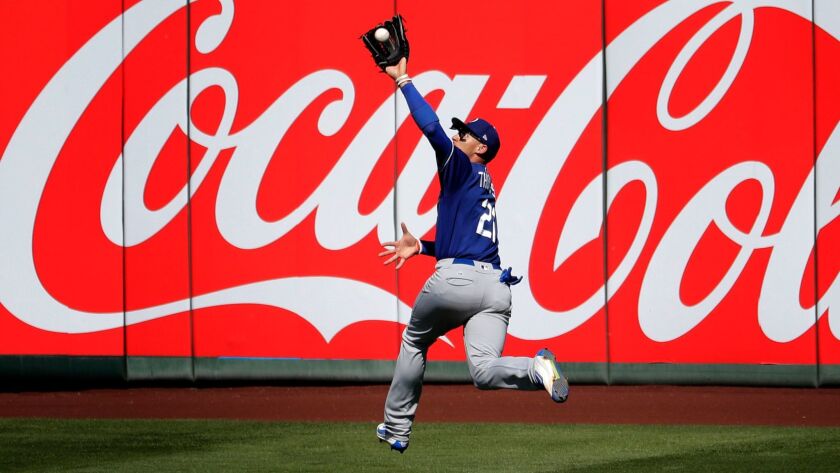 The Dodgers are 1-0. They are on pace, no joke, for the greatest season in the history of baseball.
Yes, it is early in 2017, but the Dodgers did trounce the Padres on opening day. After three more games against San Diego, the team hits the road for an intriguing road trip, facing the Rockies and the Cubs.
Until then, let's answer a few questions. You can send me questions on Twitter @McCulloughTimes. Let's do this.
Why was Trayce Thompson sent down? Until the injury last year he was arguably their best outfielder.

— Rick Acosta (@Rickac99) April 2, 2017
Trayce Thompson crushed the baseball during the first two months of the season. At the end of May, he was hitting .266 with an .847 on-base plus slugging percentage. By the end of June, he had hit 12 homers. But he was also dealing with a fracture in his back, which ended his season in the second week of July and led to his minor-league demotion to start 2017.
Because Thompson missed such a sizable portion of 2016, the Dodgers felt he could benefit from daily at-bats. At the major-league level, there aren't many of those at-bats available to him. Andrew Toles is a better option against right-handed pitchers. The team is willing to give Yasiel Puig yet another chance to face right-handers too. And when a left-hander takes the mound, the team already has Puig in right and Franklin Gutierrez in left, with the Dodgers curious to see how Pederson fares against southpaws.
In terms of his development, and his readiness for later in the season if an injury creates an opening, it makes sense for Thompson to play every day in Oklahoma City and reacclimate himself to facing live pitching. He would not have that opportunity in the majors.
If Chris Taylor can hold down CF and keep producing in OKC, will the dodgers send Kiké down to have him as the utility player?

— megan garcia (@garciamegan_) April 2, 2017
I received many questions wondering about the team's wisdom in keeping Enrique Hernandez over Chris Taylor, which leads to an axiom that I've decided to coin right now: When you're kvetching about the 25th man on your team's roster, you probably root for a very good baseball team.
There is a simple reason why the Dodgers chose Hernandez over Taylor: Hernandez can play both shortstop and center field, while Taylor cannot. Taylor gave a good-faith effort this spring, but he appeared overmatched in the outfield, according to some rival talent evaluators who saw him. This is not surprising, given his unfamiliarity with an exceedingly difficult position.
Hernandez is not Willie Mays in center field and he is not Ozzie Smith at shortstop (scouts view Taylor as a better shortstop), but he can handle both in a pinch. Which, essentially, is how often he will be used. Corey Seager is going to play 150 games or more at shortstop. Joc Pederson, as previously mentioned, will see more time against left-handed pitchers.
So if Taylor, who made some adjustments to his swing, has truly improved his ability to hit, he can showcase that on a regular basis in Oklahoma City. And he'll also get chances to play games in center field. It is hard to imagine the Dodgers being willing to start him in center in a major-league context just yet. But perhaps he can change their mind as the season progresses.
Would Alex Wood or Ross Stripling not be more valuable as trade chips to a buyer seeking a SP than as Dodgers mid-reliever swing guy?

— John K. Emelianoff (@JohnEmelianoff) April 2, 2017
I understand the point you're making, and Alex Wood and Ross Stripling would have plenty of value on the trade market. But it is misguided to assume the arrangement of the pitching staff will be static for the entirety of the season. Both Wood and Stripling will make starts for the team this season. Those outings could come as soon as this month.
Trading from a pitching surplus always sounds appealing, but teams often exhibit caution due to the fear of injuries decimating the staff. And at this point, it's unclear what the Dodgers would even trade those players for. The farm system is already well-stocked. The big-league infield is set. They could use a right-handed bat in the outfield, but they're going to give Yasiel Puig more time to prove himself. So, what, you trade those guys for . . . more pitching? It makes more sense to hang onto the assets and wait for opportunities to use them in higher-leverage moments. Those moments will arrive soon enough.
By the way, as a thought experiment on Monday, I asked a few people around the game on how many teams would Alex Wood be the opening day starter. The number was surprisingly high: A consensus of six.
Marlins (Edinson Volquez)
Brewers (Junior Guerra)
Reds (Scott Feldman)
Padres (Jhoulys Chacin)
Angels (Ricky Nolasco)
Athletics (Kendall Gravemen)
Based on tweets, letters and other communications you get, what is the biggest misconception fans have about the Dodgers?

— Clay Landon (@TheMrLandon) April 2, 2017
The biggest misconception is that the starting rotation is suspect. It is not the greatest strength of the team — that would be the team's slugging ability — but it is not much of a weakness. The unit finished sixth in the majors in ERA last season, and did so with Clayton Kershaw sitting out for nearly three months.
I can see why fans lack faith in the rotation. The group does not have the star power of the Mets rotation. It cannot mimic the stability of the Cubs rotation. There aren't four starters who could pitch a complete game every night, like the Giants have.
But, as they showed last year, the Dodgers have more depth than any of these teams. They still have Kershaw. They expect a full season, or some sizable fraction of a full season, from Rich Hill. Julio Urias will throw more innings in 2017. Kenta Maeda will feel more comfortable. Hyun-Jin Ryu is a lottery ticket with an impressive resume back when he was healthy. There is plenty to like about the group. It is not a weakness.
Who gets sent out when Pedro Baez comes off DL

— Joe Elder (@krakerlover) April 3, 2017
I hope to do this mailbag every week during the season. And I expect to receive a version of this question in every mailbag. And I intend to answer every version of this question the same way: It depends.
It depends on who is healthy. It depends on who is pitching well. It depends on who has options. It depends on what the team needs.
My guess is Ross Stripling will be the man exchanged for Pedro Baez next week, but I have no earthly way of knowing this with any certainty, and neither do the Dodgers. Too much can happen between then and now to make this prediction worthless.
So, it depends.
Or, a better answer: I don't know.
any chance bellinger comes up before sept?

— LABUM (@DatLaBum) April 3, 2017
There is a good chance Cody Bellinger makes his big-league debut this season. Whether he arrives before September, when the rosters expand, depends a lot more on the health of the major-league outfield than it does on how Bellinger hits for triple-A Oklahoma City. It is hard to imagine a world in which Bellinger, no matter how well he is playing in the minors, displaces Adrian Gonzalez at first base, so long as Gonzalez maintains his usual production. Bellinger could crack the outfield, though, if an opening arises.
Sometimes, yes.
You taking July 1-2 off for the NJPW shows in Long Beach?

— Rich (@rcoop21) April 2, 2017
I will not be there. The Dodgers play in San Diego that weekend, and I planned to use some days off to play in the World Series of Poker later that week.
If you had a walk up song, what would it be? Can @DougPadilla play this song every time you walk into the press box?

— Andres Loera (@andresmloera) April 4, 2017
It is important to differentiate between walkup songs for hitters, warmup songs for starters and entrance songs for relievers.
With that in mind:
Walkup songs
Brand New — "Gasoline"
Gary Clark Jr. — "Bright Lights"
Cymbals Eat Guitars — "Chambers"
Warmup songs
Alexisonfire — "The Northern"
Kid Cudi — "Up, Up And Away"
letlive. — "Muther"
Entrance songs
My Morning Jacket — "One Big Holiday"
H.I.M. — "Pretending"
Deep Purple — "Perfect Strangers"
Do u think Dodgrrs will be interested in Royals free agents? Esky leading off there soon?

— Chris (@bballkansas) April 2, 2017
If the Dodgers sign Alcides Escobar and install him as the leadoff hitter, I will quit the journalism business. That's not because I dislike Escobar, but because that would prove we truly are living in a simulation and I no longer want to subject myself to the vagaries of this reality.
who have you been listening to lately?

— Bernie (@tbdtbh) April 4, 2017
I'm not too proud to admit I've enjoyed the new Drake record. I'd also recommend Moose Blood. I saw them Friday at The Roxy, and they were fantastic. The last record, "Blush," is a compact piece of brilliance. The other two bands who come to mind are 40 Watt Sun and Elbow.
Best wrestling related podcast?

— L.A. Guns (@LAGuns911) April 4, 2017
"Killing The Town with Storm and Cyrus" is my favorite.
Are we really going to get Lesnar v. Reigns at Summerslam?

— Jose Franco (@JoseFranco_) April 3, 2017
I don't think so. Summerslam is the biggest show of the year for the hardcore fans, and they probably wouldn't risk the dreadful feedback for a match like that.
They will probably use that match to headline Wrestlemania 34, though.
Both shows on WM weekend shows were good. 3 favorite matches of the Weekend(Nxt or Mania)?

— Tyler McAndrew (@TylerMcAndrew) April 3, 2017
3. Shinsuke Nakamura v. Bobby Roode
2. Brock Lesnar v. Goldberg
1. The Authors of Pain v. The Revival v. D.I.Y.
It was a good weekend for wrestling. You can quibble with some of the things on the Wrestlemania card — Rollins v. Triple H was a dud, I have no idea why they put the title on Bray Wyatt to job him out in his first defense, and the company still has no clue how to use Roman Reigns — but I enjoyed some of the matches and will remember several of the moments. It was fun! That's the point of watching wrestling, I suppose.
Twitter: @McCulloughTimes
MORE DODGERS NEWS
Dodgers deliver a message in opening-day thumping of Padres
Joe Davis replaces Vin Scully in Dodgers broadcast booth and delivers
Behind the scenes with Vin Scully on opening day of his retirement
---