Dodgers' Clayton Kershaw is roughed up by Marlins, 6-3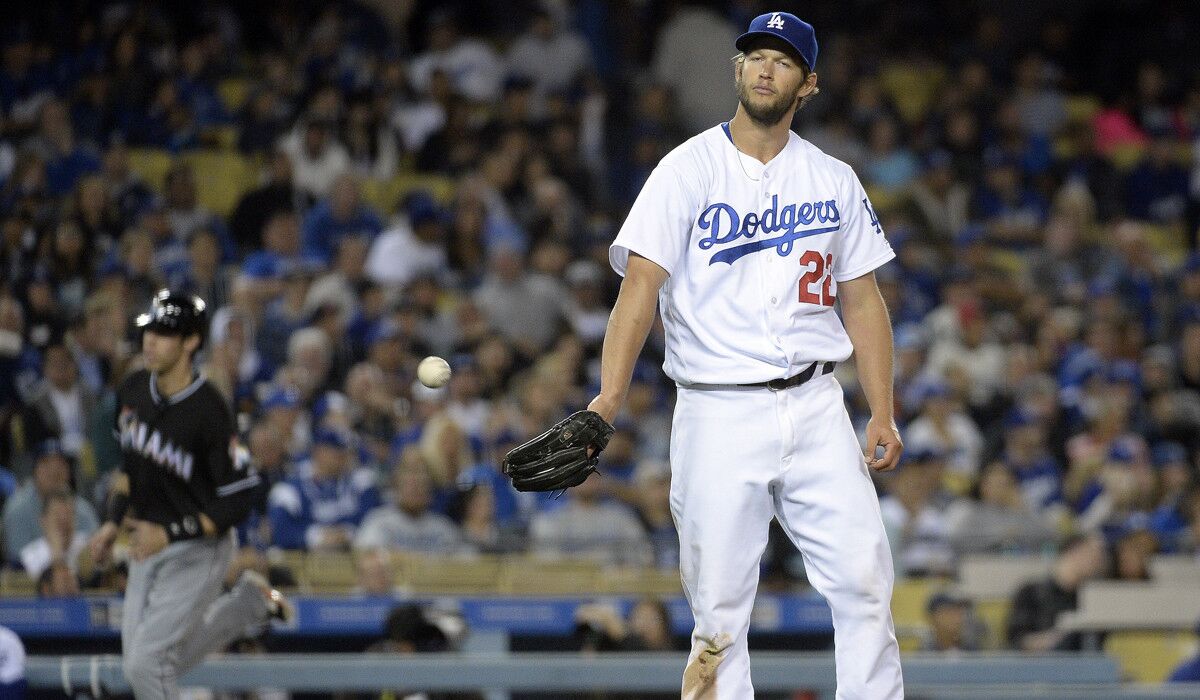 Anything can happen, or so the cliche goes, but this?
There are a scattering of events at our venerable ballpark that would pretty much defy belief: a corporate name slapped on Dodger Stadium, free Dodger Dogs for all, and Clayton Kershaw giving up five hits in a row.
Scratch that last one. Hits happen.
See the most-read stories in Sports this hour>>
They happened to Kershaw on Tuesday, in a hurry. Never in his distinguished career had he yielded five straight hits, not even in that eight-run playoff inning against the St. Louis Cardinals here two years ago.
After five dominant innings Tuesday, the Miami Marlins ripped Kershaw for five consecutive hits in the sixth inning. The last of those hits, a three-run home run from Giancarlo Stanton, capped a five-run rally and clinched the Marlins' 6-3 victory over the Dodgers.
Kershaw said he felt no different in the sixth inning than he did in the first five.
"I didn't really lose it in the sixth," he said. "I just gave up some hits."
Stanton, who played at Sherman Oaks Notre Dame High, has homered in each of the first two games of the series and driven in five of the Marlins' nine runs. The Dodgers have three RBI in the series.
In his first 35 innings this season, Kershaw had given up five earned runs. In that sixth inning, his 36th of the season, he gave up five earned runs.
"Everything you're not supposed to do, I did," he said.
His accounting: He gave up two hits with two strikes, he failed to field a comebacker cleanly or get out of its way, and he missed his intended location to Stanton, perhaps the best pure power hitter in the league.
"He makes you pay for stuff like that," Kershaw said.
Kershaw had overpowered the Marlins in the first five innings, so much so that he was one misplayed fly ball from a no-hitter. He had struck out eight. He had walked none.
"He was dominating," Stanton said. "You got a sense he was going to take the game and call it a night."
He had two hits, one more than the Marlins at that point. In his first at-bat, he bluffed a bunt, pulled his bat back and slashed a single past the drawn-in third baseman. In his second at-bat, he doubled home a run with a one-hopper off the wall in right-center field.
"He probably had the best at-bats for us all night," Manager Dave Roberts said.
The Dodgers could hardly have asked for a 3-0 lead to be more secure. Kershaw was cruising, Kenley Jansen was rested, and they had but 12 outs to get.
Kershaw got the first of those outs, a line drive. The next batter, ex-Dodger Miguel Rojas, flared a double over third base. The next, Dee Gordon, got an infield single on a comebacker deflected by Kershaw.
In the next 10 pitches, the shutout and the lead vanished — an RBI single rolled up the middle by Martin Prado to end the shutout, an RBI line single by Christian Yelich and that home run from Stanton, to center field.
In that one inning, Kershaw's earned-run average went from 1.29 to 2.50. But the hits came so quickly, and some with such little authority, that Roberts said bringing in a reliever "wasn't even a consideration."
Had the Dodgers supported Kershaw, he might have survived the rocky inning. The Dodgers got two runs off Tom Koehler in the first inning on three walks, two wild pitches and an error. Koehler lasted five innings.
Follow Bill Shaikin on Twitter @BillShaikin
Get our Dodgers Dugout newsletter for insights, news and much more.
You may occasionally receive promotional content from the Los Angeles Times.