Walker Buehler throws heat at Miami in Dodgers' 2-1 win over Marlins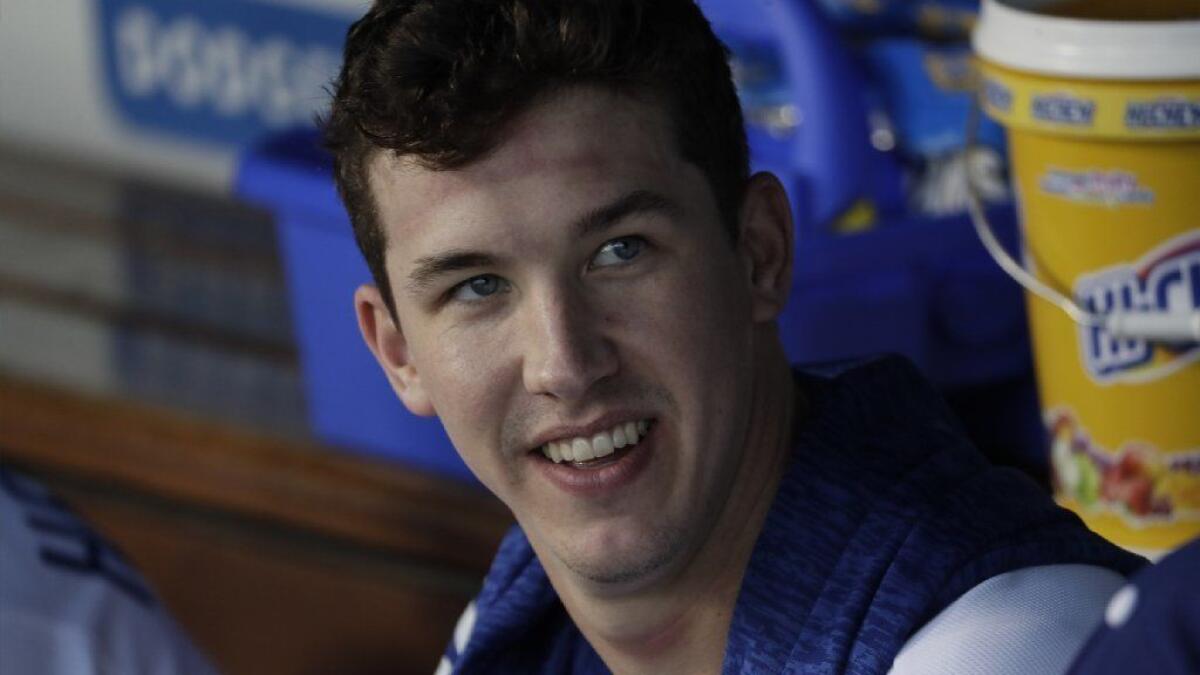 The jewel of the Dodgers farm system steadied himself in the center of their ballpark. Walker Buehler cradled a baseball in his right hand and tucked it inside his glove. He exhaled as he prepared to throw the first pitch of the first start of his career. Buehler went still; Dodger Stadium went silent.
On the mound, Buehler's mother will admit, "he's not physically intimidating." He has yet to find a diet capable of hanging more than 175 pounds on his 6-foot-2 frame. He loped onto the diamond before Monday's first pitch like a fawn leading the herd.
And then the baseball left his hand.
The radar gun registered the result, a speed unlike those created by the other starters in the Dodgers rotation. Buehler's first fastball of the night clocked at 98.3 mph. His last of the first inning hit 99 mph. His final fastball of the evening arrived at 95.7 mph. In between, he strung together five scoreless innings in a 2-1 victory over the Miami Marlins, demonstrating the limitations of a 23-year-old rookie while displaying the allure of his ability.
"We still can't figure it out," said Karen Walker, Buehler's mother, on the phone from Lexington, Ky., on Monday afternoon. "I just truly believe it's a gift. It doesn't physically make sense to a lot of people."
At Vanderbilt University, Buehler's teammates called him "Bluegrass Slim" or "Kentucky Slim." As a professional pitcher, Dodgers officials identified him as an analogue to former San Francisco ace Tim Lincecum. In the context of the 2018 season, which Buehler entered on Monday, he represents the latest rookie to bolster the Dodgers' roster and a potential starter for this October.
Buehler was the first player drafted in 2015 under the regime of Dodgers president of baseball operations Andrew Friedman. He underwent Tommy John surgery soon after the Dodgers selected him. He debuted as a reliever last September, but could play a larger role this year. His usage will be monitored with care, as Buehler is not expected to pitch much more than 150 innings in 2018.
The assignment on Monday arose from an injury. Buehler arrived from triple-A Oklahoma City to fill a void created by the cracked nail on Rich Hill's left middle finger. Buehler will likely start again during a doubleheader on Saturday in San Francisco. After that, the Dodgers will reevaluate his role.
Buehler made a case to remain in the majors on Monday, although he faced a Marlins roster crafted with losing in mind. Buehler gave up four singles to his tanking opponents and walked three batters, including the opposing pitcher, Jarlin Garcia. He survived by generating a flurry of groundballs and striking out five.
"In a situation like this, it would be great to dominate," Buehler said. "But to put up zeros and come out of the game unscathed is the biggest thing. The more and more comfortable you get up here, the fastball command will come."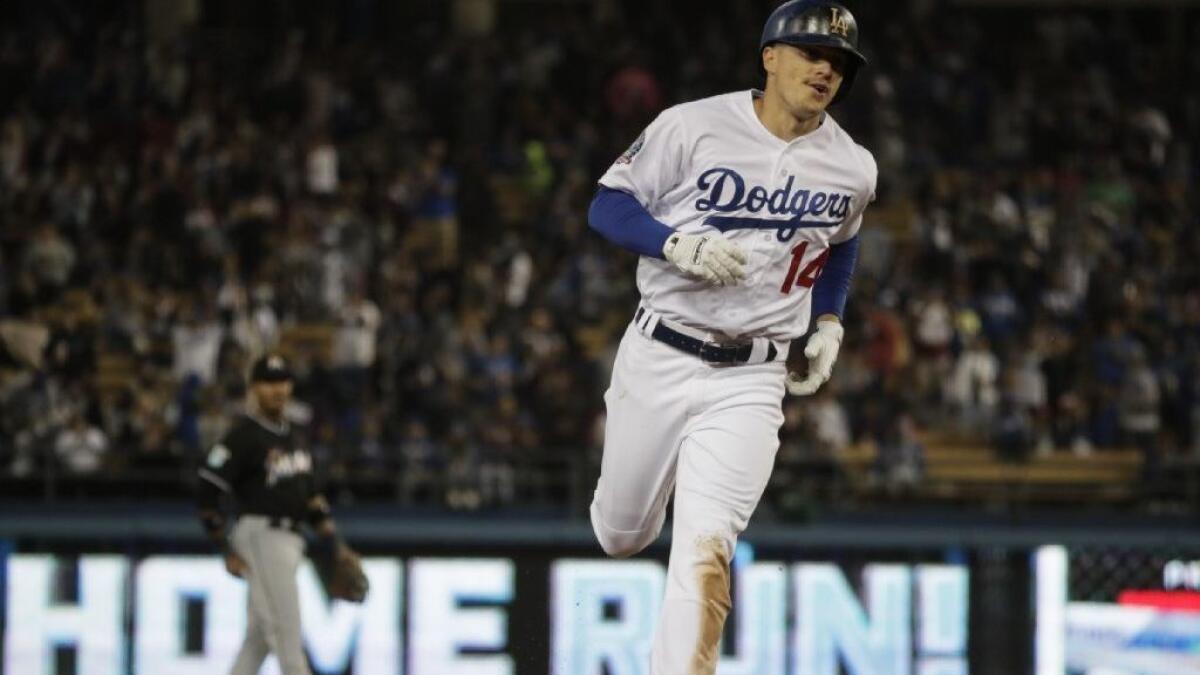 The Dodgers (11-10) secured their seventh victory in eight games as Enrique Hernandez blasted a solo homer in the fourth. J.T. Chargois surrendered the lead in the eighth after Austin Barnes made an error at second base. After Chris Taylor opened the bottom of the inning with a double, he scored on a sacrifice fly by Cody Bellinger. The late-game drama only prevented Buehler from finishing his first big league start as a winner.
"We expect a lot out of him," Hernandez said. "Not too often you get drafted in the first round knowing you need Tommy John. This kid must be a stud."
Before he tore his ulnar collateral ligament in college, "honestly, everything growing up came easily for Walker," his mother said. As a kid, he won home run derbies and led his Little League division in strikeouts. He did well in class. He played quarterback on youth football teams. He could throw three pitches for a strike in high school and he could "hit the absolute crap out of a golf ball," said Jordan Tarrence, his baseball coach at Henry Clay High. "Makes you mad."
After turning down a 14th-round offer from the Pittsburgh Pirates, Buehler started as a freshman for the Commodores and helped win the College World Series as a sophomore. He felt discomfort in his elbow as a junior, but the severity of the damage was unknown until an examination by Dodgers team doctor Neal ElAttrache.
Buehler accepted a bonus worth about $300,000 less than expected from his draft slot, underwent surgery and disappeared into the tedium of rehabilitation.
"He had to work to get it back," Walker said. "Realizing that it all could be gone that quickly really refocused him and reinvigorated him."
Buehler appeared in only three games in 2016. He started last season with Class-A Rancho Cucamonga. His ascent from the California League to the majors was quick. His fastball blazed, but Buehler failed to secure a spot as a reliever on the playoff roster, posting a 7.71 earned-run average in eight appearances.
The stumble did not shake Buehler's confidence. During the winter, he visited Clayton Kershaw's home outside Dallas to watch how the Dodgers ace works out. As the season dawned, Baseball America rated Buehler the game's No. 13 prospect.
"He's stubborn, but it's a good thing," Kershaw said. "He's had so much success his whole life, he's not just going to change because somebody says he needs to change."
Buehler looked at ease on Monday afternoon. He crouched inside a locker to chat with Hill. He leaned back in his chair by his locker as Tom Koehler stopped by. After warming up in the bullpen, Buehler joked with Grandal as they walked toward the Dodgers dugout.
Manager Dave Roberts did not hide Buehler's restrictions. Buehler had not thrown more than 80 pitches in three minor-league starts. He threw 89 on Monday, the highest total of his professional career. Miami forced Buehler to throw first-pitch strikes and spoiled his two-strike choices.
In the first inning, Buehler zipped a 98.6-mph fastball past Marlins third baseman Brian Anderson for his first strikeout. After walking outfielder Cameron Maybin to load the bases, he pumped a 99-mph heater by former Angel J.B. Shuck to end the inning. The frame required 26 pitches.
"He just feels he can make a pitch when he needs to make a pitch," Roberts said. "He doesn't scare off."
Buehler struck out two in the second but walked Garcia. He picked up three outs on 11 pitches in the third. An inning later, Shuck became the first Marlin to hit the ball in the air. A single by catcher J.T. Realmuto extended the fifth inning. Buehler finished his night by flinging fastballs at second baseman Starlin Castro, who hit one into the ground for the final out of the fifth. A bevy of handshakes and congratulations awaited Buehler in his dugout.
"He's pretty confident, pretty cocky," Hernandez said. "We kind of like his attitude, sometimes. He was electric."
Twitter: @McCulloughTimes
Get our Dodgers Dugout newsletter for insights, news and much more.
You may occasionally receive promotional content from the Los Angeles Times.