In the sixth inning Tuesday night, Trayce Thompson clambered off the bench, grabbed a bat and walked into an indoor cage on the ground floor of Dodger Stadium. He occupies a reserve role on these Dodgers, a designation he called "the toughest thing I've had to do in my career, easily," and he is still learning to adjust to the rigors of part-time play.
Thompson took about 20 swings inside the cage. Then he waited for Manager Dave Roberts to call his name. The preparation readied him for three innings later, when he stepped into the batter's box as a pinch-hitter with two outs in the ninth inning. He crushed a 96-mph fastball from New York Mets reliever Hansel Robles into the left-field bleachers to deliver a walk-off 3-2 victory.
"He's a tireless worker," Roberts said. "And he's got a lot of strength."
See the most-read stories in Sports this hour>>
Thompson displayed both qualities Tuesday. His late-game blast electrified his teammates, who had spent the previous eight innings stranding seven runners and failing to capitalize on opportunities against Mets starter Jacob deGrom.
A gleeful group greeted Thompson as he rounded third base. It was the first walk-off home run of his career. Justin Turner doused him with a bucket of water.
"That was exciting," Thompson said. "I'm just happy to get a win."
Roberts saw plenty of reasons for optimism. Alex Wood struck out nine across 61/3 innings of two-run baseball. The bullpen kept the Mets quiet after Wood departed. Yasiel Puig and Adrian Gonzalez had a series of encouraging at-bats. Corey Seager provided a pair of doubles, then thrilled in Thompson's big swing.
"We couldn't seem to get that one big hit we were looking for all night," Seager said. "But we got it in the ninth, though. That's what counts."
For those prone to deja vu, the game bore more than a passing resemblance to the fifth game of last October's National League division series. The Dodgers were not fooled by deGrom. But they failed to punish him for his mistakes.
Chase Utley opened the bottom of the first with a double. Seager scored him with a double. Roberts had tweaked his lineup before the game and dropped Puig to the No. 7 spot for the first time in 2016. But he stuck with third baseman Turner and first baseman Gonzalez in the heart of the order.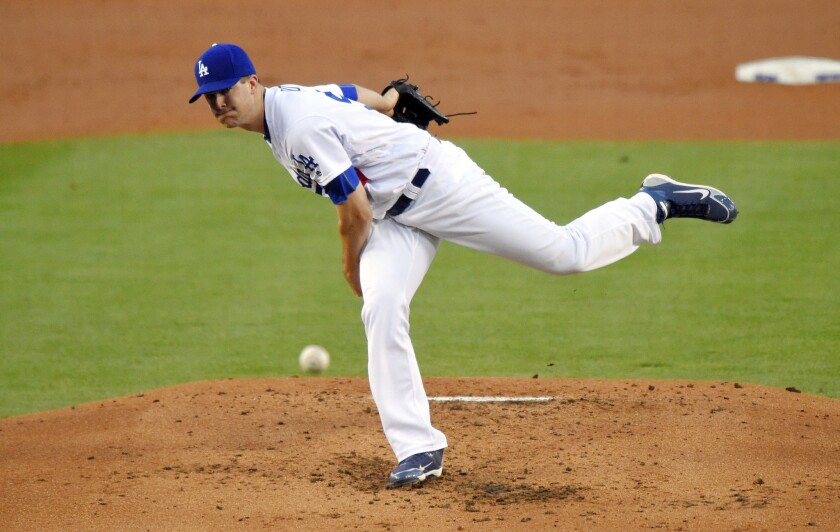 Neither Turner nor Gonzalez followed with a hit, but each contributed to another run. Turner advanced Seager to third with a grounder. Gonzalez hit a sacrifice fly.
From there, deGrom managed to make a series of escapes. He stranded two in the second and two more in the third. He scattered eight hits across seven innings.
"We hit him hard in the playoffs, and just had no luck against him," Seager said. "So scratching off runs against him early was nice, but then it kind of went back to the same thing. We had some good swings on him, got some guys on, hit some balls hard, but we couldn't put any runs across."
Wood kept the game deadlocked. He wobbled in the second after a rally created by three singles and a throwing error by Utley. After that, he steadied himself and did not allow a runner to reach second base again.
"It's just been about executing pitches," Wood said. "I feel like I've been able to do that lately."
As Wood dealt, Thompson idled on the bench. He activated himself during the later innings. During the past two weeks, he made a pair of tweaks. Working with hitting coaches, he narrowed his stance to stop missing fastballs. Working with the game's embrace of the superstitious, he shaved his head.
His results began to turn. Thompson hit three home runs in his previous nine games before Tuesday. He provided the team's only offense Monday with a two-run shot.
As he came to the plate Tuesday, he expected heat from Robles. Even so, he passed on a pair of fastballs at the start. He did not pass on a 2-and-2 offering at the belt.
"I want to be a guy that the coaches can count on, be confident in, and have the confidence of my teammates," he said. "I'm happy I came through this time."
Follow Andy McCullough on Twitter @McCulloughTimes
---