Column: Dodgers hope they won't be left longing after long day at office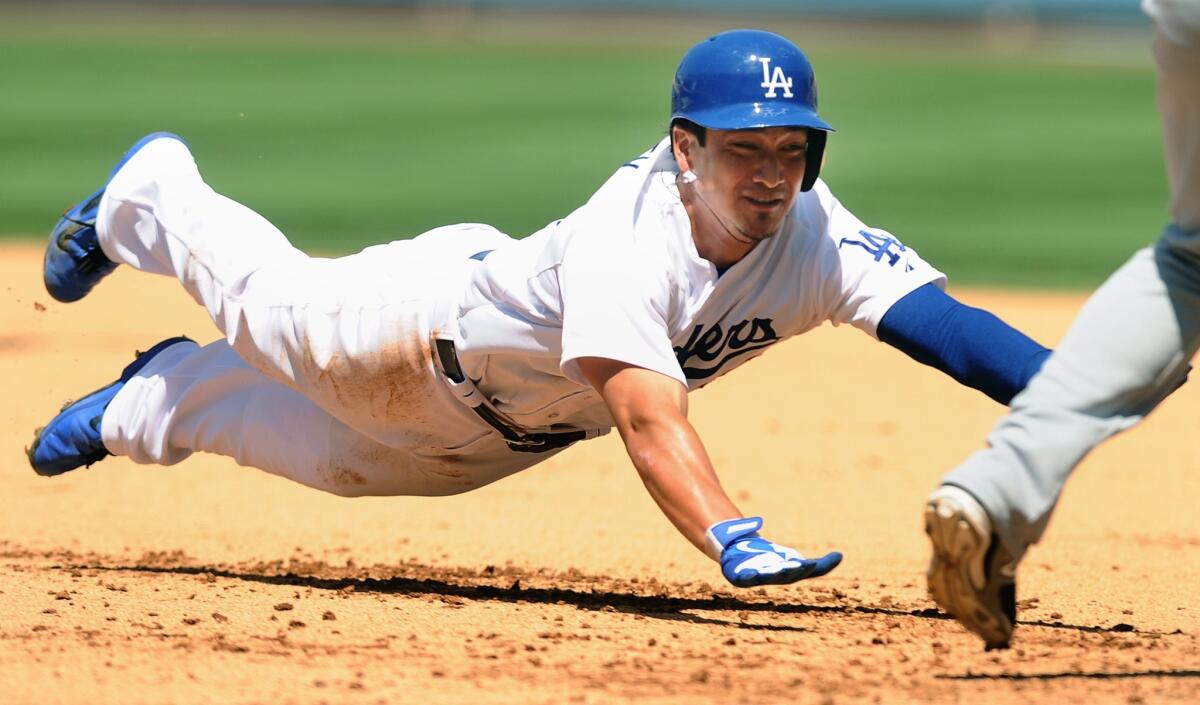 Call it dramatic.
"It was a roller coaster ride. Ups and downs," left fielder Carl Crawford said of the Dodgers' 8-5, 14-inning loss to the Washington Nationals on Wednesday, a game that took five hours and 34 minutes and every position player on their expanded roster except father-to-be Scott Van Slyke, who was excused early.
"I thought we had it," said Crawford, who tied the score at 5-5 in the 12th with a two-run home run. "I think we had, like, three chances to win it. We just didn't come through."
Call it bizarre.
"I've been in long games, yeah," catcher Tim Federowicz said, "but back and forth like that, I really haven't seen anything like that."
The Dodgers will be happy if they don't see another one like it for a while.
Manager Don Mattingly deployed eight pitchers among the 25 total players at sparsely filled Dodger Stadium, and the teams combined to use 51 players. Washington's Adam LaRoche drove in five runs — and he didn't enter the game until the ninth inning.
All together, the teams used 18 pitchers who threw 467 pitches. Nationals shortstop Ian Desmond was 0 for 7. Third baseman Anthony Rendon was 0 for 6. Dodgers first baseman Adrian Gonzalez was hitless in his first six at-bats before he singled to right-center in a failed comeback attempt in the 14th inning.
Kenley Jansen, entrusted with getting a four-out save, was charged with his first blown save since July 30, emphasizing the Dodgers' lack of a setup guy to get them to their closer. They have four former All-Star closers — Jansen, Brian Wilson, Chris Perez and Brandon League — but lack a bridge guy to take them to the ninth. That missing element could dent their division title hopes, even if their loss on Wednesday was softened by the San Francisco Giants having lost too.
"We win some of these, we lose some of these," Federowicz said. "I think we'll win the majority of these towards the end of the season."
The Dodgers chose to emphasize the positives, even though by the time the game ended they needed cue cards to remember the details of those happy moments.
Mattingly, asked about Carlos Frias' six shutout innings in his first major league start, had to refer to his postgame notes to remember the particulars of Frias' outing.
"So much happened," Mattingly said. "A lot of good things."
Frias' effort surely topped that list, though Mattingly wouldn't commit to giving Frias another start.
Also of note: Third baseman Justin Turner drove in the Dodgers' first two runs with a home run in the seventh inning and helped produce the run that tied it at 3-3 in the ninth with a fly ball that was misplayed by Jayson Werth in right field and allowed Andre Ethier to score from first. Crawford saved his best for the late innings, with a double in the seventh, an infield single in the 11th and his two-out, two-run blast in the 12th.
At least Turner and Crawford are igniting the team. Yasiel Puig isn't. After sitting out on Tuesday, the slumping Puig had two singles in seven at-bats, one of them loading the bases with one out in the 10th. Gonzalez and Juan Uribe ended the threat by striking out.
Turner — batting .439 (18 for 41) in his last 12 games since Aug. 19 with four doubles, two home runs and eight runs batted in — and Crawford, who is 27 for 66 (.409) with two doubles, two home runs and nine RBIs in his last 20 games since Aug. 10 — have successfully picked up the slack.
"We try to take good at-bats and get on base and make things happen," Turner said of himself and Crawford. "That was really good, to see Carl drive a ball to left-center like that. He's been doing it a lot lately in batting practice and to see him drive one to left-center was awesome."
Still, it wasn't enough for the Dodgers to win a bizarre and dramatic game. They can only hope it doesn't also turn out to be the one that got away in a stubbornly tight division race.
Follow Helene Elliott on Twitter @helenenothelen
Get our Dodgers Dugout newsletter for insights, news and much more.
You may occasionally receive promotional content from the Los Angeles Times.