Dodgers want Dave Roberts back next season, but what about Clayton Kershaw, Manny Machado and Hyun-Jin Ryu?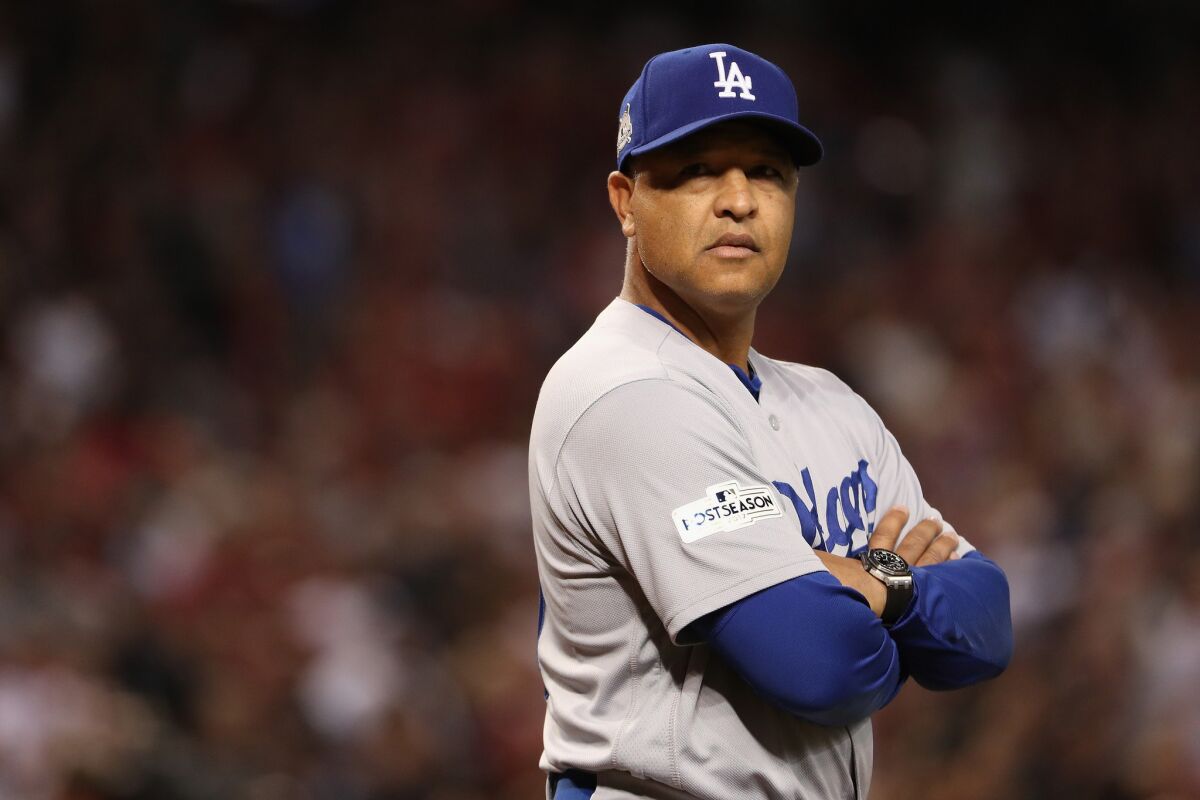 For the second consecutive year, the Dodgers witnessed another team celebrate winning the World Series on their home turf. This October marks the 30th consecutive without a championship for Los Angeles. While there is plenty to digest from the latest heartbreak Sunday, the club's focus now shifts to preventing the drought from reaching 31.
Much of the Dodgers core — a concoction of youngsters and veterans — remains contractually in place for 2019. It has been a successful group. The Dodgers have won six National League West titles in a row. They have advanced to the NL Championship Series three consecutive years. They have claimed the NL pennant in consecutive seasons.
But that core could change this offseason. Before they compete for the franchise's first championship since 1988, the front office must address several questions about the group, beginning with its manager and its ace.
Dave Roberts
The manager faced questions about his future after Sunday's loss, but it appears all but certain he will return for the 2019 season. After Sunday's defeat, Andrew Friedman, the team's president of baseball operations, said the Dodgers intend to give Roberts a long-term contract extension. Roberts' current contract includes a $1.1-million team option for next season that the Dodgers have not exercised.
Roberts was heavily criticized for his work in the Series, notably for his late-game decision making in Game 4, and has fallen short of a championship. But to call his three-year tenure a failure is misguided. No other manager has led the Dodgers to the NLCS three consecutive seasons. He's liked in the clubhouse, deftly handles its personalities, and works well with the club's proactive front office. He is widely regarded as one of the best at his job.
"I do believe that we're doing a lot of good things," Roberts said. "And so for me, like I said, I told you three years ago that it's a dream job for me, and making these men grow and be better men, teammates, mentors, role models in the community, that's a win. That's a big win. And obviously I understand my job is to ultimately lead us to a championship, and we haven't accomplished that yet. But like I said, the whole body of work, I'm proud of what we've done."
Clayton Kershaw
There's a chance, though small, Kershaw pitched his final game as a Dodger on Sunday. Kershaw has two years left on his deal, but he can opt out of it and become a free agent for the first time.
Kershaw revealed in his postgame news conference Sunday that he had three days after the Series to make a decision after previously stating he would have a 10-day window. That means Kershaw will inform the Dodgers this week whether he will bypass the $70.2 million remaining on his pact. Opting out would not necessarily signify Kershaw's Dodgers career is over; the two sides could agree on another longer contract.
"I haven't made the decision yet," Kershaw said. "We have three days to talk, between us and the Dodgers, see what happens. And then we'll go from there."
Injuries have knocked the 30-year-old Kershaw off his peak and forced an overhaul. No longer can the left-hander overwhelm batters with velocity. He relies on guile and pinpoint command to overcome his shrinking margin for error. Yet, Kershaw was still one of the better starters in baseball this season — his 2.73 earned-run average was his highest since 2010 but ranked eighth among starters who logged at least 150 innings.
Kershaw's playoff disappointment is impossible to ignore — he has a 4.32 ERA in 152 playoff innings — but he has remained a top-tier starting pitcher, provides unquantifiable value in the clubhouse, and has served as the franchise's face for a decade. He has been to seven All-Star games. He has won three Cy Young Awards. He has been selected most valuable player. A Series title is all that has eluded him. Envisioning him vying for one somewhere else is difficult.
Manny Machado
While Kershaw and Roberts not returning would qualify as a surprise, that's the expected outcome for the infielder. The understanding was clear from the moment Machado was acquired from the Baltimore Orioles for five prospects during the All-Star break. He was brought in to replace the injured Corey Seager at shortstop and bolster the lineup for the remainder of the season. Seager will return next season and moving Machado to third base, where he played and excelled before this season, is not an option with Justin Turner there. All signs pointed to the 26-year-old Machado joining as a three-month rental before signing a mega contract to play elsewhere.
Machado helped the Dodgers claim the pennant, but his time in Los Angeles was a mixed bag. He was a weapon the Dodgers needed against left-handed pitching, improved defensively at shortstop and was one of two players in the lineup every day. But he didn't produce at the level he established with a tremendous first half in Baltimore and attracted negative attention for his on-field behavior in the playoffs.
"Obviously, it's been a great journey," Machado said Sunday night. "They've welcomed me with open arms. The guys have been great. Front office, staff can't be any better. … I don't know [if I'll return] because it's not up to me. It's not a decision I can make right now. Just remember this moment, remember the great couple months we had here and just see what happens."
Catcher
A year after Austin Barnes supplanted Yasmani Grandal as the Dodgers' starting catcher for the postseason, Grandal was poised to redeem himself before hitting free agency. Instead, he lost his job again to Barnes and didn't retain it despite Barnes' dismal production.
Grandal was only four for 29 at the plate in the postseason, Barnes two for 29. But Barnes was more trustworthy behind the plate than Grandal, who was charged with two passed balls and two errors, including catcher's interference, in his two NLCS starts.
So how will the Dodgers address the position this offseason? They could re-sign Grandal, who headlines the free-agent catching crop. Other options on the market include Wilson Ramos, Kurt Suzuki and Martin Maldonado. A wild-card is J.T. Realmuto of the Miami Marlins, who held on to the 27-year-old catcher last offseason but could trade him for a haul after he continued his ascent with his best season.
As for internal options, the Dodgers could give 23-year-old prospect Will Smith an opportunity to partner with Barnes. Smith spent the final few weeks of the regular season with the big league club, though not on the roster, after posting a .776 OPS between double-A Tulsa and triple-A Oklahoma City. Top prospect Keibert Ruiz is probably a year or two away.
Hyun-Jin Ryu
Kershaw isn't the only veteran Dodgers left-hander facing an uncertain future. Ryu's six-year contract expired, making him a free agent for the first time since arriving from South Korea for the 2013 season.
Ryu's postseason ended with forgettable outings — he gave up nine runs in 7 2/3 innings in his final two starts — but he was stellar for two months after coming off the disabled list in mid-August. He compiled a 1.88 ERA in his nine final regular-season starts and he was rewarded with starting Game 1 of the NLDS instead of Kershaw. He then surrendered two runs in 11 1/3 innings in his first two playoff appearances.
It was a dominant stretch, perhaps the best of Ryu's career, and supplied further evidence that when the 31-year-old Ryu is healthy, he is usually awfully good.He will have plenty of suitors this offseason.
Twitter: @jorgecastillo
Get our Dodgers Dugout newsletter for insights, news and much more.
You may occasionally receive promotional content from the Los Angeles Times.