Dodgers announce Ryu, not Kershaw, will start Game 1 against the Braves in the NLDS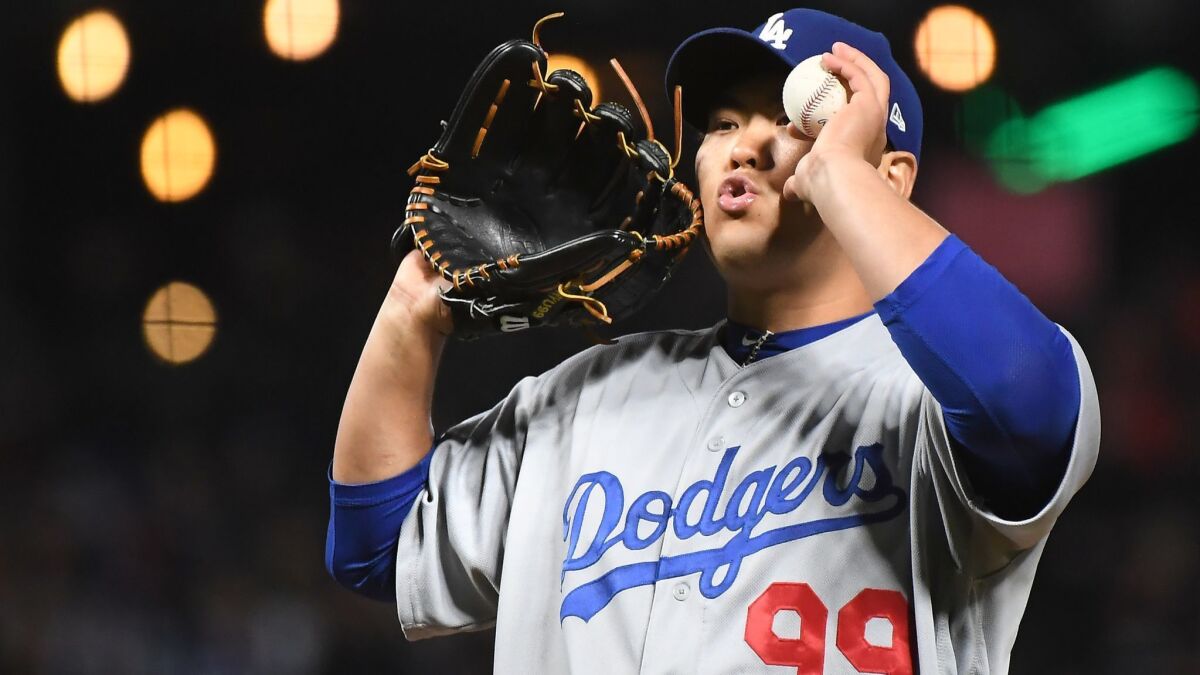 For five seasons, as the Dodgers dominated the National League West in the regular season, the team built its October blueprint around the left arm of Clayton Kershaw. He was the ace of their staff and the anchor of their roster. He pitched whenever possible — during one series in 2016, he threw Game 4 on short rest and closed Game 5 two days later. He was the sun around which the team orbited.
This year will be different.
On Tuesday evening, two days before Game 1 of the National League Division Series against Atlanta, the Dodgers made a stunning announcement: Hyun-Jin Ryu, and not Kershaw, would start Game 1. Kershaw would start Game 2, with Walker Buehler and Rich Hill lined up for the next two games.
The decision followed a troubling month for Kershaw (9-5, 2.73 ERA) and a tremendous one for Ryu (7-3, 1.97 ERA), The team altered its rotation in order to accommodate both. By swapping the two pitchers, Ryu will be able to pitch on five days of rest, rather than six, while Kershaw will receive a fifth day of rest before his outing.
Both pitchers will be available for a potential Game 5 next Wednesday. The Dodgers would not have made this move if the Game 2 starter couldn't start Game 5, according to people close to the team. With Buehler unavailable for the start of this series after pitching Game 163 against Colorado on Monday, team officials still view Kershaw as the best option for an elimination game.
On the eve of potentially reaching free agency, Kershaw stumbled through the final month of the regular season. In six outings, he yielded 18 runs, 16 of them earned. His 3.89 ERA was his highest in a single month since his 3.97 ERA in May 2015. Ryu countered with only nine runs allowed, four of them unearned, in five starts.
As the Dodgers competed for a division title last month, Kershaw faced tougher competition than Ryu. The team set its rotation so Kershaw and Buehler would pitch in crucial series against contenders like Colorado, Arizona and St. Louis. Ryu faced feeble opponents like the New York Mets, San Diego and Cincinnati.
Yet the final weekend of the regular season presented an instructive contrast. Ryu spun six innings of one-run baseball against a popgun San Francisco Giants lineup. A day later, Kershaw gave up five runs in five innings, one of his worst regular-season outings in recent memory, while facing the same toothless offense.
The Dodgers began the process of weaning themselves off an over-reliance on Kershaw in the postseason last season, when the team acquired Yu Darvish in hopes of lightening Kershaw's burden. Kershaw did not start on short rest during the 2017 postseason. But he started Game 1 of all three series. He rebounded from a disastrous outing against Houston in Game 5 of the World Series to throw four scoreless innings on two days' rest after Darvish combusted in Game 7.
Kershaw is unlikely to pitch on short rest this October. He served two separate stints on the disabled list in the first half, first with biceps tendinitis and then with a strained lower back. Kershaw has suffered back injuries in each of the last three seasons.
Kershaw has two years and $65 million remaining on his extension, but he can opt out when the season ends.
As the team sprayed champagne to celebrate a playoff berth Saturday, winners despite a dispiriting outing from Kershaw, the ace said he was unsure what came next.
"Honestly, I haven't thought about it," Kershaw said. "I can't give an answer because I really don't know what's ahead. I know we got playoffs ahead.
"It's been a good distraction. And if we weren't making the playoffs I probably would've put a lot more thought into where we're going and where I'm going personally, but right now I can't do it. There's not enough room up there for both."
Twitter: @McCulloughTimes
---
Get our Dodgers Dugout newsletter for insights, news and much more.
You may occasionally receive promotional content from the Los Angeles Times.