After sweep of Rockies, Dodgers fall to last-place Padres and lead shrinks in West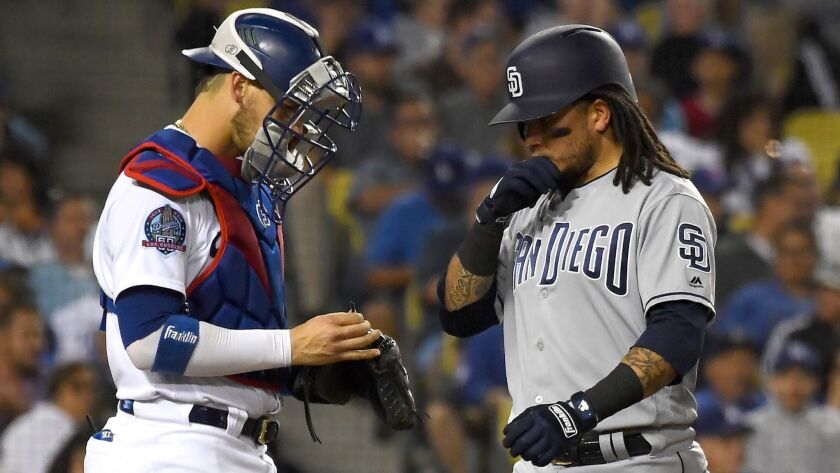 It won't be easy.
If there are any lessons to be learned from watching the 2018 Dodgers, a team stocked with supreme talent and capable of producing acute irritation, it is that the route to a sixth consecutive division title will not be smooth. A sweep of Colorado earlier this week cleared a path to capture the National League West — only to see the Dodgers promptly trip over their own feet in a 5-2 loss to San Diego.
The defeat recalled an exasperating pattern of play established over the few weeks. While separating themselves from division rivals Colorado and Arizona, the Dodgers have given up games to inferior competition. They lost a series to the Mets. They dropped two of three in Cincinnati. And now their advantage over Colorado in the West has shrunk to 11/2 games.
"Coming into tonight's game, I thought we were ready to go," manager Dave Roberts said. "It just didn't work out that we scored more runs than they did."
On Friday, the Dodgers (85-69) struggled to dent left-handed pitcher Eric Lauer, a rookie who came to the mound with a 4.74 ERA. The offense against him consisted of a solo home run from Enrique Hernandez, and little else.
The group perked up, momentarily, in the eighth. After a pinch-hit double by Joc Pederson, Yasiel Puig dunked an RBI single. A walk by Yasmani Grandal brought Cody Bellinger to the plate as the go-ahead run. Bellinger struck out against Padres reliever Kirby Yates to end the threat.
The evening called for heavy usage from the bullpen. Ross Stripling gave up two runs and lasted only 31/3 innings before handing the ball over to the relief corps. Ryan Madson surrendered a homer in the seventh. In the ninth, Justin Turner committed an error that set up a two-run double allowed by John Axford to put the game out of reach. Turner made two errors Friday.
Roberts suggested Turner might be in a "funk" defensively. Turner did not want to put a label on his recent struggles in the field.
"I just haven't made some plays the last couple days," Turner said. "There's no excuse for it. I just need to do a better job."
And so the team will head into Saturday with their magic number stuck at eight, needing any combination of eight victories or losses by Colorado to clinch the division. In drubbing the Rockies, the Dodgers came close to ending the contest for the West. A September swoon placed Arizona on the periphery of the race. The Dodgers entered Friday with their largest division lead of the season. To maintain it they needed to down a last-place team.
"For us, it doesn't matter who we play," Roberts said before the game. "These are important games."
The Dodgers tinkered with their rotation so Stripling pitched Friday in place of Rich Hill, who will start Saturday. It was Stripling's first extended start on regular rest since he suffered inflammation in his lower back after an outing in Colorado on Aug. 9. Stripling missed nearly a month, and made two abbreviated outings on last week's trip to Cincinnati and St. Louis.
Hernandez came to Stripling's aid in the second inning. After a throwing error by Turner, San Diego shortstop Freddy Galvis smoked a 92-mph fastball into the right-center gap. Ranging to his left, Hernandez dived to rob Galvis of an extra-base hit.
An inning later, Hernandez provided Stripling a lead. He turned on an inside fastball from Padres starter Eric Lauer and pulled it into the first row of the left-field pavilion for his 21st homer of the season.
Handed an advantage, Stripling looked wobbly in the fourth. He permitted a leadoff single to outfielder Franmil Reyes. Two batters later, outfielder Hunter Renfroe shipped a thigh-high slider over the low wall in the left-field corner for a two-run homer.
"That's a bad pitch to him," Stripling said. "He hammers bad sliders. And that was a bad slider."
San Diego taxed Stripling after Renfroe went deep. Stripling walked catcher Francisco Mejia in a 10-pitch plate appearance and walked second baseman Cory Spangenberg after 10 more pitches. The duo of Mejia and Spangenberg combined to foul off eight pitches. The display prompted intervention from Roberts, who replaced Stripling with Pedro Baez.
Lauer suppressed a threat from the Dodgers in the fifth. Chris Taylor contributed a pinch-hit single and Turner took a two-out walk to set the table for Manny Machado. Lauer pumped a 93-mph fastball by Machado to strand both runners.
"He had good stuff today," Machado said. "We just couldn't take advantage of the situation when we had runners in scoring position."
San Diego expanded its lead in the seventh. Madson was the third Dodgers reliever to pitch after Stripling's short night. He retired the side in the sixth but permitted a solo homer to start the next inning. Madson left a changeup over the middle and Galvis clubbed the ball out to right.
In the seventh inning, Dozier became the first Dodger to reach third base since Hernandez rounded the bag on his homer. Dozier walked and went to second on a single by Hernandez. With two outs, Padres manager Andy Green turned to former USC two-way standout Robert Stock.
Stock faced Turner, who at that point was one of only four Dodgers to record a hit Friday. When Mejia could not smother a 99-mph fastball from Stock, both runners moved into scoring position. The crowd rose to its feet as Stock made a 2-2 pitch. It was a low changeup and Turner flied out to left.
"This one got away from us — partially because of me," Turner said. "I'll take full responsibility for it. Can't give teams extra outs. It doesn't matter who they are. If you give a team extra outs, you're not going to win a lot of games."
Twitter: @McCulloughTimes
---
Get our Dodgers Dugout newsletter for insights, news and much more.
You may occasionally receive promotional content from the Los Angeles Times.