Dodgers get back to .500 with 5-0 shutout of Pirates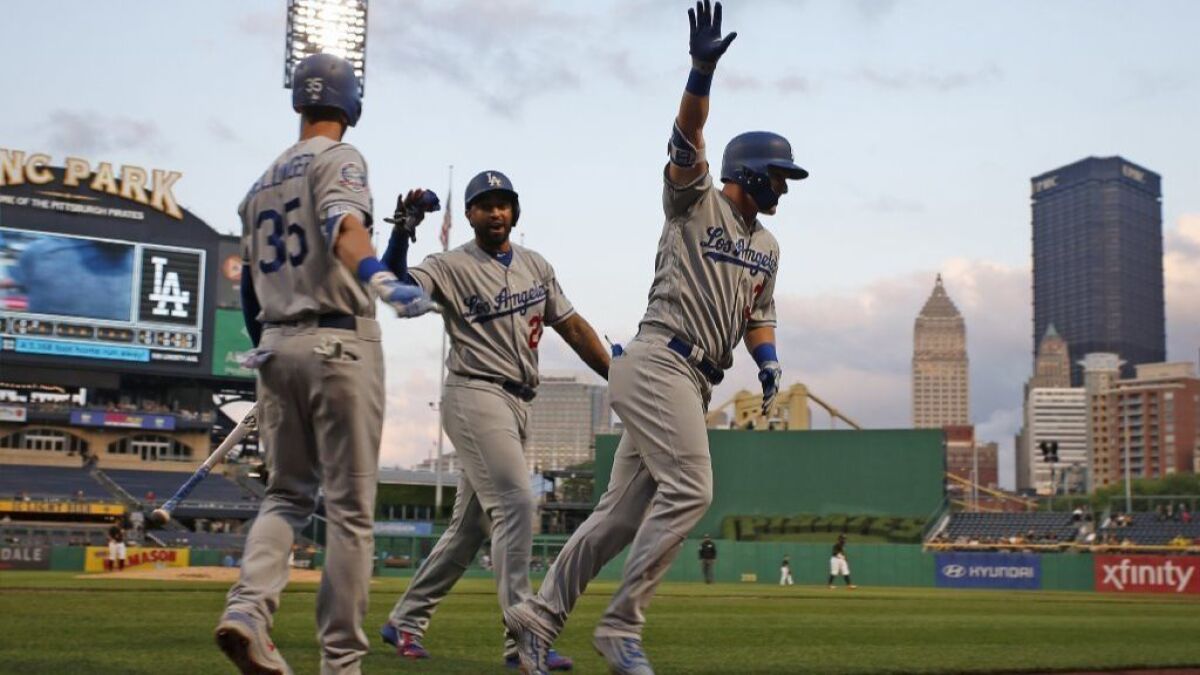 Reporting from PITTSBURGH —
An olive-tinted bottle rested on Dave Roberts' desk. Roberts is a committed oenophile, so he may have indulged in a glass of red wine regardless of Tuesday's outcome. But he had an additional reason to savor the postgame atmosphere: After a 5-0 victory over the Pirates at PNC Park, the Dodgers no longer own a losing record.
The milestone deserves acknowledgment, if not celebration. The team had officially classified as losers since April 24. They resided 10 games under .500 on May 16. Since then, they have gone 14-4, with a winning streak extended to four games Tuesday. They are within striking distance of first place in the National League West.
"We're back in the mix," Roberts said. "Now the goal is to keep playing good baseball."
The Dodgers (30-30) continued that trend against Pittsburgh. The offense consisted of home runs from Joc Pederson, Yasiel Puig and Cody Bellinger. Ross Stripling (4-1, 1.52 ERA) lasted only five innings, but kept the Pirates scoreless and struck out seven. Stripling holds a 1.89 ERA in seven starts. The bullpen handled the last four innings to finish the shutout.
A storm delayed the game for 53 minutes. The sun was still shining over PNC Park at first pitch. Pirates starter Joe Musgrove brushed aside the top of the Dodgers batting order by striking out the side in the first. Stripling climbed atop the mound looking to extend an exemplary stretch of baseball from May into June.
When Stripling returned for the second inning, his team led by two runs. Matt Kemp led off with a single in the top of the second. Pederson squared off with Musgrove for the third time in his career. In their two previous encounters, both in the World Series, Pederson hit home runs. A third soon followed.
Pederson turned on a thigh-high cutter from Musgrove and lined a two-run shot over the right-field fence. After homering once in his first 53 games, Pederson has gone deep three times in his last three games. Pederson did not offer an elaborate reason for his success against Musgrove.
"I don't know," Pederson said. "I was able to capitalize on a mistake today. So, yeah."
A gaffe in the field led to another run in the third. The Dodgers pressured Musgrove with singles by Chris Taylor and Max Muncy. Musgrove tried to pick off Taylor at second base; the two runners moved up 90 feet when Pirates shortstop Sean Rodriguez couldn't handle the throw. Taylor scored on a sacrifice fly from Kemp.
Stripling faced the minimum through three innings. He struck out the side in the third, finishing all three at-bats with fastballs. He trusted the data on Pittsburgh's hitters, which showed they were vulnerable to velocity.
"When you hand me a scouting report to prepare, and a guy has a certain hole, I can throw that pitch, more than likely," Stripling said. "Because I can basically manipulate a ball in most ways, besides sinking it."
After Puig hit a solo shot in the fourth, Stripling fell into trouble in the fifth. A double-play attempt fizzled when Taylor dropped a feed from Bellinger. With two runners on and none out, Stripling fanned outfielder Gregory Polanco with a 3-2, 93-mph fastball. Rodriguez popped up. One out from escape, Stripling gave up a pinch-hit single to Starling Marte to load the bases.
Stripling faced off with Josh Harrison for the third time. Harrison had grounded out in his first at-bat and struck out in his second. Now Stripling put a curveball on the inner half of the plate, and Harrison hit a harmless fly into Kemp's glove to finish the inning. The stress of the inning "basically knocked me out of the game," Stripling said.
The lead expanded to five in the sixth. Bellinger might as well have been encased in ice when he came to the plate. He had three hits in his previous 31 at-bats. He still remembered what to do with a 3-1 fastball down the middle, driving the baseball into the manicured lawn in center field.
The reaction inside the dugout was joyous after Bellinger's homer. The clubhouse was more subdued later, even as they enjoyed life without a losing record.
"We've been telling everyone not to panic, we got this, we're going to get healthy, and it's showing right now," Bellinger said. "We've got a group of guys in here who are determined to win."
Twitter: @McCulloughTimes
Get our Dodgers Dugout newsletter for insights, news and much more.
You may occasionally receive promotional content from the Los Angeles Times.