Column: Corey Seager's injury should force Dodgers front office to make moves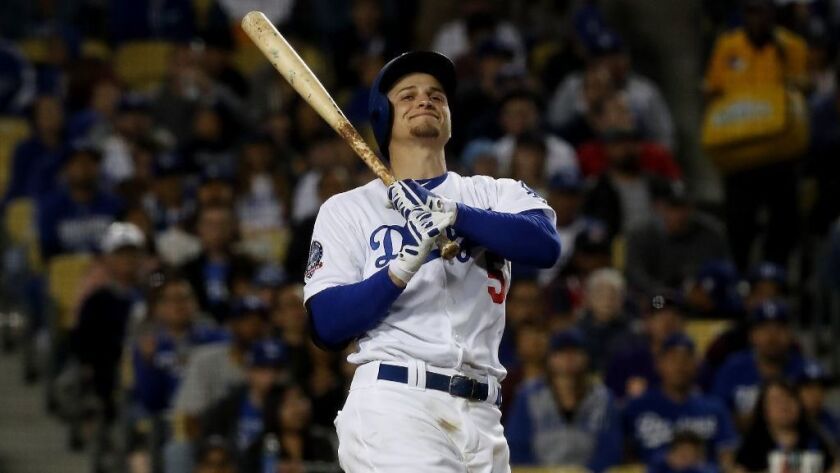 What is happening with Corey Seager is an injury, a surgery, a loss.
What it cannot be is an excuse.
The end of the season for the shortstop cannot be the end of the season for the Dodgers.
There can be no tanking. There can be no youth movement. There can be no playing for next year.
The Lakers can pull that off because they've won championships in the last 30 years, and, even then, community patience has reached a breaking point.
The Dodgers will receive no such benefit. The Dodgers will be smothered with doubt. For many, the patience ended with Game 7 in November.
If the Dodgers had won that World Series, most would sadly shrug with Monday's news that Seager will undergo ligament-replacement surgery on his sore right elbow and sit out the rest of the season.
Oh, well, folks would quietly say. We won our ring. We can sit this one out.
But they didn't win, and you could almost hear the screaming across the Southland.
Fix it! Replace him! How can you let this championship window close so abruptly? How can you ruin possibly the last Dodgers season of Clayton Kershaw? Find a way to get back to those last nine innings!
And those fans would be right.
Unlike the three other teams that made baseball's final four last season, the Dodgers spent a lifeless offseason without making a serious move to improve the team. It was intimated that with the increased luxury tax on the highest payroll teams, and with potential free agents like Bryce Harper and Manny Machado on the horizon for the winter of 2019, they could not afford to make a big move.
Now, suddenly, a month into a season rolling downhill, management can no longer afford to sit and watch. They can't run from this. They can't resign themselves to fate and fragility. They have to put down their payroll sheets and push back.
Yes, the team played and won an entire postseason series without Seager last fall, defeating the Chicago Cubs in the National League Championship Series in five games by filling shortstop with a combination of Chris Taylor and Charlie Culberson.
And, yes, they will initially try to forge ahead this season with shortstop being played by a combination of Taylor and Enrique Hernandez.
But get serious. Look at the numbers.
Last season they were 93-42 in games Seager started, and 11-16 in games he began on the bench during the regular season.
They need his steady bat. They need his calming presence. He's arguably their most potent two-way force.
If you really want to replace him with Hernandez or Taylor, that means more struggling Joc Pederson in the outfield, and do you want that? That also means more young Alex Verdugo in the outfield, and does anyone even know how that would look?
The Dodgers need a shortstop, and management needs to find one, and the most obvious place to look would be toward tanking Baltimore and potential free-agent Machado.
Here's guessing that won't happen, and that's OK. He'll only be a rental, and his cost will be Walker Buehler-type prospects, and his remaining salary could keep the Dodgers from making more necessary moves this season.
A more reasonable scenario is that the Dodgers look at other losing teams and pick up a guy like the Detroit Tigers' Jose Iglesias or Tampa Bay's Adeiny Hechavarria. They are tremendous fielders with little pop, which could lead to other changes. If Seager's bat is going to be replaced by a glove, then the Dodgers are going to score fewer runs, which means they will need better pitching.
Ease up on the innings limit and stick Buehler in the starting rotation. Find a legitimate setup guy somewhere, maybe even in the shortstop deal. Wait until the trade deadline to see if you can get a veteran arm to help a rotation that still seems shaky as long as Rich Hill can't figure out his fingers.
The Dodgers now need to do all those things they should have probably done in the offseason, although I wasn't critical of their inactivity at the time because I thought they were close enough to being great again. I was wrong.
Now they have a chance to make it right. Now they can fortify a new type of Seager-less team, and hope the players respond like they did a couple of years ago when Kershaw sat out a chunk of summer with his back injury. Remember how everyone stepped up and played even better when their ace was gone?
All season, manager Dave Roberts has been looking for an opportunity to shake this somnolent group out of its funk. When he yanked Cody Bellinger off the field for not hustling Sunday in San Francisco — exactly one year after the day Bellinger hit his first two major league home runs — Roberts was simply trying to startle his clubhouse.
If that didn't work, well, this will. With their shortstop gone for the year, here's guessing everyone in that room has been shaken to attention.
Upstairs, here's hoping Andrew Friedman and Farhan Zaidi are feeling the same jolt. After three years of performing loads of nationally renowned baseball wizardry, this is their chance to make some real magic.
The Dodgers can still make the playoffs with Seager out of the lineup. Their bosses just have to be willing to get back in the game.
Get more of Bill Plaschke's work and follow him on Twitter @BillPlaschke
---
Get our Dodgers Dugout newsletter for insights, news and much more.
You may occasionally receive promotional content from the Los Angeles Times.