Column: Dodgers' Kershaw pitches like the staff ace he is in NLDS Game 2
Take that.
The words were unspoken but screamed, spilling out of Clayton Kershaw from his pumped fist to his slapped glove to eight innings of controlled fury.
Kershaw didn't just pitch against the Atlanta Braves on Friday in Game 2 of the National League Division Series, he delivered a dizzy, dazzling message strong enough to shake Dodger Stadium down to its Koufax core.
To the Dodgers management that pushed him off his usual postseason opener perch, take that.
To critics like this one who wrote that Hyun-Jin Ryu's brilliance a night earlier was proof that Kershaw was indeed second fiddle, take that.
To those weary of trusting him as a postseason ace after so many October disappointments, yeah, you, take that.
His ego bruised, his reputation tweaked, his future as a Dodger a little more uncertain, Kershaw took the mound in perhaps the most personally tenuous situation of his Dodgers career.
He responded with the loudest single postseason statement of his life, allowing just two hits in those eight innings in a 3-0 victory over the Braves to give the Dodgers a seemingly insurmountable two-games-to-none lead in the best-of five series.
As Kershaw sat in his postgame attire of T-shirt and gym shorts, beaming as he was surrounded by his two giggling children Charley and Cali Ann, I asked him if he took any extra satisfaction in this victory.
"Yeah, maybe," he said, still smiling. "Maybe a tick, for sure."
Yeah. Maybe. Probably. For sure.
In 20 playoff starts, it is the first time he has lasted as long as eight innings. In a career marred with playoff stumbles, this was a two-and-half-hour march to redemption.
Yeah, Sandy Koufax was in the stands watching. Indeed, the comparisons on this night were appropriate.
"It is impressive," manager Dave Roberts said. "It's not a surprise."
But, really who knew how Kershaw was going to react? He was informed earlier this week in a conference call that Ryu, not him, would start in the opener. It took him a couple of days of tight smiles to get through it. It was uncertain how he would respond to it.
Goodness, when he finally answered, did he ever answer, dominating despite striking out only three, walking none, fooling the Braves in all corners.
"He pitched," Roberts said. "For me, one of the best outings I've seen that I can recall … He really pitched."
It began with Kershaw deftly surviving a leadoff double by Ronald Acuna Jr. on his first pitch of the game.
It ended with him taking the mound in the ninth inning with the crowd standing and cheering his mere presence. He then immediately was pulled for matchup reasons, leaving to his umpteenth standing ovation while waving to the crowd and slapping hands with his teammates.
He was so good, fans momentarily stopped honoring his departure to boo Roberts for making the change.
"The fact he was able to do that today was huge," said catcher Yasmani Grandal, who capped the scoring with a fifth-inning home run after Manny Machado started the scoring with a two-run homer in the first.
It was big for both Kershaw and the Dodgers, turning a potential no-win situation into victories for both.
Kershaw wanted to prove himself. Check. He wanted to equal the guy who replaced him. Check. He wanted to push the Dodgers to the edge of closing out this series. Check.
"Ryu threw so unbelievable last night that you just want to match him," Kershaw said, referring to Ryu's seven shutout innings in which he allowed just four hits in the Dodgers' 6-0 opening victory. "That's all I was trying to do is try and put our team in a good spot. So Game 1, Game 2, whatever, I'm getting to pitch in the playoffs and I'm excited."
The Dodgers seem beyond the reach of the Braves now because they have held them scoreless in two games and have yet to throw their hottest pitcher, with hotshot Walker Buehler scheduled for Game 3 in Atlanta on Sunday.
But can we stop talking about Buehler for just a second? Maybe cool it on Ryu just for now?
This night belonged to Kershaw, who, before this season, had pitched in the postseason opener in each of the previous five seasons. In fact, he pitched first in every postseason series in the last five years when he didn't pitch a closeout game in the previous series.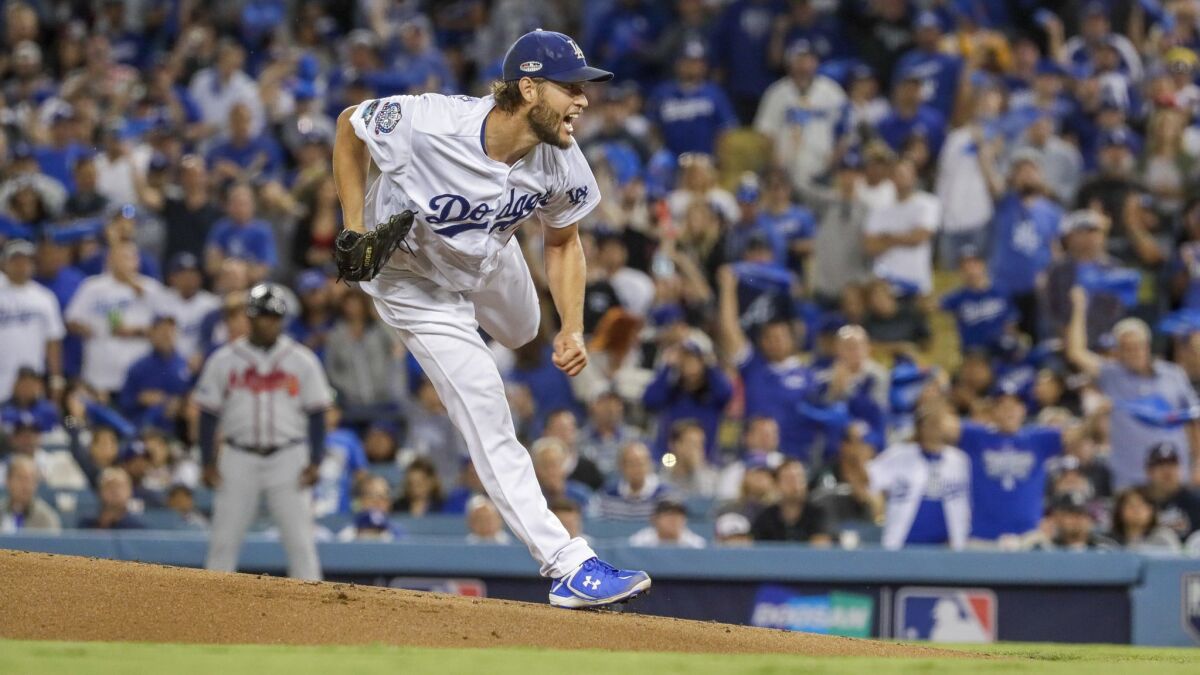 The move to push him back was a stunning one, but it was written here that it was the right decision because the reality was, Kershaw hadn't been the same pitcher in recent weeks and was never the same pitcher in the postseason.
He had a 4.20 ERA in his last five starts and there were some concerns about the lack of movement on some of his pitches. There were also worries about the cumulative effect of his infamous postseason struggles, as he had a 4.35 postseason ERA and had blown his Game 5 start against the Houston Astros last October in a loss that probably cost the Dodgers the series.
He carried all that baggage with him to the mound in the first inning, and he was immediately almost smothered in it.
Acuna, the Braves' gift rookie leadoff hitter, drove the first pitch into the left-center-field gap for a double. Two pitches later, Johan Camargo bounced a ball back to Kershaw to move Acuna to third.
With all the surrounding commotion, it is here Kershaw could have buckled. Instead, it was here that that he dug in his heels. He retired Freddie Freeman on a grounder to pulled-in second baseman Enrique Hernandez, then struck out Nick Markakis by freezing him on a 73-mph curve.
The fans roared, at which point Kershaw ducked his head and pumped his fist.
"Everybody was pretty pumped after that," Grandal said. "That was probably one of the biggest pitches of the game. It's postseason baseball, and everybody is excited."
Kershaw had escaped, and now he was rolling, and he kept rolling until he finally departed, and when he pitches again, who knows? Would the Dodgers keep him as the number-two pitcher in the potential National League Championship Series?
On this night, it was difficult to view Clayton Kershaw as anything other than same person he has been for the last decade.
Once again, the ace.
Get more of Bill Plaschke's work and follow him on Twitter @BillPlaschke
Get our Dodgers Dugout newsletter for insights, news and much more.
You may occasionally receive promotional content from the Los Angeles Times.