Outfielder Joc Pederson could play a key role in retooled Dodgers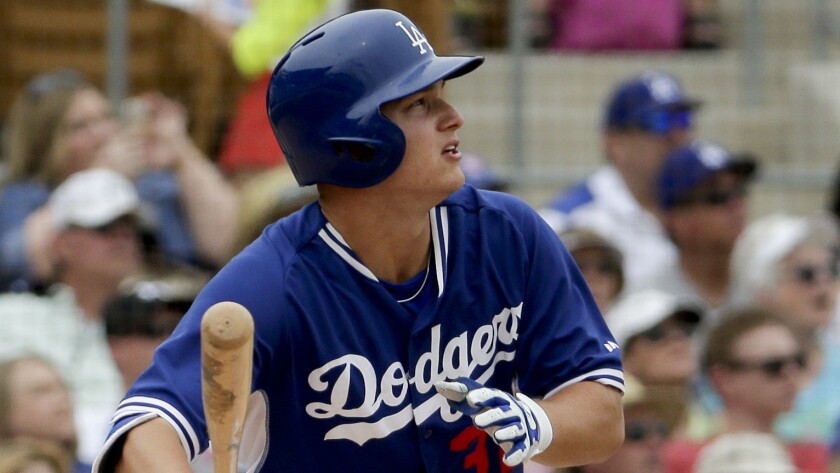 With every home run he hit, every ball in the gap he ran down, Joc Pederson came a little closer to believing.
And by the time the Dodgers broke camp a few days ago, Pederson was certain he could contribute at the major league level.
"I'm not just here for a favor," he said.
He made others believe too.
"He's proven that he can handle the big leagues," first baseman Adrian Gonzalez said. "He should have a successful career."
Manager Don Mattingly said the 22-year-old outfielder showed him everything he wanted to see.
"Joc's checked off all the boxes," Mattingly said.
Now comes the difficult part: a 162-game schedule that starts Monday at Dodger Stadium against the San Diego Padres.
Pederson should have a major role on a team with World Series aspirations and a payroll of more than $270 million. Though he might start the season as the No. 7 or 8 hitter, he is expected to be the primary center fielder.
That's a significant responsibility, considering the Dodgers' increased emphasis on defense.
The shift in philosophy was introduced by the team's new analytics-based front office that is headed by Andrew Friedman, former general manager of the Tampa Bay Rays.
Friedman made a qualifying offer to Hanley Ramirez, a defensive liability at shortstop but arguably the Dodgers' most talented hitter. But when Ramirez rejected the proposal, the team decided it couldn't replace his offense, so it would improve the defense.
The Dodgers upgraded their middle-infield defense by trading for shortstop Jimmy Rollins and second baseman Howie Kendrick. They rebuilt their pitching staff, especially the bullpen. And, in their boldest move of the off-season, traded Matt Kemp.
With Pederson ready to take over in center field, the Dodgers were free to move Yasiel Puig from center to his natural position in right. That made Kemp expendable.
Mattingly was pleased with the moves, saying an improved defense could make the Dodgers more dangerous in the lower-scoring environment of the playoffs. In each of the two previous seasons, the Dodgers were eliminated by the more fundamentally sound St. Louis Cardinals.
The team's form in spring training was promising.
"We're playing as a team," Kendrick said. "We're winning games, putting up runs. The pitching's been good. That's what you look for in spring, for everyone to come together."
Although the off-season roster makeover solidified the defense, it also raised several questions.
With Clayton Kershaw and Zack Greinke returning, the Dodgers have two of the best starting pitchers in baseball. But rotation depth could be a problem. The team is gambling that Brandon McCarthy and Brett Anderson, two off-season acquisitions, can remain healthy. McCarthy, who was signed to a four-year, $48-million contract, pitched 200 innings in a season for the first time last year. Anderson has pitched fewer than 100 innings in each of his last four seasons.
Concern about the rotation became even more pronounced recently when No. 3 starter Hyun-Jin Ryu was sidelined because of a shoulder injury.
The bullpen will also be tested, particularly while closer Kenley Jansen is on the disabled list for the first month of the season. The three relievers who are guaranteed roster spots — Joel Peralta, J.P. Howell and Chris Hatcher — didn't pitch well during the exhibition season. Hatcher's spring was particularly problematic in that the right-hander was viewed as a potential short-term replacement for Jansen, who is recovering from a foot operation. The Dodgers plan to close by committee until Jansen returns.
The Dodgers led the Cactus League in home runs, but without Ramirez and Kemp their offense isn't expected to be as productive as it was last season. Gonzalez is the only player in the lineup who hit 20 home runs or more last season. If the Dodgers decide to bat Gonzalez third, their cleanup hitter is expected to be Kendrick, who is coming off a seven-home run season.
The Dodgers will also have to lean more on Puig, who can be as inconsistent as he is talented.
An X factor could be Hector Olivera, who is expected to soon be introduced as the latest Cuban defector to be signed by the Dodgers. Olivera, 30, recently agreed to a contract that will pay him $62.5 million.
Though Olivera is expected to require time in the minor leagues to get into game shape, he could contribute at the major league level. A former standout on the Cuban national team, Olivera can play second base and third base.
Then there is Pederson.
Playing in triple A last year, Pederson became the first Pacific Coast League player in 80 years to hit 30 home runs and steal 30 bases in the same season.
Pederson said he hasn't felt overburdened by the expectations and responsibilities he faces.
"I think I have the highest standards for myself than anyone else out there," he said. "It's not really pressure. It's baseball. It's something that I want to be really good at."
What he sees is an opportunity to fulfill a lifelong ambition.
"That's something you dream about as a kid, playing in the big leagues," he said. "I'm doing anything I can to be able to make that dream come true."
---
Get our high school sports newsletter
Prep Rally is devoted to the SoCal high school sports experience, bringing you scores, stories and a behind-the-scenes look at what makes prep sports so popular.
You may occasionally receive promotional content from the Los Angeles Times.