Despite trade temptations, Dodgers, Yasiel Puig might be best for each other
This time next year, Yasiel Puig will be a free agent.
That, combined with his projected salary of more than $11 million for the upcoming season, has resulted in industry-wide speculation the Dodgers will finally trade their temperamental outfielder this offseason, perhaps next week at baseball's winter meetings in Las Vegas.
This makes a certain degree of sense. Puig remains an inconsistent producer and the team's surplus of outfielders makes him expendable.
Except here's something that makes even more sense: Holding on to him.
Maybe there is a trade to be made. Maybe Andrew Friedman can trick someone into sending the Dodgers a front-line pitcher such as Corey Kluber for a package that includes Puig.
However, considering recent history, a level of optimism bordering on delusion is required to believe that such a deal exists. The Dodgers made several attempts over the years to unload Puig and couldn't find a taker. And that was when he had a relatively modest salary.
Even if the Dodgers were to agree to cover some of Puig's salary, the return for him in a trade would likely be minimal. What's clear is the Dodgers won't deal him for the sake of dumping his salary. If that were the objective, the Dodgers would not have tendered him a contract, something they could have done with no penalty because of Puig's status as an arbitration-eligible player.
So if the Dodgers are demanding quality players in exchange for Puig but are unlikely to receive them, they might as well operate as if he will be back in right field.
But the Dodgers would be asking for trouble if they do nothing beyond leaving Puig's name on their roster.
A .209 hitter this year against left-handed pitchers, Puig was disgruntled by how he was limited to playing against right-handers, according to people familiar with his thinking who spoke under the condition of anonymity because of the sensitive nature of the subject. The frustration was said to affect his play, and Puig is now described as distrustful of management and open to playing for another team.
Puig batted even worse against left-handers in 2017, when he was close to being an everyday player. The reason was his Gold Glove-caliber defense in right field, which justified his inclusion in the lineup regardless of how he performed offensively.
What the Dodgers have to do is help Puig rediscover his mind-set from that season.
They have to communicate to him in the most explicit of terms that if he defends how he did two seasons ago, he will play, no matter who is on the mound for the other team. And they have to maintain their side of the agreement, because if Puig doesn't trust them he's less likely to buy in. His track record indicates that when he's distracted, it's reflected in his play.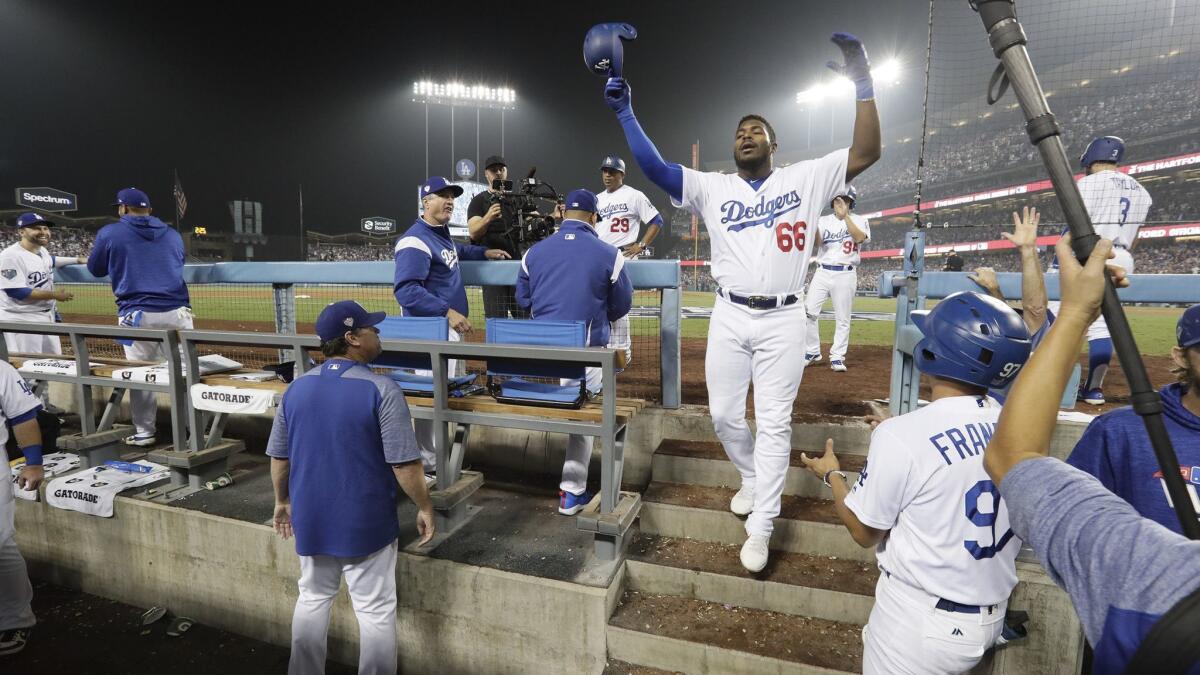 Puig had an incentive to improve his performance in 2017. The year before, he was demoted to the minor leagues because of his unprofessional behavior. He had to salvage his career.
Puig's motivation now is financial. His salary next year will be determined by baseball's arbitration process. MLBTradeRumors.com estimates he will make $11.3 million, but the real payday could come after the season in the free-agent market. Puig will turn 28 on Friday. His next contract could be the richest he ever signs.
The Dodgers should be equally invested in his success. They have already experienced countless ups and downs with him over the last six years and they could use the player he was in 2017.
In addition to providing them with a top-class defender in right field, Puig contributed a career-high 28 home runs two seasons ago. Such production could stabilize a lineup at a time when Corey Seager will be returning from multiple operations and 34-year-old Justin Turner will be a heightened injury risk because of his age.
As uneasy as their relationship is at times, the reality is the Dodgers and Puig would be better together next year than they would be apart. Whatever his faults, he is their most talented outfielder. And whatever limitations they impose on him, they offer him the best showcase platform.
Get our Dodgers Dugout newsletter for insights, news and much more.
You may occasionally receive promotional content from the Los Angeles Times.