Dodgers' Yasiel Puig lets children give him a new hairdo for a good cause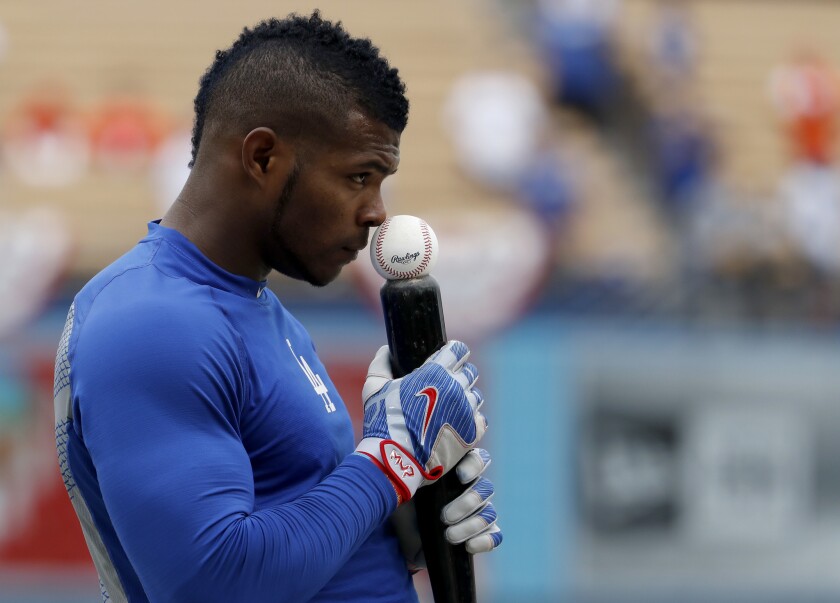 Dodger outfielder Yasiel Puig has always found a way to make us smile. Whether it be on the field wagging his tongue after a triple or paying a fan a visit after knocking a tooth out with a baseball, unintentionally, he always finds a way.
Thursday was no different. Children from Cedars-Sinai Hospital traveled to Dodger Stadium to shave off Puig's hair during Puig's Pizza and Shave Party. It was part of the weeklong Dodgers Love L.A. Community Tour. The shaving of the hair was a show of solidarity and support for pediatric cancer patients and their families.
The 11 children who shaved Puig's hair were patients who lost their hair from treatments for their cancer.
Puig also took selfies with each barber and their families.
"I get excited to do this for the kids," Puig told MLB.com. "These kids are fighting for their lives. I want to come here for the kids. I like children. Sometimes they have situations like these with cancer, spend a lot of time in the hospital, have a lot of surgeries. Maybe this makes them excited, and that's why I want to do something for the kids. And I like it."
Looks like the Wild Horse is ready for spring ball with the new hairdo next month.
Twitter: @edmgonzalez
---
Get our Dodgers Dugout newsletter for insights, news and much more.
You may occasionally receive promotional content from the Los Angeles Times.