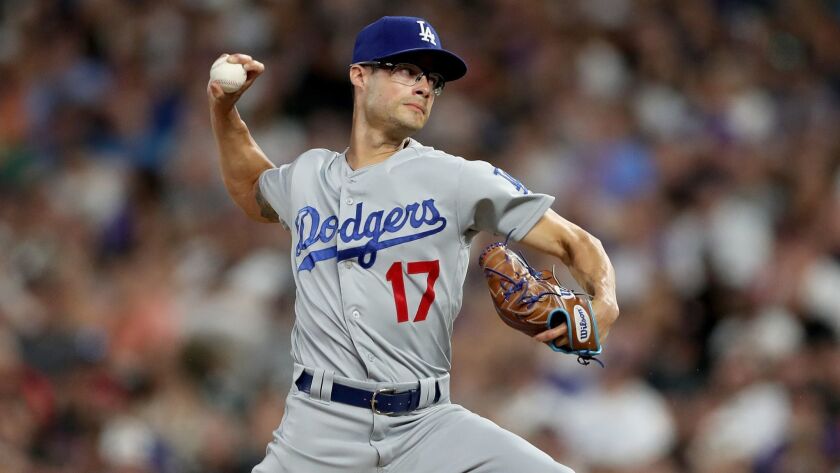 Reporting from BOSTON —
Joe Kelly received his 2018 World Series ring a couple of months ago, outside the home clubhouse at Dodger Stadium, quietly and away from the spotlight. Boston Red Sox chairman Tom Werner happened to be in town. Kelly said he showed up 10 minutes before first pitch. Werner gave him the ring, they took a picture, and that was it.
"I'd rather have it that way than get a ring out here in front of my teammates," Kelly said Friday in the visitors' dugout at Fenway Park.
That would have been awkward because Kelly was on the other side in October, mowing down the Dodgers and helping the Red Sox win their fourth World Series in 15 years. Kelly logged six scoreless innings with 10 strikeouts and no walks in the five-game romp. That dominance was part of the reason the Dodgers decided to give him a three-year, $25-million contract during the offseason.
The beginning of Kelly's tenure in Los Angeles was a disappointment — he compiled a 7.59 earned-run average in his first 22 appearances — but he has improved since simplifying his pitch repertoire. Since June 18, the right-hander has allowed three runs — all unearned — in 9 1/3 innings across eight outings.
"We got 60 wins, and I stunk for the first couple of months," Kelly said. "It would've been even more magnified if we all stunk in the 'pen, but … I was probably the weakest link, so we were able to play good baseball outside of that."
Signing with the Dodgers gave the 31-year-old Kelly the opportunity to return home. The Corona native commutes to Dodger Stadium from his year-round residence. He misses fewer family events and takes his 3-year-old son, Knox, to preschool. He hangs out with his siblings. The commute, 40 to 45 minutes, is manageable.
But Boston became home over the previous 4½ seasons. He said he missed, above all, the neighborhood he settled into. The sense of community he felt. The way they accepted his family. The kids playing Wiffle Ball and basketball around the clock. The times he quarterbacked both teams in eight-on-eight football games.
He returns this weekend as a visitor. On Friday, the Red Sox played a tribute video for Kelly as the Dodgers' relievers walked out to the bullpen in the middle of the second inning. He tipped his cap and waved.
"It's going to be fun," Kelly said before the game. "Now my body feels good, my mechanics feel good, I'm throwing the ball well, so it's going to be fun to match up with them when we're at our best. I'll try not to let my emotions overwhelm me and go out there and just play baseball."
Trade with Angels
In order to make room on the 40-man roster for outfielder A.J. Pollock, who was activated from the 60-day injured list, the Dodgers traded left-hander Adam McCreery and catcher Josh Thole to the Angels for cash.
Sign up for our Dodgers newsletter »
McCreery was placed on the 40-man roster after the Dodgers acquired him from the Atlanta Braves during the offseason. He had a 4.04 ERA in 30 outings between double-A Tulsa and triple-A Oklahoma City. Thole, 32, hasn't played in the majors since 2016. He batted .245 with a .650 OPS in 47 games at Tulsa and Oklahoma City.
Short hops
Dodgers manager Dave Roberts announced that Clayton Kershaw will start Monday against the Philadelphia Phillies and Walker Buehler will start Tuesday. The team elected to not have them pitch against the Red Sox to give them additional rest. …The Dodgers signed 31 of their 41 picks in last month's draft, including the 11 chosen in the first 10 rounds, before Friday's deadline. Second-round pick Jimmy Lewis, a right-hander out of high school in Texas, was among the final players to sign. Lewis had been committed to LSU. He reportedly signed for $1.1 million, over his slot value of $793,000 as the 78th overall selection.
Twitter: @jorgecastillo
---