Clayton Kershaw brilliant once again in 1-0 Dodgers win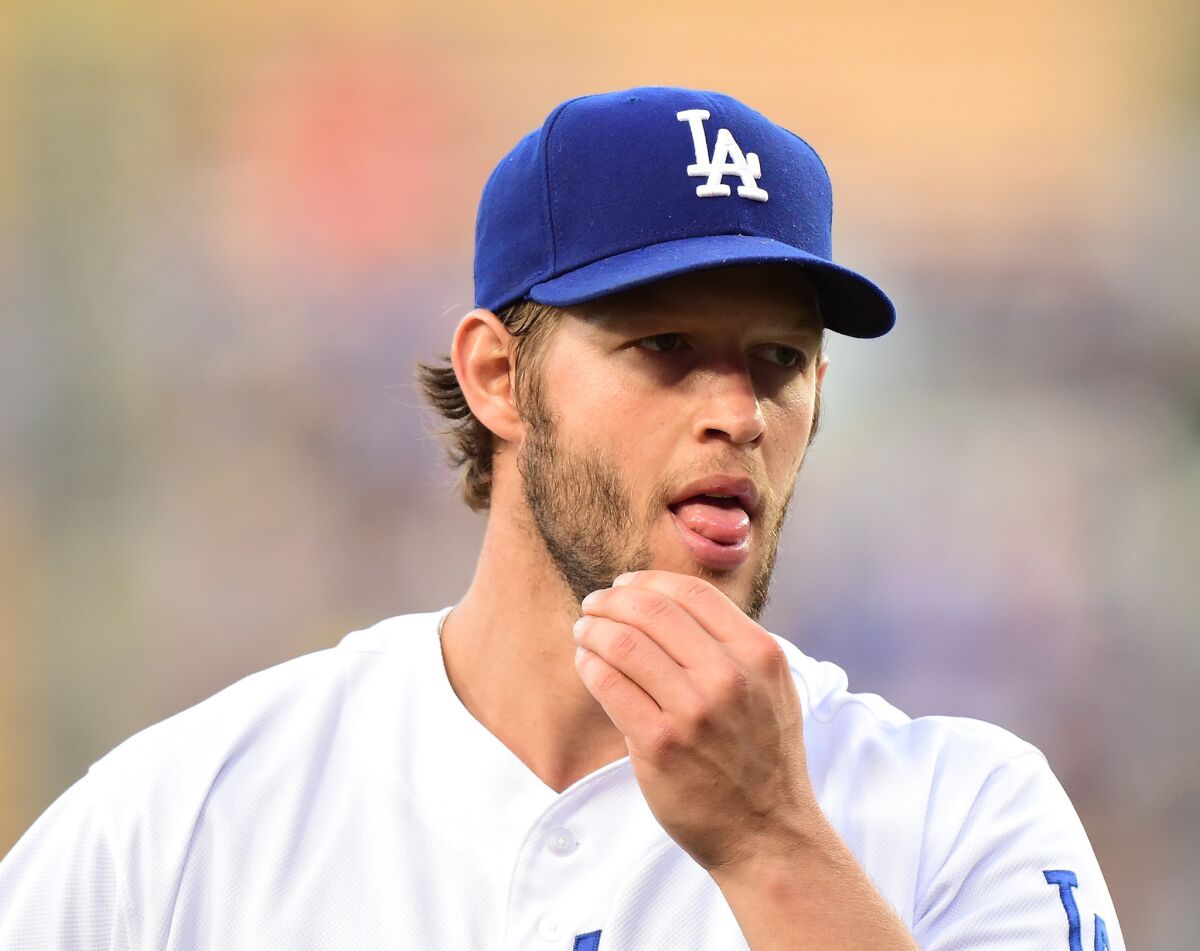 A line of beleaguered relievers engulfed Clayton Kershaw as he entered his clubhouse Monday night. Louis Coleman gave him a high-five. J.P. Howell wrapped him in a hug. Kershaw accepted the gratitude, one of the few gifts provided to him by his Dodgers teammates in a 1-0 victory over the Cincinnati Reds.
"It feels good to give them a day off," Kershaw said after his third shutout this month and the 15th of his career.
For Kershaw, the spectacular long ago became the expected. For Kershaw in 2016, the spectacular has also become essential. These Dodgers (23-23) cannot afford hiccups, and Kershaw loathes experiencing them.
He held up his end Monday, a day after the team slogged through a 5-hour, 47-minute, 17-inning nightmare in San Diego. Kershaw (7-1, 1.48 earned-run average) authored a tidy follow-up, finishing the game in 2 hours 11 minutes. The team is 9-1 when he pitches and 14-22 otherwise.
The Dodger Stadium crowd showered Kershaw with adoration after the final out. A pocket of them chanted "M-V-P." The fans had been given little to applaud all evening. The offense did not provide Kershaw much, either. But it did produce a run. That was enough.
"Our expectations in this clubhouse for him are unfair," catcher A.J. Ellis said. "What we expect him to do, each time he pitches, it's definitely unfair. Yet he meets them. I know we all know how fortunate we are. I hope all of baseball knows and understands what they're watching right now."
A masterpiece, even one in a minor key against an overmatched opponent, should not go unappreciated. Kershaw threw curveballs that elicited gasps from the crowd. His efficiency saved his bullpen after a taxing weekend in San Diego. He rumbled around the bases with glee.
Kershaw's streak of games with at least 10 strikeouts was ended at six. He settled for a two-hitter. He retired the final 17 batters he faced. The Reds did not place a runner at third base after the first inning. He walked one and struck out seven. He even notched a hit of his own.
"Clayton, I wish we had 25 of them," Manager Dave Roberts said. "He's not only the pitcher of a lifetime, a generation, but a baseball player of a generation."
Fans were still filing into their seats when Reds shortstop Zack Cozart stung Kershaw's first pitch. A double rattled into the left-field corner. The next batter bunted Cozart to third. Kershaw fell behind former National League MVP Joey Votto, 3-0.
As the two men dueled, the Dodgers pulled their infielders onto the grass. Votto took a 94-mph fastball for a strike. He fouled off a slider. Votto ripped another slider directly into the glove of shortstop Corey Seager.
"He definitely deserved a hit on that one," Kershaw said. "Defense did a great job."
The Reds were keen to avoid striking out against Kershaw. Their hitters attacked fastballs early in the count, which led to a bevy of ground balls. Cincinnati hit only five balls out of the infield.
Facing Brandon Finnegan, a first-round pick in 2014, the Dodgers generated only five hits. Kershaw recorded the first. In the fifth, he reached on a fielder's choice and entertained the crowd with his bravado on the bases.
With Kershaw at first, Finnegan threw a changeup in the dirt. Kershaw broke for second on the wild pitch. The throw from catcher Tucker Barnhart forced second baseman Brandon Phillips to leap into the air. He nearly stomped on Kershaw's head as he landed.
"Not a great slide," Kershaw said. "I need to figure out how to do that a little better."
But Kershaw was safe, and the ball rolled into center field. Kershaw pulled himself off the ground and lumbered to third. He beat the throw and stood 90 feet from scoring. He risked life and limb, only to watch Enrique Hernandez hit a harmless fly ball to right field for the third out.
The Dodgers scratched out a run in the sixth when, with runners at the corners and no outs, Howie Kendrick hit into a double play and Justin Turner scored from third. Kershaw removed any drama from the rest of the proceedings. The Reds went quietly. Kershaw reminded why he is peerless in the sport and essential for his team.
"The expectations for him are off the charts," Ellis said. "They seem un-meet-able. But he continues to meet them."
andy.mccullough@latimes.com
Follow Andy McCullough on Twitter: @McCulloughTimes
---
Get our Dodgers Dugout newsletter for insights, news and much more.
You may occasionally receive promotional content from the Los Angeles Times.