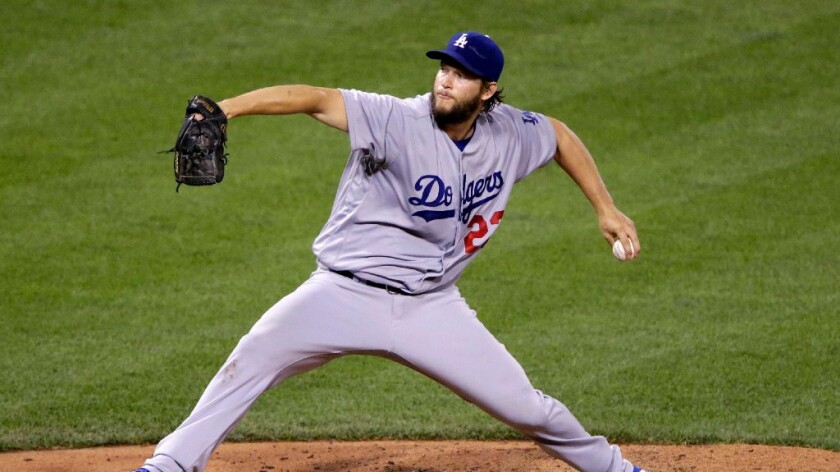 On Sunday morning, the final day before the All-Star break, Clayton Kershaw took a sizable step toward his return to the Dodgers. He threw a light bullpen session before his team faced San Diego, which marked the first time he threw off a mound since receiving an epidural injection on June 29 to aid a herniated disk in his lower back.
Manager Dave Roberts indicated Kershaw (11-2, 1.79 earned-run average) will not be a part of the team's rotation during the first five games after the break. But he left open the possibility that Kershaw could rejoin the team during the next turn through the rotation.
"To see Clayton in a pen, throwing off a mound, is definitely encouraging," Roberts said.
Bud Norris will start on Friday in Arizona to start the second half. Brandon McCarthy and Kenta Maeda will follow him to finish up the Diamondbacks series. The team opted to use its two left-handed starters, Scott Kazmir and Hyun-Jin Ryu, during the first two games of the subsequent series against Washington.
The Dodgers have yet to place a timetable on Kershaw's return. But Roberts has said he does not expect Kershaw to appear in a rehabilitation game. So it is conceivable Kershaw could come back on this upcoming, three-city trip to start the second half.
Short hops
The Dodgers bullpen posted a 1.57 ERA during this homestand. Maligned for the first six weeks of the season, the group has proved a godsend. Signed for $4 million in the off-season to be a long reliever, Joe Blanton has become an effective setup man for closer Kenley Jansen. With a scoreless inning on Sunday, Blanton finished the first half with a 2.09 ERA . . . Julio Urias pitched a scoreless inning in relief for triple-A Oklahoma City. He will pitch out of the bullpen in the minors to save innings and prepare himself for a potential relief role on the big-league club later this season.
Follow Andy McCullough on Twitter @McCulloughTimes
---