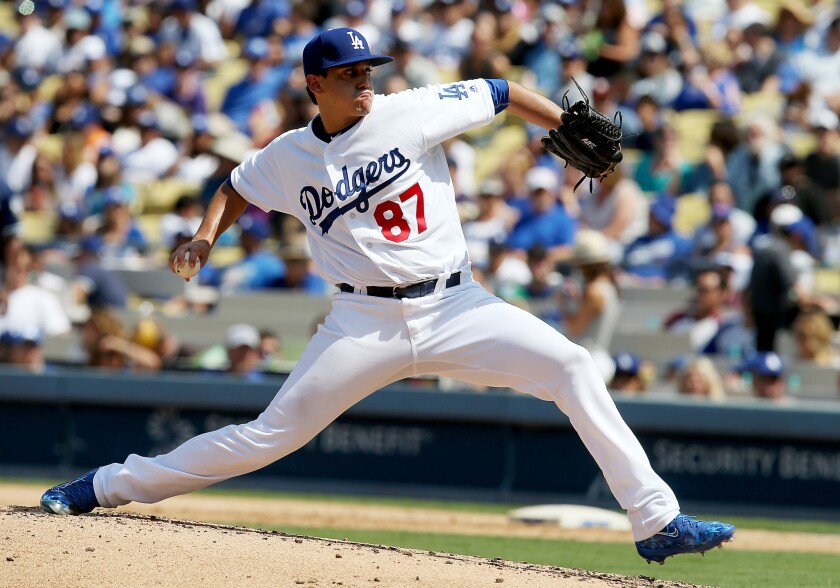 This week just keeps getting better for pitcher Jose De Leon, who beat San Diego in his major league debut Sunday and was regaled with stories of the most famous player from his native Puerto Rico by legendary broadcaster Vin Scully on Wednesday, the day Major League Baseball honored Roberto Clemente.
"He was talking about Clemente, and that almost brought him to tears," De Leon, 24, said of Scully, who is retiring this season after 67 years in the Dodgers booth.
"That guy is our hero in Puerto Rico, so to have someone who actually saw him play, who called his games, and who is able to talk to you about what he did and how special he was on the field is something I'll remember forever."
De Leon said part of his motivation for pitching for the Dodgers this season was so that Scully could call one of his games. He achieved that Sunday, when the right-hander gave up four runs and six hits, struck out nine and didn't walk any in a 7-4 victory over the Padres.
A few hours before Wednesday night's game, De Leon received a text message from David Vassegh, co-host of Dodger Talk, asking him if he wanted to meet Scully.
"I was like, 'Of course!' in cap-locks," said De Leon, who is from Isabela, Puerto Rico. "It was like a dream come true, because that guy is a living legend. I wanted him to call one of my games, but I wasn't expecting to meet him."
Center fielder Joc Pederson joined De Leon for his visit. He did not get Scully's autograph, "but we got a picture with him, me and Joc," De Leon said, "so I'll keep that forever."
Scott Kazmir suffers setback
Scott Kazmir's return to the rotation is no longer imminent. The left-hander was penciled in for next Monday or Tuesday in Yankee Stadium, but that was scrapped after Kazmir aggravated an injury to the right side of his neck and rib-cage in Wednesday night's rehabilitation start for triple-A Oklahoma City.
Kazmir retired two of seven batters and gave up a three-run homer to Renato Nunez in a first-round playoff game against Nashville.
After issuing a walk and hitting another batter, Kazmir, who went on the disabled list Aug. 23, left the field with an athletic trainer after throwing 33 pitches. He will return to Los Angeles for further evaluation.
Manager Dave Roberts said De Leon "will likely" start in Kazmir's spot at Yankee Stadium next week. Roberts can also use Ross Stripling and Brock Stewart in the final two rotation spots behind Clayton Kershaw, Rich Hill and Kenta Maeda.
Short hops
Outfielder Trayce Thompson, out since the All-Star break because of two fractures in his lower back, hopes to resume baseball activities soon but admitted that "time is running out" on his chances of returning this season. … Adrian Gonzalez was on the bench for the start of Wednesday night's game, but not because the Dodgers faced a left-hander in Robbie Ray. Gonzalez started 33 straight games before Wednesday, and the Dodgers will play 17 games in 17 days starting Friday. Rob Segedin started at first base Wednesday. "With the off day Thursday, we can give Adrian two days, essentially," Roberts said. "We have a big stretch coming up, and we want to keep Segedin as current as possible."
MORE DODGERS NEWS
The long-distance Dodger: 'I feel great when I get here'
Dodgers are looking like the real deal
---