Vin Scully has microphone retired at Dodger Stadium ceremony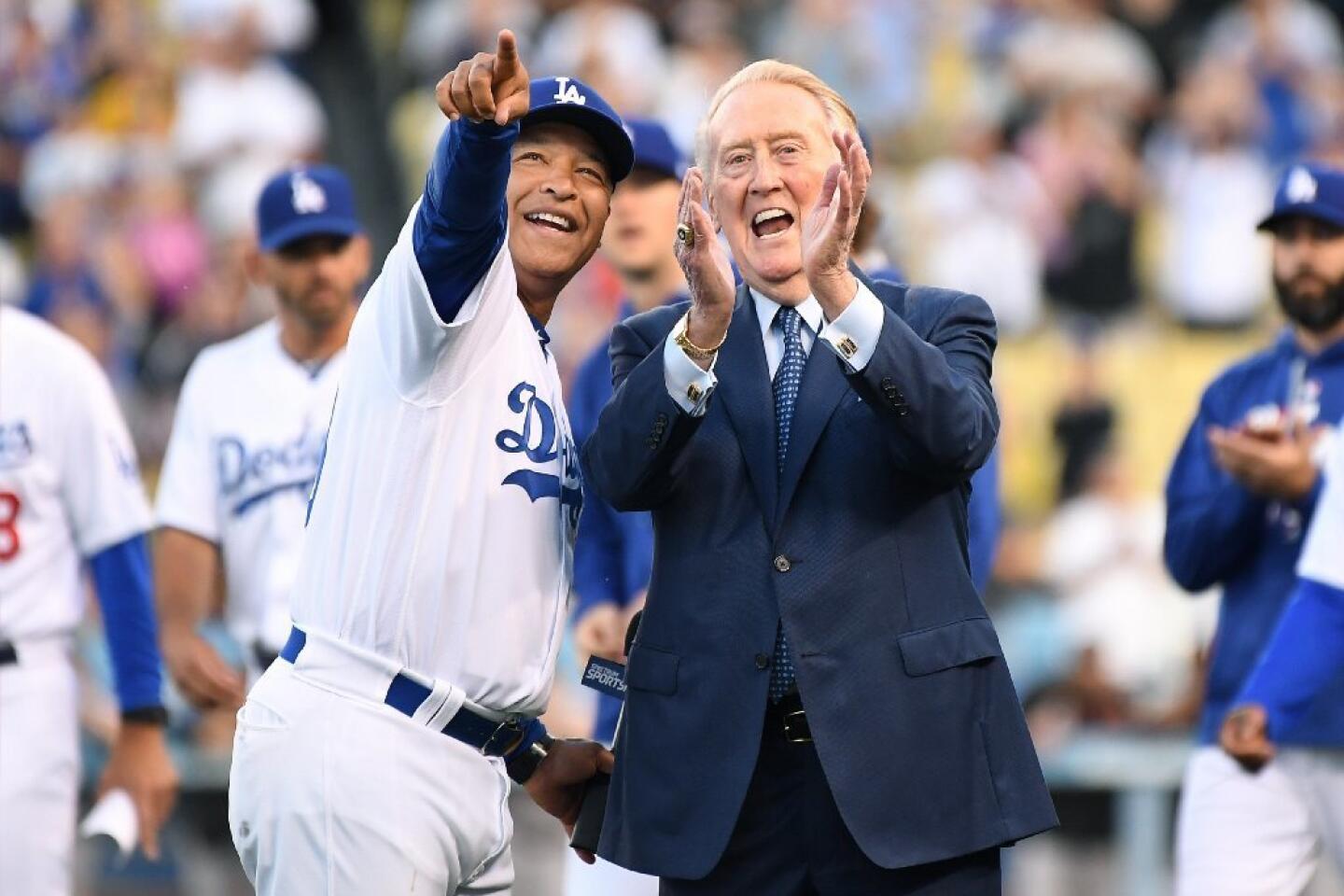 Dodgers manager Dave Roberts and Vin Scully smile during as the former broadcaster is inducted into the Ring of Honor at Dodger Stadium on May 3.
(Wally Skalij / Los Angeles Times)
Former Dodger greats Sandy Koufax, left, and Tommy Lasorda unveil Vin Scully's name as the former broadcaster is inducted into the Ring of Honor at Dodger Stadium.
(Wally Skalij / Los Angeles Times)
Vin Scully is all smiles as the former broadcaster is inducted into the Ring of Honor at Dodger Stadium Wednesday.
(Wally Skalij / Los Angeles Times)
Former Los Angeles Dodgers announcer Vin Scully waves as he leaves the field after his induction into the Los Angeles Dodgers Ring of Honor at Dodger Stadium on May 3.
(Harry How / Getty Images)
For a franchise that has been so successful in Los Angeles, the Dodgers' 10 retired numbers speak largely to a Brooklyn heritage. On the day the Dodgers retired his microphone alongside those numbers — and perhaps for the last time at Dodger Stadium — Vin Scully told stories of the Boys of Summer.
"Those numbers are not numbers at all," Scully said Wednesday. "I can hear them. I really can."

For the record:
2:00 p.m. May 20, 2019An earlier version of this article said Vin Scully's birthday was in September.
Scully talked about sitting outside a spring-training kitchen watching Roy Campanella, about Jackie Robinson challenging him to an ice skating race even though Robinson had never skated, about Tommy Lasorda hoping to make an extra $50 by throwing batting practice to 700 players in one day.
Campanella, Robinson and Lasorda wore three of the Dodgers' retired numbers. All but Don Sutton played at least some of their careers in Brooklyn, where Scully joined the Dodgers' broadcast crew in 1950. He grew famous in Los Angeles, where he worked for 59 of his 67 seasons, but he grew up personally and professionally in New York.
"There's a sense of looking back," Scully said. "That was my graduating class. Those are the ones that started me on my career."
In a pregame ceremony, Lasorda and Sandy Koufax unveiled Scully's blue and white circle along what the Dodgers now call their "ring of honor," with "VIN SCULLY" atop a microphone. Scully was the first addition to the ring since the Dodgers retired Sutton's number in 1998.
Dodgers manager Dave Roberts escorted Scully from the dugout to left field to watch the unveiling, trailed by Dodgers players. The San Francisco Giants gathered to watch from the top step of the visiting dugout.
Scully spoke briefly, pausing to shed a few tears before spinning some of his finest stories. He started this way: "For one last time ... hi everybody, and a very pleasant good evening to you." and ended with the trademark that lives forever at Dodger Stadium: "It's time for Dodger baseball!"
In a pregame news conference, Scully said he had not even thought about the possibility of following Robinson in getting a statue at Dodger Stadium and said he hoped that Wednesday's ceremony would cap what he called an "overwhelming" year of farewells.
"It's the last time, in my mind, that I'll be in the spotlight," he said.
Scully, who so masterfully described others for so long, settled on simple yet vivid words to describe his feelings about the ceremony.
"It's very emotional," Scully said, "even though I don't show it. I'm pretty good at looking stoic."
He said he might return to Dodger Stadium with his wife, Sandi, to catch a game every now and then. If he has his way, no one would know he was there.
He is reminded he made the right decision to retire, he said, every time he looks at his wife at home.
"I am totally and completely at peace," he said. "It's a remarkable feeling. It's not like, 'Gosh, you know, I feel good, I could have done another year.' No. None of that.
"I'm in the right spot in my life at the right time."
He turns 90 in November.
"However number of tomorrows I have," he said, "I am spending the todays exactly the way I wanted to."
In late afternoon, when he would have been at Dodger Stadium preparing for a broadcast, he typically enjoys a cold drink in his backyard. He does not watch the games on television, preferring a late dinner with his wife. He follows the Dodgers in the newspaper, liberated from the self-inflicted chore of cutting out his favorite stories and filing them for possible use on a broadcast, but still eager to read the articles and peruse the box scores.
"I'm excited, from what I've read, about Cody Bellinger," Scully said.
He talked about hoping to see Logan Forysthe healthy, and how Yasiel Puig had a big game Tuesday, and for a second you could close your eyes, hear that soothing voice, and imagine him keeping up with the Dodgers so closely that maybe, just maybe, he would come back to call another game or two.
"No," he said with a laugh. "I'm done."
Short hop
Scott Kazmir, who has not pitched this season because of issues with his left hip and his delivery, threw a 36-pitch bullpen session in front of Roberts, pitching coach Rick Honeycutt, president of baseball operations Andrew Friedman and general manager Farhan Zaidi. Roberts was noncommittal about the next step in Kazmir's rehabilitation.
Twitter: @BillShaikin
Get our Dodgers Dugout newsletter for insights, news and much more.
You may occasionally receive promotional content from the Los Angeles Times.