Dodgers pitcher Alex Wood leaves team to undergo examination by doctors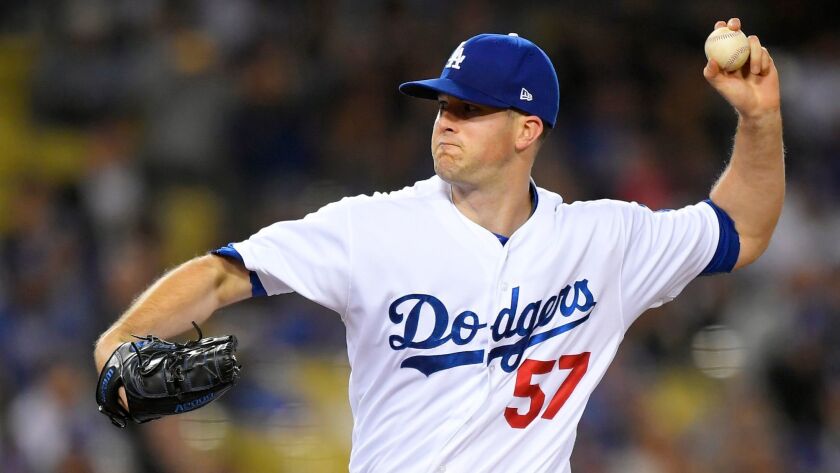 St. Louis —
Dodgers pitcher Alex Wood has flown back to Los Angeles to undergo an examination by team doctors on the soreness in his chest. Diagnosed with inflammation in his SC joint, which connects the sternum to the clavicle, Wood's recovery has stagnated, Manager Dave Roberts said before Thursday's game against the Cardinals.
Roberts initially hoped Wood would only miss one start. That number could double. The team's medical staff has told Roberts that the injury should not take much longer than two weeks to heal. But Wood will need to get checked out once more.
"We were hoping for a little more improvement, initially," Roberts said. "I think it hit a plateau. To get ahead of it, get him back home, to see the docs and see what's going on."
With Wood on the 10-day disabled list, Hyun-Jin Ryu is likely to stay in the starting rotation. Ryu turned in six innings of one-run baseball in Wood's place on Wednesday at Busch Stadium.
Wood (6-0, 1.69 earned-run average) has outpaced expectations in 2017, earning a spot in the rotation after opening the season in the bullpen. The team will remain cautious, given his injury history. Wood underwent Tommy John surgery in college and required elbow surgery last summer. Roberts indicated that Wood had not reported any pain or discomfort in his shoulder.
While Roberts insisted that Wood's current condition did not alarm him, he saw little reason to rush Wood back.
"We just want to make sure it's right," Roberts said. "And if [he misses] an extra start, so be it."
Liberatore placed on disabled list, Dayton recalled
Adam Liberatore's return from the disabled list did not last long. Brought back last week after missing time with a groin issue, Liberatore returned to the 10-day disabled list Thursday because of tightness in his left forearm. Like Wood, Liberatore flew to Los Angeles to have team doctors examine his elbow.
In his place, the Dodgers recalled Grant Dayton. A left-handed revelation in 2016, Dayton has struggled this season. In May the team sent Dayton to triple-A Oklahoma City to smooth out his delivery. Dayton allowed opposing batters to hit .391 against him in five appearances for Oklahoma City.
Twitter: @McCulloughTimes
---
Get our Dodgers Dugout newsletter for insights, news and much more.
You may occasionally receive promotional content from the Los Angeles Times.