Slumping Dodgers first baseman Cody Bellinger doesn't get start against right-hander
Reporting from denver —
As the Dodgers prepared for a series opener against Colorado on Friday, Justin Turner caught sight of Cody Bellinger idling in the clubhouse before the game.
"Off day, Belly?" Turner asked.
"Benched," Bellinger said.
He was being facetious: The Dodgers were facing a left-handed pitcher on Friday and Bellinger has struggled against left-handers this season. Two days later, though, Bellinger was a more notable omission from the lineup. Manager Dave Roberts kept Bellinger mostly on the bench for Sunday's series finale with the Rockies starting right-handed pitcher Chad Bettis. Bellinger entered the game at center field in the seventh and struck out swinging in the ninth.
Bellinger had started every other game this season against right-handed pitchers. Roberts framed the decision to sit Bellinger as a way for the 2017 National League rookie of the year to decompress in the midst of a horrific slump, with Bellinger expected back in the lineup on Tuesday in Pittsburgh.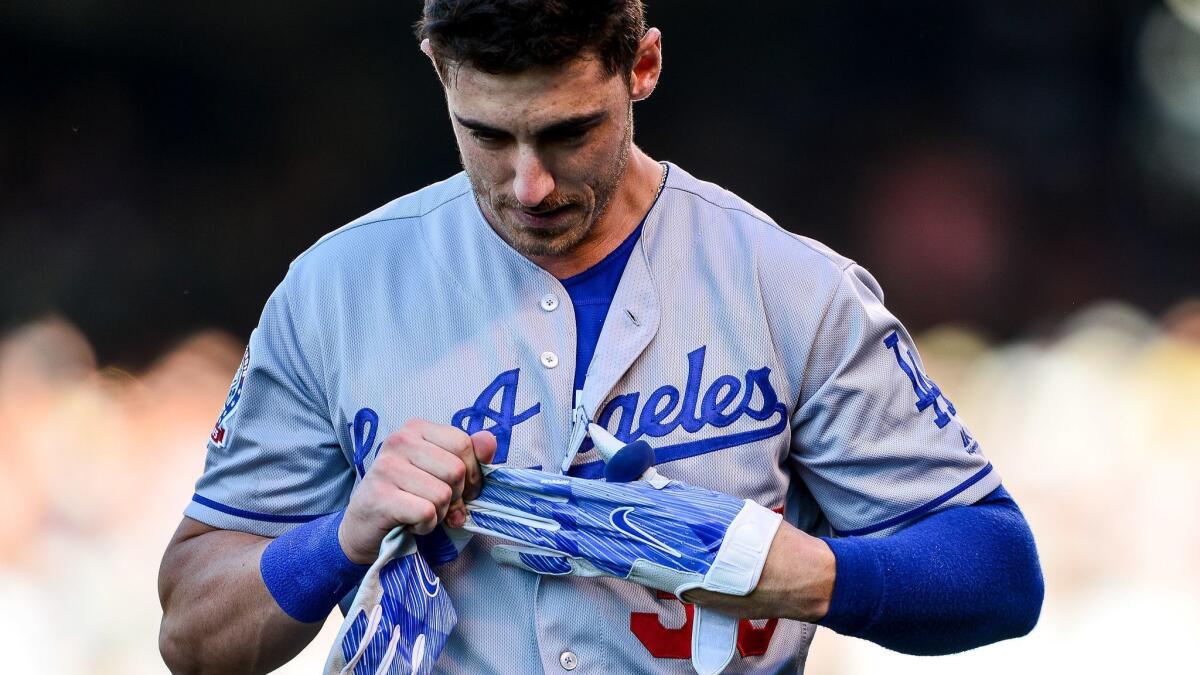 Bellinger has hit .171 with a .632 on-base plus slugging percentage since May 1. He has struck out in 28% of his plate appearances. Early in the season, Roberts explained, pitchers tied up Bellinger with elevated fastballs and breaking balls in the dirt. Roberts now feels Bellinger's confidence has begun "wavering" as he deals with mechanical glitches and inexact timing.
"You put all that together, and you're late on fastballs," Roberts said. "Every borderline pitch seems to go against him. And you find yourself, you look back at the last month, it seems like he's been 0-1 every single time he comes to bat. It's cyclical."
The Dodgers have felt comfortable using Max Muncy at first base. Joc Pederson started in center field Sunday after hitting two home runs the day before. Roberts indicated the team is not ready to discuss sending Bellinger to triple-A Oklahoma City to regroup.
"We're not there yet," Roberts said. "I think whatever we decide for Cody — whether it's to keep running him out there, giving him days off — entertaining that option, obviously, we'd have to really think through it. It'd have to be in his best interest, in our opinion.
"We haven't got to that point yet. But you can see that it's been tough sledding for him for the first two months of the season."
Santana to start Thursday
Dennis Santana will make his first big-league start Thursday in Pittsburgh. He threw 3⅔ innings as a reliever on Friday at Coors Field. The Dodgers used reliever Scott Alexander to start that game as a way of easing Santana into his debut. They will trust Santana from the outset on Thursday.
With Ross Stripling scheduled for Tuesday's game, there is still a vacancy on Wednesday. Brock Stewart is not an option, after pitching 1 2/3 innings Sunday, Roberts said.
Twitter: @McCulloughTimes
Get our Dodgers Dugout newsletter for insights, news and much more.
You may occasionally receive promotional content from the Los Angeles Times.