Dodgers welcome David Freese, Ryan Madson and other September additions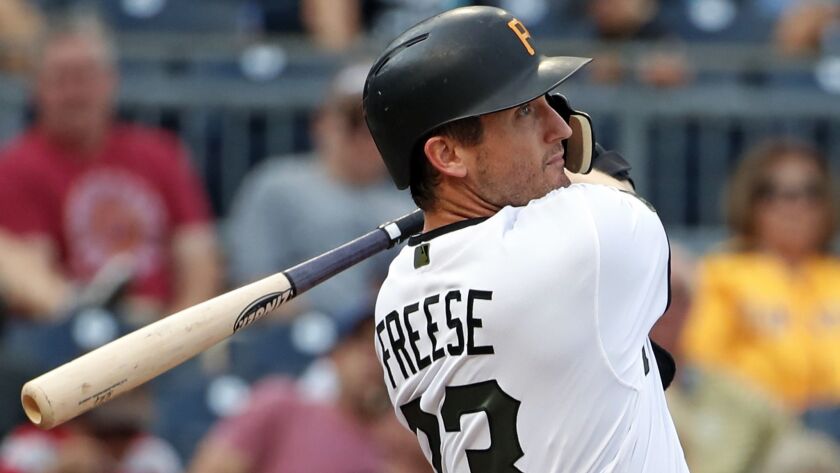 A baseball clubhouse feels different on Sept. 1. The expansion of rosters invites an influx of new players into the room — and that doesn't include the last-minute acquisitions from the Aug. 31 trade deadline. As a contingent of eight new players joined the Dodgers on Saturday afternoon, David Freese noted the talent assembled around him and chuckled.
"Man, I walked in, and it felt like an All-Star game," Freese said before Saturday's game against Arizona.
Allow Freese a moment of hyperbole — while the Dodgers entered Saturday as a second-place team, the amount of talent in their clubhouse remains impressive. Freese's arrival is part of the front office's effort to maximize the Dodgers' production, which has fallen short of expectations in high-leverage situations.
Freese, a 35-year-old infielder who was the MVP of the 2011 World Series with St. Louis, joined reliever Ryan Madson as the new faces in the group. The Dodgers acquired Freese from Pittsburgh and Madson from Washington a day earlier. The team hoped to test Madson's readiness before expanding his role.
The Dodgers installed Freese into their starting lineup Saturday against Diamondbacks left-hander Patrick Corbin. The Dodgers entered Saturday with a .711 on-base-plus-slugging percentage against left-handers, which ranked 19th in baseball. Freese has been more productive against right-handers this season, but had posted a .757 OPS against left-handers.
Freese is expected to play first base often against left-handers, while occasionally spelling Justin Turner at third. Manager Dave Roberts informed Freese how the team will deploy him Saturday afternoon.
"He's a pro," Roberts said.
The Dodgers activated six other players, led by veteran second baseman Chase Utley, who has nursed a minor thumb injury since Aug. 1. The other callups were outfielders Alex Verdugo and Andrew Toles, catcher Kyle Farmer and utility man Tim Locastro. Zac Rosscup, a left-handed reliever, came off the disabled list.
Roberts indicated the team could recall catcher Rocky Gale on Sunday. He was unsure if the team would promote Brock Stewart, who has posted a 2.76 earned-run average for triple-A Oklahoma City. The team is wary about overcrowding the clubhouse as they did the previous two Septembers, and there already is a crunch for playing time.
Verdugo and Toles have been regular starters in the past, and with Chris Taylor so prone to strikeouts, they could take some at-bats from him. But Roberts will not commit to using either player extensively just yet. The Dodgers already are splitting outfield time between Matt Kemp, Joc Pederson, Cody Bellinger, Enrique Hernandez, Yasiel Puig and Taylor, and with Freese playing first base against left-handers, Bellinger may see even more time in the outfield.
"Right now, the opportunities aren't going to be as many as they've seen in the past," Roberts said of Verdugo and Toles.
There also is a fleet of relievers rehabbing at Camelback Ranch who could return in the middle of September. The group includes Tony Cingrani (shoulder discomfort), John Axford (fractured fibula), J.T. Chargois (nerve irritation in neck) and Daniel Hudson (elbow discomfort). Hudson is the pitcher closest to a return, Roberts said, but there are no guarantees for any of them.
Among Saturday's moves, the Dodgers ended the season of reliever Erik Goeddel by placing him on the 60-day disabled list. Goeddel has been dealing with inflammation in his right elbow.
Twitter: @McCulloughTimes
---
Get our Dodgers Dugout newsletter for insights, news and much more.
You may occasionally receive promotional content from the Los Angeles Times.