Dodgers third baseman Justin Turner working to cut down on errors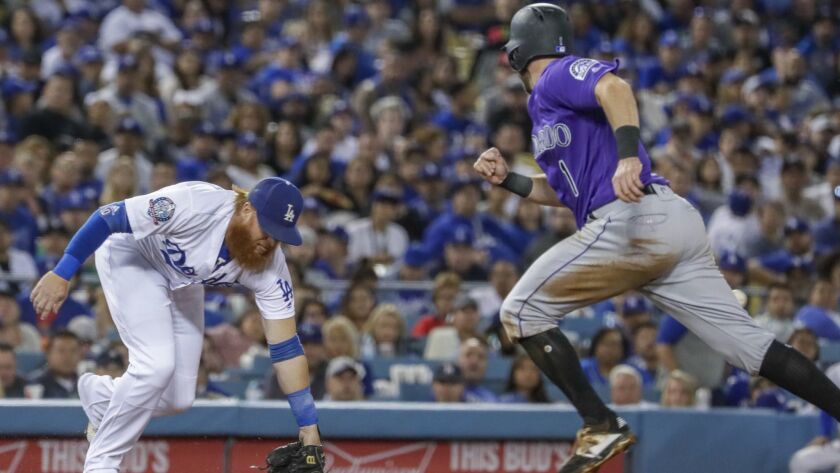 After watching Justin Turner make a pair of errors on Friday night, Dodgers third base coach Chris Woodward intended to check in with his star third baseman before Saturday's game against the San Diego Padres. Turner beat his coach to the punch, making clear he wanted to field extra grounders to refresh his defensive approach.
"He came to me," Woodward said. "We had talked a little bit before, but when he got out there, I could see there was some intent in what he was doing. Obviously I fed into it. The fungoes were a little bit harder, a little more aggressive. I could feel he was getting after it."
When his work in the field was done, Turner huddled with Woodward for several minutes to work through his technique. Turner did not want to repeat the follies of the night before, when his ninth-inning error opened the door for a two-run rally by San Diego. It was the latest in a series of defensive missteps for him.
Turner got drilled on the left wrist with a pitch last Saturday in St. Louis. The pitch caught him in an area similar to the bone he fractured in March. Turner avoided serious injury against the Cardinals because he was wearing a pad. But in his first five games since then, he made five errors.
Woodward indicated he did not believe soreness in the area was affecting Turner's fielding. Manager Dave Roberts said Turner was in a defensive "funk," but did not use Turner's physical condition as an explanation. Turner offered no excuses for his mistakes, and was visibly irritated after Friday's loss.
"He's the most selfless guy I've been around," Woodward said. "He's like, 'The thing that frustrates me the most is when I don't make a play for my pitcher. When I go 0-for-4, that's on me. But when I'm on defense, I'm hurting another player.'"
In drills Saturday, Woodward counseled Turner to utilize his legs more while making plays. Turner rarely struggles with this aspect of his position, but it can become tougher with fatigue later in the season.
"It's not really a lack of anything that he's doing," Woodward said. "It's more just some tough [plays] that he's had to deal with."
Short hops
Clayton Kershaw, Walker Buehler and Ross Stripling will start during next week's series against the Arizona Diamondbacks.
Twitter: @McCulloughTimes
---
Get our Dodgers Dugout newsletter for insights, news and much more.
You may occasionally receive promotional content from the Los Angeles Times.