Dodgers skip Rich Hill for final weekend series, hold him out for potential Game 163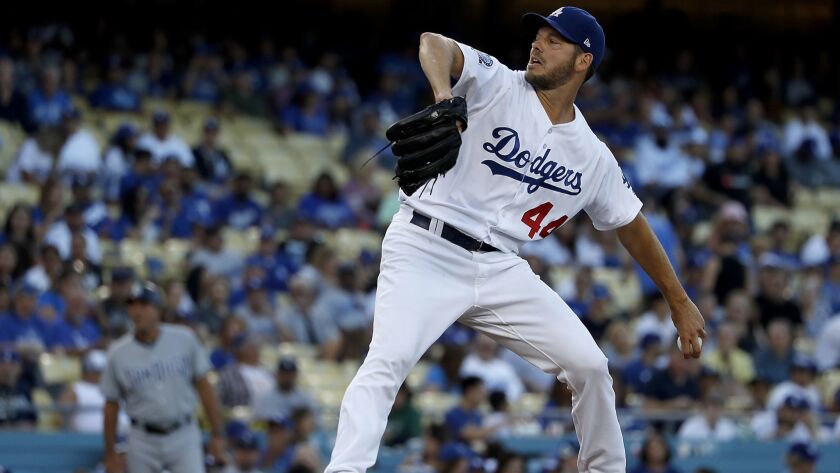 Reporting from Phoenix —
Rich Hill became the latest starting pitcher to get squeezed by the Dodgers, who will skip him in this weekend's regular-season finale in San Francisco. Hill indicated he does not expect to pitch as a reliever, but will be available if the Dodgers need to play Game 163 on Oct. 1 or the wild-card game on Oct. 2.
"I'll be ready to pitch," Hill said before Tuesday's game against the Diamondbacks. "I was scheduled for Friday. Those decisions aren't up to me. I'm just staying ready. That's it."
The Dodgers will use Hyun-Jin Ryu, Clayton Kershaw and Walker Buehler in their rotation against the Giants. That deployment would line up Kershaw to start Game 1 of the National League Division Series, with Buehler set for Game 2 — if the Dodgers can hold off Colorado to win the National League West.
Ryu has been excellent since returning from a torn groin muscle Aug. 15. In eight starts since then, he has posted a 1.93 ERA with 50 strikeouts in 46 2/3 innings. Hill has struggled to close out the year, pitching to a 5.09 ERA in four September starts.
"Hyun-Jin has been throwing the ball as well as anybody in the National League, over the course of four, five starts," manager Dave Roberts said. "To have Rich available — I don't know if it's in the 'pen — just to see where we are going forward. Rich has been a huge part of what we've done, and where we're going, for sure."
The preferred scenario for the Dodgers would involve them clinching the division this weekend. Colorado can complicate that by staying hot. The Dodgers are also monitoring the wild-card race, where St. Louis is also trying to hold off the Rockies.
If the Dodgers and Rockies finish the season tied, they would play Monday at Dodger Stadium, because the Dodgers own the tiebreaker for winning the season series. The loser of that game could also still qualify for the second seed in the wild-card game set for the next day.
Hill figures to be the fourth starter in a postseason series, with Ross Stripling likely to move to the bullpen. Hill indicated he would not be affected by the potentially lengthy gap between outings.
"You just want to be part of it," Hill said. "You want to be able to go out there and contribute. I know I'm fully capable of giving them everything that I've got. That's something that I'm looking forward to."
Twitter: @McCulloughTimes
---
Get our Dodgers Dugout newsletter for insights, news and much more.
You may occasionally receive promotional content from the Los Angeles Times.