Dodgers rookie Alex Verdugo is making adjustments to end slump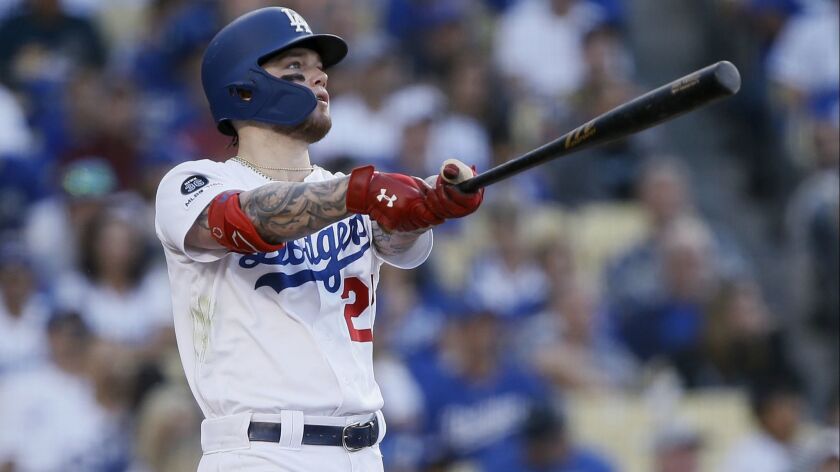 When Alex Verdugo was in the throes of a 22-game slump in which he hit .211 with no homers from May 12 to June 10, Dave Roberts implored the rookie outfielder to "use the big part of the field," an approach that can help a hitter focus more on line drives up the middle and less on pulling the ball.
Verdugo took his manager one step farther Saturday night, using the big part of the right-field pavilion in Dodger Stadium to crush a 459-foot homer in a 2-1 loss to the Chicago Cubs.
"That's pretty far — that's pretty out there, man," Verdugo said with a grin on Sunday. "It felt great. It was the perfect swing. I took a line-drive approach, ended up getting it a little more elevated with backspin, and it was a good result."
Verdugo looked like a rookie-of-the-year candidate for the first seven weeks of the season, batting .343 with a .950 on-base-plus-slugging percentage, four homers, seven doubles and 19 RBIs in 40 games through May 11.
Pitchers then began to figure him out, and Verdugo was slow to make adjustments. He went 17 for 76 with a .582 OPS, no homers, six doubles and nine RBIs during his 22-game cooling-off period, dropping his average to .287 and his OPS to .791 last Monday.
"When I get a little too pull-happy or my shoulder starts flying out, my swing starts breaking down," the left-handed-hitting Verdugo said. "I get frustrated because you're like, 'What happened?' And you look at video and you realize, 'I got way too big instead of just trying to hit a line drive.' "
Verdugo tried to stick to his normal approach and to not beat himself up. Even the best hitters struggle, he kept reminding himself.
Sign up for our Dodgers newsletter »
"Up here [in the big leagues], it's a hard thing — you go into a little slump and it goes everywhere, everyone is getting on you," Verdugo said. "You try to block out that noise and have the mind-set that you're gonna get out of it and things are going to get better that next at-bat."
Verdugo sensed a turn when he beat out a dribbler for a single to snap an 0-for-18 skid against the Angels last Monday.
"I got that weight off my shoulders," he said.
The hit sparked a four-game stretch in which Verdugo went seven for 15 (.467) with a double and his Saturday night homer — his first since April 24 — to raise his average to .301 and OPS to .828 entering Sunday.
Verdugo entered Sunday's game as a pinch-hitter in the sixth inning and was intentionally walked. He grounded out in the eighth but helped save a 3-2 victory with a running, lunging catch of Javier Baez's liner with runners on second and third to end the game.
"This game is a grind, it's hard, and you know you're going to go through slumps," Verdugo said. "At the end of the day, we all just trust our talent, our ability to go out there and make an adjustment. That's what we call hitters being hitter-ish."
On the mend
Center fielder A.J. Pollock, out since April 29 because of a right-elbow infection, will spend the next two weeks ramping up his hitting and throwing programs with an eye toward beginning a rehabilitation assignment by the end of the month.
Roberts said Pollock would need 40 to 50 minor league at-bats, which would require a rehab stint of at least 10 games, before returning to the Dodgers, most likely right after the All-Star break.
"I think it's fair to A.J. and to our club that he has to be able to hit the ground running," Roberts said. "I kind of look at it as spring training all over again."
Short hops
With the Dodgers at the beginning of a stretch in which they'll play 18 straight games and 23 games in 24 days, Roberts said he is considering starting reliever Julio Urias, or splitting the bulk of a game between Urias and long reliever Ross Stripling, in order to give each of his five starters an extra day of rest. … Sixth-round pick Aaron Ochsenbein, an Eastern Kentucky right-hander who combines a fastball that has touched 97 mph with a split-finger fastball and slider, signed for an under-slot bonus of $72,500, according to MLB Pipeline.
---
Get our Dodgers Dugout newsletter for insights, news and much more.
You may occasionally receive promotional content from the Los Angeles Times.