Chris Taylor walks it off for the Dodgers to beat the Rockies in extras and increase NL West lead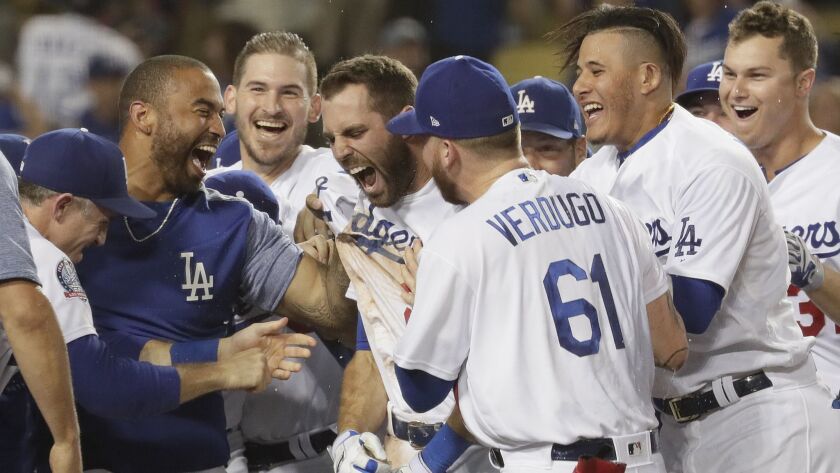 Chris Taylor started his sprint to first base Tuesday night, sticking his right arm in the air as he reached the bag, once he knew he had kept the Dodgers in first place for another day. His sprint continued around the bases. He tossed his helmet high in the air once he touched third. Gatorade, a bucket of gum, and his jubilant teammates awaited him at home plate as Dodger Stadium roared to an October volume.
The walk-off home run, a solo shot off Adam Ottavino in the 10th inning, gave the Dodgers a 3-2 victory, snapping a five-inning stalemate between two foes vying for their division crown. It nudged the Dodgers (84-68) 11/2 games ahead of the Rockies in the National League West — their biggest lead since July 28th — with 10 games, including Wednesday's series finale, remaining.
"Things are coming together for us at the right time," Dodgers manager Dave Roberts said.
The night began with a clash between two ace left-handers adjusting to unfamiliar stages in their careers.
On one side was Clayton Kershaw, a three-time Cy Young Award winner and former MVP settling into his career's post-back-problems phase, one that has forced the 30-year-old to make modifications to remain among the game's top-tier arms.
On the other was Kyle Freeland, a 25-year-old rising star who has found himself in the game's upper echelon for the first time this season. That status, as Kershaw knows well, comes with hefty responsibilities. The Rockies are depending on him to win games in a heated playoff race, and win more if they clinch a berth.
The pair battled to a stalemate. Kershaw walked five batters but managed to hold Colorado to two runs, one unearned, across seven innings nonetheless. Freeland surrendered two runs on five hits over 62/3 innings. Both exited with the game tied, leaving it to the bullpens to decide the outcome.
"I didn't give up too many hits, but a hit and a walk are the same to me," Kershaw said. "Obviously, too much traffic out there…But for the most part, it was OK."
The Dodgers summoned Kenta Maeda to relieve Kershaw in the eighth inning. He struck out the side — the Rockies' 3-4-5 hitters — on 10 pitches, pumping his fist as he walked off the mound. Kenley Jansen was given the ninth and worked around a leadoff single to emerge unscathed. Scott Alexander and Dylan Floro then combined for a perfect 10th. Meanwhile, right-hander Scott Oberg logged 11/3 scoreless innings before the Rockies went to Ottavino, who threw a scoreless inning before he hung a 2-2 slider to Taylor, the league leader in strikeouts entering Tuesday night. Taylor, who has hit a leadoff home run in the World Series, called it the biggest home run of his career.
"This game humbles you really fast," Taylor said, "and it's moments like these you really have to take in."
Freeland's emergence derives, in part, from his complete domination against left-handed batters. Entering Tuesday, left-handed batters were hitting .024 against Freeland since the All-Star break. Freeland had faced 45 left-handed hitters since then. He gave up one hit and issued four walks. Left-handed batters haven't stood a chance. The Dodgers, platoon loyalists unafraid to field different lineups every day, countered to the extreme.
The Dodgers, whose only everyday players recently have been the right-handed-hitting Justin Turner and Manny Machado, didn't have a left-handed hitter besides Kershaw in their lineup. The strategy paid dividends in the first inning. First, Machado smashed a fly ball high off the wall in center, beyond a leaping Charlie Blackmon's reach.
After David Freese walked, Matt Kemp poked a single to right field. Ma-chado scored and Freese headed to third, but Kemp was thrown out rounding first base too aggressively for the third out. The gaffe, minor in the moment, concluded one of the Dodgers' best scoring opportunities against the southpaw.
The Rockies knotted the game in the third inning without a hit. Kershaw dug himself a hole by issuing two walks, but induced a ground ball to third base that should've ended the inning. But Turner charged the chopper on the side and emerged empty-handed, allowing a run to score.
Colorado seized the lead in the fifth inning without any help. Kershaw served up a 91-mph fastball over the plate to Blackmon, who deposited it 447 feet away, into the pavilion in right-center field. Kershaw fumed.
The back-and-forth continued in the bottom of the frame. Austin Barnes worked a leadoff walk and advanced to second base on Kershaw's sacrifice. Taylor then hit a soft chopper to third baseman Nolan Arenado, who decided to flip the ball to third base in an attempt to catch an aggressive Barnes off the bag. But the ball got away and Barnes scampered home, tying it at 2-2.
It stayed that way until Taylor pounced on a hanging slider and drove it over to the left-field wall to keep the Dodgers in first place.
"Man, that was a lot of fun," Kershaw said.
Twitter: @jorgecastillo
---
Get our Dodgers Dugout newsletter for insights, news and much more.
You may occasionally receive promotional content from the Los Angeles Times.