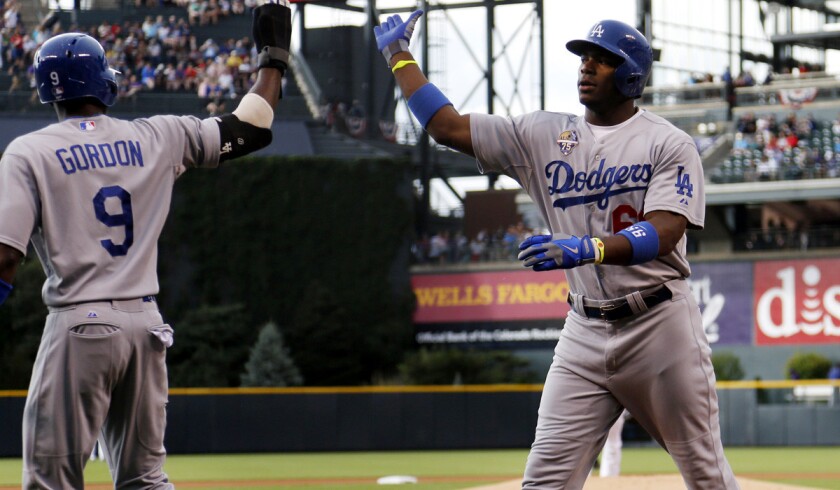 KEY MOMENT: With Clayton Kershaw pitching for the Dodgers, this game was essentially over when Yasiel Puig launched a two-run home run off Jair Jurrjens in the first inning. The home run was Puig's first in more than a month, since May 28. "How many months has it been?" Puig joked. Puig said he wasn't concerned about his lack of home runs. "What I need are hits, not home runs," he said.
IN THE STANDINGS: The Dodgers extended their lead over the second-place San Francisco Giants in the National League West to 1 1/2 games.
MEDICAL REPORT: Hanley Ramirez started his second consecutive game and doubled in the first inning, but he was struck by a pitch on his left hand in the fifth inning. Ramirez was removed for precautionary reasons in the bottom half of the inning and replaced at shortstop by Erisbel Arruebarrena. "He could have stayed," said Manager Don Mattingly, who added that Ramirez is expected to return to the lineup Saturday.
AT THE PLATE: The Dodgers collected a season-high 19 hits, including a three-run home run by Scott Van Slyke in the fifth inning that increased their lead to 6-0. Dee Gordon, Andre Ethier and A.J. Ellis each had three hits. Three others had two-hit games: Van Slyke, Adrian Gonzalez and Kershaw, who also had an RBI and is batting .241.
ON THE MOUND: Kershaw pitched eight shutout innings to extend his scoreless innings streak to 36. Kershaw limited the Rockies to two hits and a walk. Jamey Wright pitched a scoreless ninth inning.
THE LINEUP CARD: Matt Kemp was given the day off, as Mattingly said he sensed the center fielder was fatigued. "I'm sure he would say he didn't need it, but I felt it would be good for him," Mattingly said.
DOWN ON THE FARM: Carl Crawford will join triple-A Albuquerque on Saturday to start a minor league rehabilitation assignment. Crawford has been sidelined for more than a month with a sprained ankle, as well as problems with his Achilles' tendon. Crawford will remain in triple A until at least the end of the Dodgers' current trip, which ends Wednesday. "At that point, see where everything is," Mattingly said.
UP NEXT: Dan Haren (8-4, 3.57 ERA) will face the Rockies and Jorge De La Rosa (8-6, 4.86) at Coors Field on Saturday at 1 p.m. PDT. On the air: TV: SportsNet LA. Radio: 570, 1020.
---