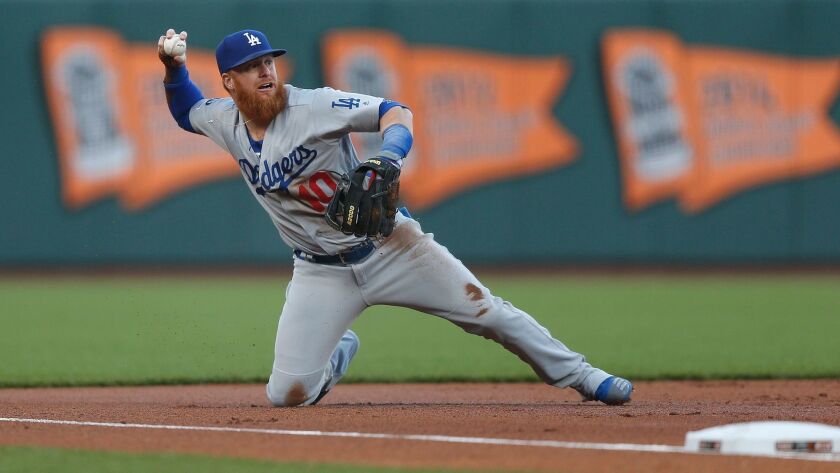 Reporting from SAN FRANCISCO —
On the last day of April, the tall, wiry slugger who was the driving force behind the Dodgers' offense for the first month took a back seat and let his teammates take him for a little joy ride.
A quiet night for Cody Bellinger — by his standards this season — featured plenty of loud contact from the rest of the Dodgers, who banged out three home runs — including Justin Turner's first of the season — and two doubles in a 10-3 victory over the San Francisco Giants before 32,017 in Oracle Park.
All five extra-base hits, including David Freese's game-turning three-run homer in the fourth inning and Enrique Hernandez's two-run shot to cap a six-run rally in the sixth, and the 10 RBIs were by right-handed hitters against left-handed pitchers, who have given the Dodgers problems.
The Dodgers entered Tuesday with a .266 average and .830 on-base-plus-slugging percentage against right-handers and a .237 average and .753 OPS against left-handers. They are 15-7 against right-handed starters and 5-5 against left-handers.
"We take pride in what our job description is — we want to do our part," Freese said. "Belly is not always going to have the best April in major league history. We have to keep working and picking up the slack."
Walker Buehler (3-0), leaning heavily on a four-seam fastball that averaged 95.8 mph, gave up three runs and six hits in 51/3 innings, striking out six and walking one. Reliever Dylan Floro retired the five batters he faced in the sixth and seventh, and Yimi Garcia retired six straight in the eighth and ninth.
The Dodgers, who ended last April eight games out of first place, are the first team to 20 wins.
Freese broke out of a two-week funk with his homer, which turned a 1-0 deficit into a 3-1 lead, and a single that helped spark the six-run sixth. Chris Taylor and Austin Barnes added two-run doubles before Hernandez's two-run homer.
Turner then led off the seventh with a homer that barely cleared the center-field wall, only the third homer in 479 career plate appearances before May 1.
"I was relieved," said Turner, who was hitting .188 (six for 32) against left-handers before Tuesday. "It was nice to finally get that out of the way so you can stop talking about me being the only guy on the team without a home run."
Turner has a solid .287 career batting average in March and April but a .378 slugging percentage, three homers and 43 RBIs, his lowest power output of any month. Can he explain why he gets off to such slow starts, slugging-wise?
"Can you explain why?" Turner said to reporters. "Then neither can I. I have no idea. It's just the way it is, I guess."
Freese was hitting .059 (one for 17) against left-handers before Tuesday and was in a one-for-18 overall slump that dropped his average from .350 in mid-April to .205.
Sign up for our daily sports newsletter »
"I'm getting my walks here and there and seeing the ball OK," Freese said. "But when I want to hit it, I'm just a little anxious, a little aggressive, instead of trusting that that effortless feeling is going to create a good swing … and more sleep."
In the fourth, with a full count against left-hander Drew Pomeranz, Freese swatted a high fly ball to right field that hit the top of the wall, just above the Levi's Landing sign, for a three-run homer and a 3-1 lead.
"The game could have gone either way right there," manager Dave Roberts said, "so for him to drive in three flipped it on them."
Freese followed Bellinger's leadoff walk in the sixth bypoking a single to right off left-hander Ty Blach to advance Bellinger to third. Max Muncy walked to load the bases and Taylor, who entered with a .167 average, drove a two-run double over the head of right fielder Steven Duggar for a 5-1 lead.
Barnes doubled to right-center for two more runs and a 7-1 edge, and Hernandez followed with his homer to left, his sixth of the season, to make it 9-1.
Freese, a starter for most of his first nine big league seasons, didn't blame his recent struggles on the challenges of a reduced role.
He was a platoon player after an Aug. 31 trade from Pittsburgh to the Dodgers last season and hit .385 with a 1.130 OPS, two homers and nine RBIs in 19 games. Freese hit .364 (eight for 22) with two homers and six RBIs in 14 postseason games.
"It's definitely a tough role, but I can handle it," Freese said. "I've handled it before. Youjust want to do your part. That's the most frustrating thing,even when you're winning, which we are. It can hide some ofyour struggling aspects, but man, you just want to do your part."
---