Skip Schumaker says Dodgers have talent, but it's not always enough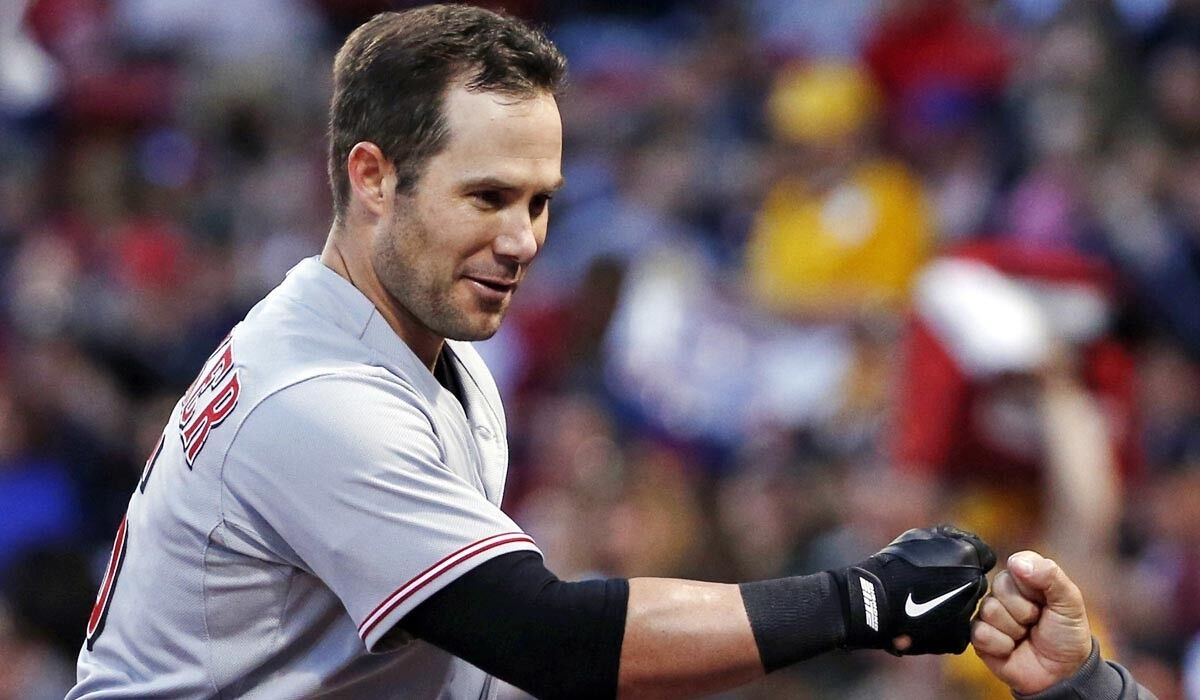 Reporting from Cincinnati —
From the home clubhouse here, the Cincinnati Reds' Skip Schumaker keeps an eye on his old team. The Dodgers have yet to win more than three consecutive games, while the San Francisco Giants have the best record in the major leagues.
The Giants are threatening to turn the National League West into a rout. Where might that leave the Dodgers?
"I think they'll be OK," Schumaker said. "They've got so much talent, it's crazy.
"But that is not always a formula to win. You can't always out-talent somebody."
Schumaker, who went from the Dodgers' bench last year to the Reds' bench this year, doubled, singled and scored two runs as the Reds beat the Dodgers on Thursday, 4-1.
Schumaker joined Nick Punto, Jerry Hairston Jr. and Michael Young on a veteran Dodgers bench last season. Hairston and Young retired, Punto signed a one-year contract with the Oakland Athletics, and Schumaker signed a two-year deal with the Reds.
He would have been happy to return to the Dodgers, he said, but he had two-year offers from multiple clubs and no offer from the Dodgers. No hard feelings, he said.
Schumaker, 34, is not the difference between the Dodgers winning and losing. Indeed, they have a better record than the Reds, and he has a .263 on-base percentage. In his place as a versatile utility man, the Dodgers have Chone Figgins, 36, who has a .361 on-base percentage.
But the Dodgers also have a five-man bench when, at full strength, includes two outfielders who could be playing every day.
"Those guys aren't used to it," Schumaker said. "I doubt [Andre] Ethier, [Matt] Kemp or [Carl] Crawford ever envisioned himself on the bench."
Kemp and Crawford each has spoken of his uneasiness with the situation, and Ethier has said the situation would be uncomfortable if the Dodgers are not winning. To Schumaker, those are the kinds of clubhouse dilemmas that a veteran bench can help resolve, or at least defuse.
"I feel like it's vital," Schumaker said. "There are a lot of things that should never get to the manager."
Dodgers Manager Don Mattingly said this year's bench has been "pretty good," with Figgins emerging as a mentor to Dee Gordon and infielder Justin Turner effective in replacing the injured Juan Uribe.
"The bench always seems like it turns over," Mattingly said. "It's hard to keep that mix the same. The guys we've had have been good. The guys we have now have been good. It's not fair to compare one year against the other."
Schumaker said the Dodgers are in a "tough spot" amid a glut of talent and a mountain of expectations.
"You need to have guys that have been through it all and won, and have seen it all," he said. "We definitely had those guys last year.
"I don't have the pulse of the clubhouse now. Clayton Kershaw is one of the two best guys I've ever been around, him and [St. Louis Cardinals ace Adam] Wainwright."
The Dodgers last year got within two victories of the World Series, the closest they have been since last appearing in the Series in 1988.
"They've got pitching. They've got hitting. They've got speed. They've got superstars," Schumaker said. "It's not always that. I wouldn't say that if I didn't know it firsthand. I truly believe that.
"It was kind of a neat little thing we had going last year."
Twitter: @BillShaikin
Get our Dodgers Dugout newsletter for insights, news and much more.
You may occasionally receive promotional content from the Los Angeles Times.