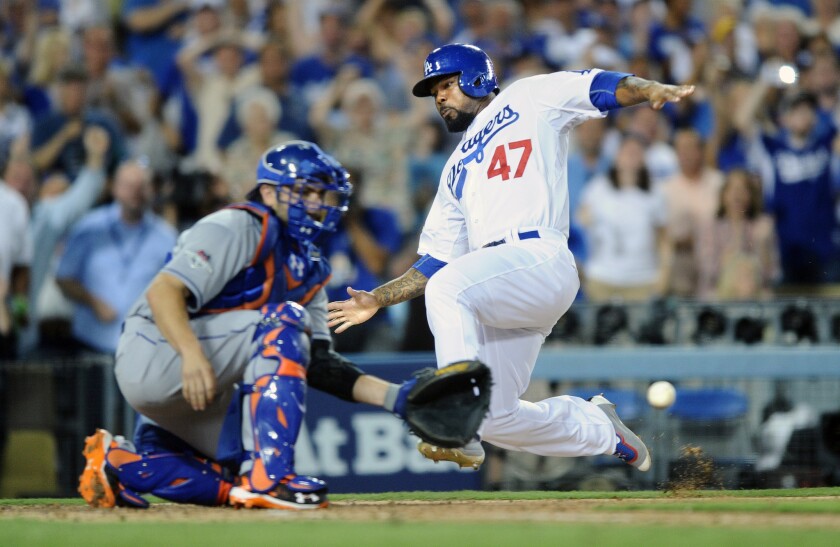 A backlog of infielders did not prevent the Dodgers from reuniting with second baseman Howie Kendrick. The sides agreed to a two-year, $20-million contract Friday, according to people familiar with the matter who spoke anonymously because the deal was not official.
The contract is pending a physical.
With Kendrick back in the fold, the Dodgers enter 2016 with a sturdier lineup and more stable infield. The presence of Kendrick deepens the team's bench because the club can now use proposed platoon mates Enrique Hernandez and Chase Utley as utility players.
It will be up to Manager Dave Roberts to juggle the pieces on his roster, but second base appears set.
Roberts spoke highly of Kendrick before the agreement was reached.
"He's a heck of a ballplayer," Roberts said Friday at a luncheon with members of the Wounded Warrior Project at City Hall as part of the team's preseason caravan. "I know that he enjoyed his time here last year. If something does work out, it makes us a better ball club."
The Arizona Diamondbacks also reportedly had pursued Kendrick, who some rival executives believe suffered from the albatross of draft-pick compensation attached to his free agency. Kendrick entered the market in November after declining a one-year, $15.8-million qualifying offer from the Dodgers.
To sign Kendrick, the other 29 teams would have had to forfeit a draft pick. The Dodgers benefited from this, signing Kendrick at a lower price than the Chicago Cubs paid for Ben Zobrist (four years and $56 million) or the Washington Nationals paid for Daniel Murphy (three years and $37.5 million).
After Kendrick hit the market, the Dodgers regrouped and re-signed Utley to a one-year, $7-million contract. The team looked like it might partner Hernandez with the 37-year-old Utley, who hit just .202 during a 34-game stint in Los Angeles last year. The return of Kendrick scotches that arrangement.
The Dodgers do not lack for depth at second base. The team acquired infield prospect Micah Johnson from the Chicago White Sox earlier this winter. The club also still employs Alex Guerrero. Justin Turner has played second base in the past, but the team sees him as a better fit at third base, especially as he returns from off-season knee surgery.
The allure of Kendrick arises from his reliability. His statistics resemble the product of a metronome: During the last four seasons, his batting average has never fallen below .287 or risen above .297. His slugging percentage was .400 in 2012 and .409 in 2015. A strained left hamstring in August limited Kendrick to only 117 games last season, but he still posted a .746 on-base-plus-slugging percentage.
His consistency was already familiar to fans in Southern California. In December 2014, the Dodgers acquired Kendrick from the Angels, who drafted him in 2002 and brought him to the majors in 2006.
"I've seen it from the other side," Roberts said. "I've always admired the way he plays the game."
Follow Andy McCullough on Twitter @McCulloughTimes
---