Don't put Bryce Harper in your projected Dodgers outfield just yet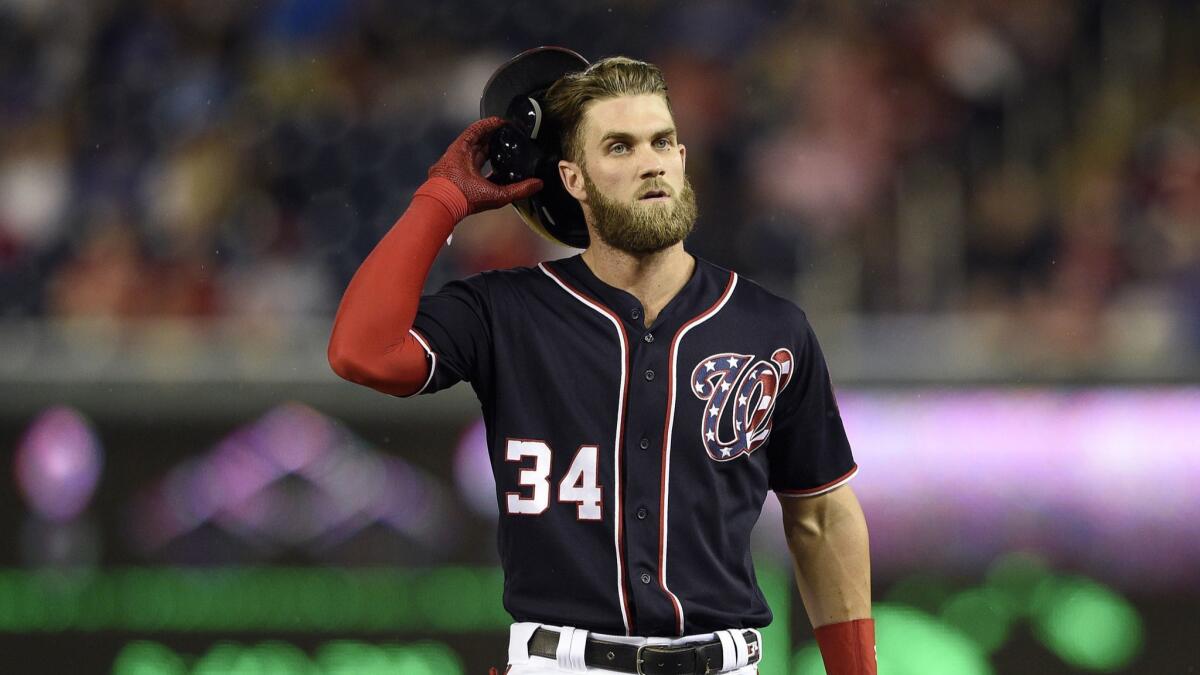 Late Monday night, Yahoo reported a Dodgers contingent led by minority owner Magic Johnson recently met with free agent Bryce Harper in his hometown of Las Vegas, fanning flames around the big-market behemoth's interest in the 26-year-old superstar.
A marriage makes sense on the surface. The Dodgers should have the money to invest in Harper's projected neighborhood and don't employ a superstar in his prime with Harper's marketability. Harper was born and raised a few hours from Dodger Stadium, appreciates the sport's history and relishes performing on its biggest stages. He often visits the area during the offseason and Dodgers legend Steve Garvey is a family friend who coached him in travel ball. Harper even grew up a Lakers fan. Coming to Los Angeles and leading a club in the country's second-biggest market to its first World Series title in three decades surely is enticing.
But a meeting with Johnson apparently didn't happen. Johnson denied it to Yahoo on Tuesday morning and a source with knowledge of the situation said "the meeting never, ever happened."
That, of course, doesn't mean the Dodgers aren't interested in adding Harper, but that would require the Dodgers deviating from their spending habits under Andrew Friedman. The Washington Nationals offered Harper a 10-year, $300-million contract before the end of the regular season and pulled it off the table after the World Series, according to a person with knowledge of the situation. It would've been the most lucrative free-agent deal in North American sports history. That may be the floor for Harper.
The Dodgers haven't signed a player to a nine-figure deal since Friedman began heading the team's baseball operations in October 2014 and the four largest contracts have been granted to retain players. Clayton Kershaw's three-year, $93-million contract signed last month is the most expensive Friedman's front office has given. Kenley Jansen's five-year, $80-million pact signed in December 2016 is the largest Friedman's front office has given to a player in free agency (Kershaw never became a free agent). The Dodgers' last nine-figure contract was the seven-year contract extension worth $215 million that Kershaw signed in January 2014.
The Dodgers' projected payroll for the 2019 season is $190.4 million, according to Cot's Baseball Contracts, after re-signing Kershaw and David Freese, and giving Hyun-Jin Ryu the qualifying offer for $17.9 million. The figure includes estimated salaries for nine arbitration-eligible players and is $15.6 million below baseball's $206-million competitive-tax threshold for 2019.
Last offseason, the Dodgers spent about $4 million in free agency and invested $195 million in player payroll for the 2018 season, $2 million under the CBT threshold. The prevailing thought was frugality, practiced to slip under the CBT line and reset the tax penalty before a splurge this offseason, but a document prepared for investors before the 2017 playoffs indicated the club didn't plan on exceeding the competitive-tax line over the next four seasons. Those projections, however, are not binding. And they wouldn't necessarily inhibit the Dodgers from signing Harper even if they were.
The Dodgers could shed salary via trade from their surpluses in the outfield and starting pitching. One obvious candidate is outfielder Yasiel Puig, who is arbitration-eligible and a free agent next offseason. MLB Trade Rumors projects Puig will receive $11.3 million in arbitration. The Dodgers have tried trading Puig and, in August, offered him to the Nationals for Harper after claiming Harper on waivers. Fellow outfielder Matt Kemp is on the books for $20 million before becoming a free agent in a year and MLB Trade Rumors projects left-hander Alex Wood will get $9 million in arbitration before hitting free agency next offseason.
The Dodgers have other needs. They could use an upgrade at catcher and bullpens always can use some tweaking. But the Harper sweepstakes are just getting started and they figure to rev up at the Winter Meetings next week in, coincidentally, Las Vegas.
Twitter: @jorgecastillo
Get our Dodgers Dugout newsletter for insights, news and much more.
You may occasionally receive promotional content from the Los Angeles Times.