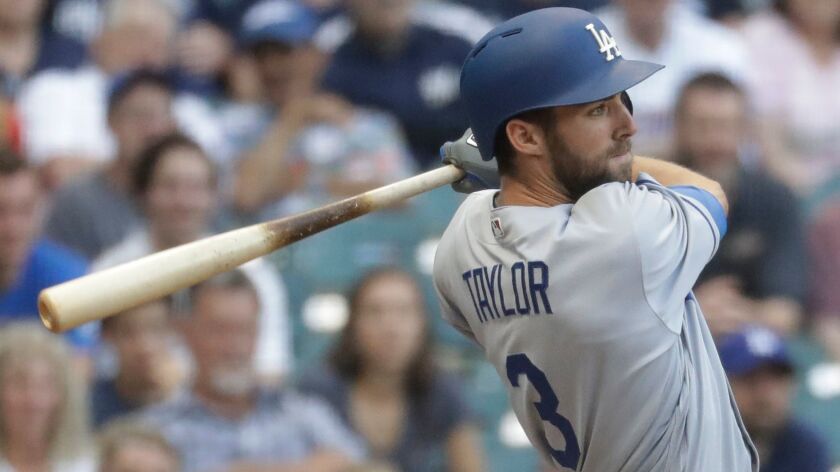 The Dodgers are 35-23. That translates to a 98-win pace. After spending four days in first place this week, the team slipped a half-game behind Colorado in the National League West. The Dodgers went 4-3 on this road trip, though they needed a pair of ninth-inning comebacks to swipe victories from Milwaukee on Friday and Saturday.
The competition will not get easier. The Dodgers host the Nationals for three games this week in a rematch from the National League Division Series. Here are the pitching match-ups:
Monday: LHP Hyun-Jin Ryu (2-5, 3.91 ERA) vs. LHP Gio Gonzalez (4-1, 3.03 ERA).
Tuesday: RHP Brandon McCarthy (5-2, 3.38 ERA) vs. RHP Max Scherzer (6-3, 2.56 ERA).
Wednesday: LHP Clayton Kershaw (7-2, 2.28 ERA) vs. RHP Stephen Strasburg (7-1, 2.91 ERA).
As always, there is plenty to discuss. You can send me questions on Twitter @McCulloughTimes. Let's do this.
Manager Dave Roberts offered a revealing answer on Sunday morning when discussing the length of Justin Turner's rehab assignment and Joc Pederson's rehab assignment. Turner would only require a couple days, enough time to show his hamstring is healthy. Pederson will need to prove he can produce.
Roberts has repeatedly told his players that they will not lose their starting positions to injury. But Pederson presents him with a problem. Pederson has hit .200 when healthy this season, with only two home runs. Chris Taylor has emerged as one of the team's better hitters, and has played well enough in center field.
So the Dodgers do not want to expose Pederson to failure by rushing him back. He will need to hit, at least for a week or so, in the minors in order to show he can handle big-league competition.
What comes next? Roberts expects Taylor to float between center field, third base and second base. If Taylor continues to hit, Pederson is unlikely to ever start against a left-handed pitcher. Taylor can also provide some relief for Turner, as the Dodgers do not want to exhaust him heading into the second half.
In all likelihood, someone else will get hurt, and the Dodgers will have to reshape their roster to compensate. But until that happens, Taylor will rotate between several positions, playing more days than he sits.
With Maeda struggling, do you see Julio Urias being called back up soon?

— Derek McIntyre (@derekmac79) June 5, 2017
The Dodgers, as always, are in a strange spot with Julio Urias. He is currently dealing with an illness, and has made only one appearance for triple-A Oklahoma City since getting demoted in late May.
In a perfect world, the team would give him a few more outings to reset his delivery and erase his misshapen strikeout-to-walk ratio (11 strikeouts, 14 walks in five big-league outings). But if Kenta Maeda continues to stumble and Alex Wood's injury takes longer to heal than expected, the team may have to microwave Urias' progression and bring him back.
If Kenta has to be pulled from the rotation, what do they do with him?

— Das Bunker (@DASBUNKER) June 4, 2017
The Dodgers can option him to the minors.
What areas of the team will the front office be focused on improving toward the MLB deadline?

— Ben Haber (@HaberBen) June 4, 2017
The obvious ones: The starting rotation, the bullpen and the outfield. I outlined some outfield options in last week's mailbag, although some Dodgers folks were less enthusiastic about Jose Bautista than I expected.
Is it time to give Stripling a shot, in place of these 4 inning wonders?

— Anonymous Anonymizer (@JonathanLingo) June 4, 2017
It doesn't seem like the best idea. It would have taken Ross Stripling a week or longer to stretch his arm out to the 75-pitch mark. He's thrown more than 40 pitches in only three of his 19 outings this season. He has been quite good as a reliever, not quite a long man and not quite a high-leverage arm, but as a hybrid who Dave Roberts can still stretch for multi-inning stints. He should probably stay in the bullpen, unless the club gets truly desperate.
what's up with Trayce Thompson?

— little miss 'jesus christ' (@paulmcccartney) June 4, 2017
Trayce Thompson has started to hit a little bit, with an .823 on-base plus slugging percentage in his last eight games for triple-A Oklahoma City. But the overall numbers are still pretty ugly. He is hitting .190 with a .578 OPS and 48 strikeouts in 153 plate appearances. With the emergence of Chris Taylor, there isn't a need at the major-league level for a right-handed hitter like Thompson. He'll have to mash to reclaim his spot in the hierarchy.
Marlins are going to have a fire sale. Is Giancarlo Stanton contract that bad?

— Jason (@jason_anew3) June 4, 2017
It is pretty unwieldy. It does not appear that any of the stipulations in the deal become voided if Giancarlo Stanton is traded — and he has a full no-trade clause. The contract is backloaded to a repulsive degree. The Marlins owe Stanton $218 million after 2020, when Stanton can opt out. If you could guarantee that Stanton would opt out, then the contract isn't so bad. But that appears unlikely, given his lengthy history of injuries. He averaged 114 games a season from 2013 to 2016, a time that should be his physical peak. It won't get better after he turns 30.
What do you miss most about KC?

— Marc Lindstrom (@DJ_Wonderbread3) June 4, 2017
There was a Chick-fil-A on the road to the airport. There were also a couple good restaurants — Port Fonda, iPho Tower — near my apartment in Westport.
Favorite b-side of all time?

— Jason Dieguez (@jaydieguez) June 5, 2017
"Acquiesce" by Oasis, followed by Brand New's cover of Love Spit Love's "Am I Wrong" and "Central Standard Time" by the Get Up Kids. As an aside, "Eudora," a collection of B-sides and rarities, is my favorite Get Up Kids record.
Twitter: @McCulloughTimes
ALSO
Ten things you should know about Chris Taylor
Rich Hill's performance puts damper on Dodgers victory
Clayton Kershaw gets his 2,000th strikeout, but the Dodgers need extras to beat the Brewers 2-1
---