Column: Dodgers test fans' loyalty with steep increases for season tickets even in the cheap seats
The clock struck 11:25 p.m. Time was growing short. A lifetime of Dodger love was being tested.
Bill Snoberger and fiancee Mary Jones were trying to figure out whether a 45% price increase over two years for two season tickets in the outer reaches of Dodger Stadium was worth it.
They sit in the top deck. It's the cheapest section in the building. It's steep and uncovered and so, so far away. Yet this winter the Dodgers reached all the way up there and slugged them in the gut, the total cost of the tickets is now $2,649, or $820 more than two seasons ago, $505 more than last year.
This sort of increase usually hits the corporate types. Snoberger and Jones never thought this would be happening to people in the cheap seats.
On that late-December evening they had until midnight to renew the tickets under the five-payment plan, which is the only way they could afford them. But for the first time in the dozen years they've held the tickets, they couldn't decide whether it was worth it.
"I was like, 'We can't do it … we have to do it … we can't do it,''' said Snoberger, 60, a sales manager for a company that builds bowling centers.
The clock struck 11:30. The website was up. Their fingers were poised. The debate raged.
The top deck is their home. The folks who sit around them are like family. They attended more than 70 regular-season games last year. They stay until the end of each game. Just strain your neck and look up there in the ninth inning. They're there. They're always there.
Yet this is their biggest expense every year, and it just keeps getting more expensive. Like most in their section, they're not the kind of folks who can keep shelling it out. Already they save money by parking outside the stadium and bringing in their own Subway sandwiches. How many more costs can they cut to watch the games before they have to cut out the actual games?
"This is the bulk of what we spend our money on, and it just keeps going up,'' said Snoberger. "The Dodgers keep doing this to the people who can least afford it, and at some point .… "
The clock struck 11:35. It was getting too close for comfort. Jones finally told Snoberger it was now or never.
"Do you want to do it?" she said. "Do you really want to do it?''
::
It's one of new truths of being a fan of a richly paid, championship-contending team playing in a historic stadium.
Just because you sit in the nosebleed seats doesn't mean the Dodgers can't bleed you some more, and they will, and short of walking away, there's nothing you can do but stuff some cotton in it.
"Every year we think, what are we going to do?'' asked Snoberger. "If we don't re-up, there's just going to be somebody else taking our place and sitting in our seats. The Dodgers know they can raise these prices and somebody will pay them.''
Snoberger knows what some of you are thinking. He doesn't have to attend 70 games to be a Dodger fan. He can always watch from home on television.
Guggenheim has done a lot of great things. ... But when it comes to ticket prices and television, they really seem to have forgotten their fans.
— Mary Jones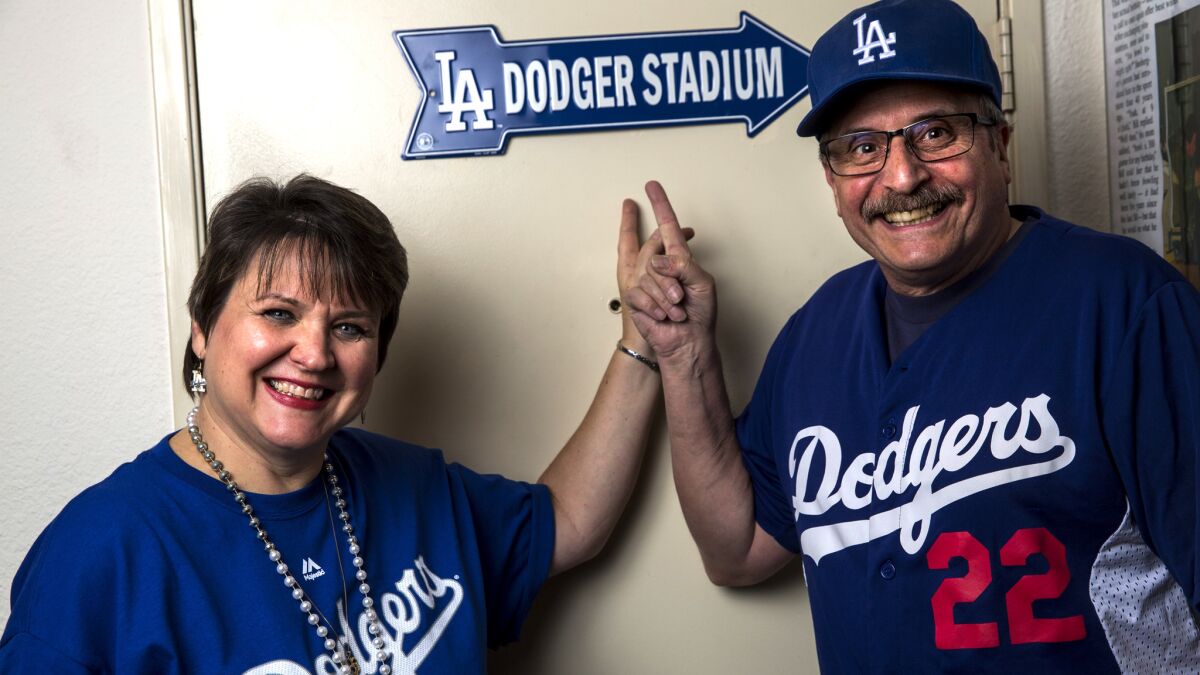 Um, no, he can't. He has DirecTV. Like more than half of Los Angeles households, his provider doesn't carry the Dodgers' channel. The Dodgers literally have him both coming and going.
"It's like being in love with a beautiful girl who I think loves me,'' said Snoberger. "But after many years of being kicked in the gut, I finally had an epiphany that she really doesn't love me.''
For the record, the average price of one ticket for one game in Dodger Stadium's top deck is about $16, about the cost of a movie, and far cheaper than many other of sports' cheap seats in town.
"We understand the fan's plight, but the Dodger ticket is still a good entertainment value compared to movies and other sports,'' said a Dodger spokesman.
Also for the record, the Dodgers have been raising prices in every section, not just the top deck, and cite it as the cost of doing business that includes a $200-million renovation and a high-priced World Series team.
"But they didn't win the World Series, right?" reminded Jones. "I can't imagine how much prices would have gone up if they had."
What fuels the top deck folks' frustration is the notion that, by shoving them toward the door, the Dodgers are messing with the hard-core base upon which the brand was built.
On the door of Snoberger's Glendale apartment is an arrow pointing to Dodger Stadium. On the ground beneath it sits a Dodgers welcome mat.
"It's crazy how much everybody in our section just loves the Dodgers," he said.
Sitting near them have been Angela and Joey Alvarez, who bought season tickets five years ago when Joey started attending 30 games a year despite having to drive in from Riverside. When the Alvarezes were married in May, four fellow top deck fans attended. The groomsmen were all given bobbleheads of themselves. Their house includes a Dodgers-themed man cave.
"A lot of us go way out of our way to be season ticketholders,'' said Angela. "But every year, it becomes a bigger financial decision."
OK, asking them the same question posed to Snoberger, can't you folks just watch them from home?
"Nope," she said. "We don't get them on TV either.''
Their top deck neighborhood is a bunch of folks in the same cloud, loving the Dodgers, looking for the best deal; folks such as Mr. Hernandez, and Carlo, and Carlo's mom, who is related to Joe DiMaggio, and Allen, and Crazy Loco Guy.
They show up early to gaze at the mountains. They sign up to be designated drivers so they can receive a free soda. They mourn all the empty seats purchased by ticket brokers who can't resell them, because that means they won't be able to resell any of their tickets.
They count the number of fan appreciation gifts that land in their section (not many). They cringed a bit when the Dodgers honored their loyalty this year with a single Dodgers mug for every ticket account.
"We have two seats, and got one mug,'' said Angela Alvarez. "How hard would it have been to give us two mugs?''
They love David Kirkpatrick, the Dodgers' director of season ticket sales, because, according to Snoberger, "He makes sure we're OK, he actually cares.''
The Dodgers ownership, though? They have their doubts about them, doubts that should concern the Guggenheim folks if their baseball team ever stops winning. If they lose their base, they lose this town, just ask Frank McCourt.
"Guggenheim has done a lot of great things, the stadium is nicer, the Wi-Fi is better, the customer service people are really nice, it's a really nice place to go,'' said Jones. "But when it comes to ticket prices and television, they really seem to have forgotten their fans.''
But the top deck folks don't forget about them. Many of them will be back in their sky blue chairs for opening day March 29 against the San Francisco Giants, their loyalty unwavering for a team that hasn't won a title in 29 years.
This includes Snoberger and Jones, who will be loaded down in Dodgers gear and Subway sandwiches and endless hope, sitting as always in Section 5, Row K, Seats 5 and 6.
Shortly before midnight on that late December day they renewed their season tickets. Of course they did.
Get our Dodgers Dugout newsletter for insights, news and much more.
You may occasionally receive promotional content from the Los Angeles Times.