Dodgers' Trayce Thompson is finding success outside the family business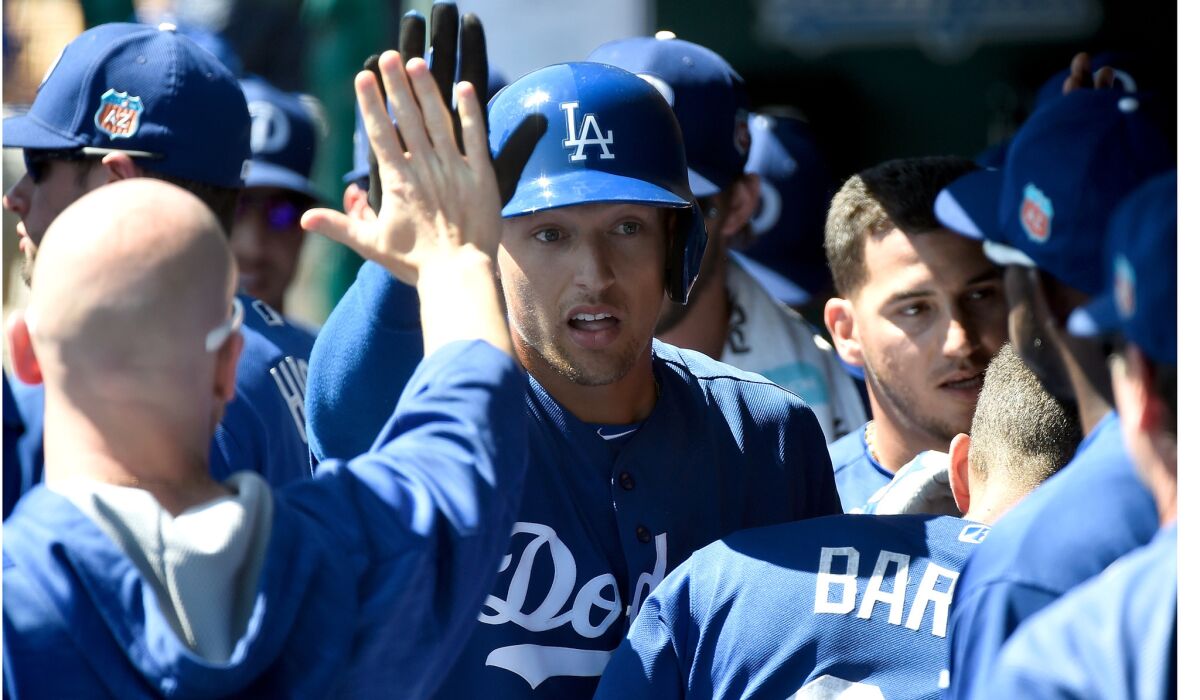 Reporting from PHOENIX —
His father towers over him, as do his two older brothers, but Trayce Thompson jokes that this is by design. As a boy, he visualized barreling through an offensive line, not spotting up at the three-point line.
In his childhood obsession, he altered his diet because "he wanted to stunt his growth so he could be running back for the Pittsburgh Steelers one day," his brother Klay said.
Trayce Thompson revered Jerome Bettis and studied his statistics. He sought to transform himself into a carbon copy, a 5-foot-11, 255-pound terror. One glance at his father, Mychal, demonstrated the difficulty of his dream.
"It didn't take a scientist to see my dad was 6 feet 9, and everyone was saying how big I was going to be," Trayce Thompson said inside the Dodgers clubhouse at Camelback Ranch. "So I heard that if I stopped eating my vegetables and started drinking caffeine, I wasn't going to grow."
Trayce sneaked gulps of his mother's Starbucks, guzzled soda and refused portions of broccoli, but his genes foiled his plans. As he became older, his priorities changed and so did his heroes. Trayce grew to 6-3, the same height as Ken Griffey, Jr., another idol from his childhood in the Pacific Northwest.
Before Trayce, the family's trade was basketball. Mychal Thompson starred on a pair of championship teams in the Lakers' Showtime dynasty. His eldest son, Mychel, grinds in the NBA's Development League. And Klay helped transform the Golden State Warriors into a hyperkinetic juggernaut.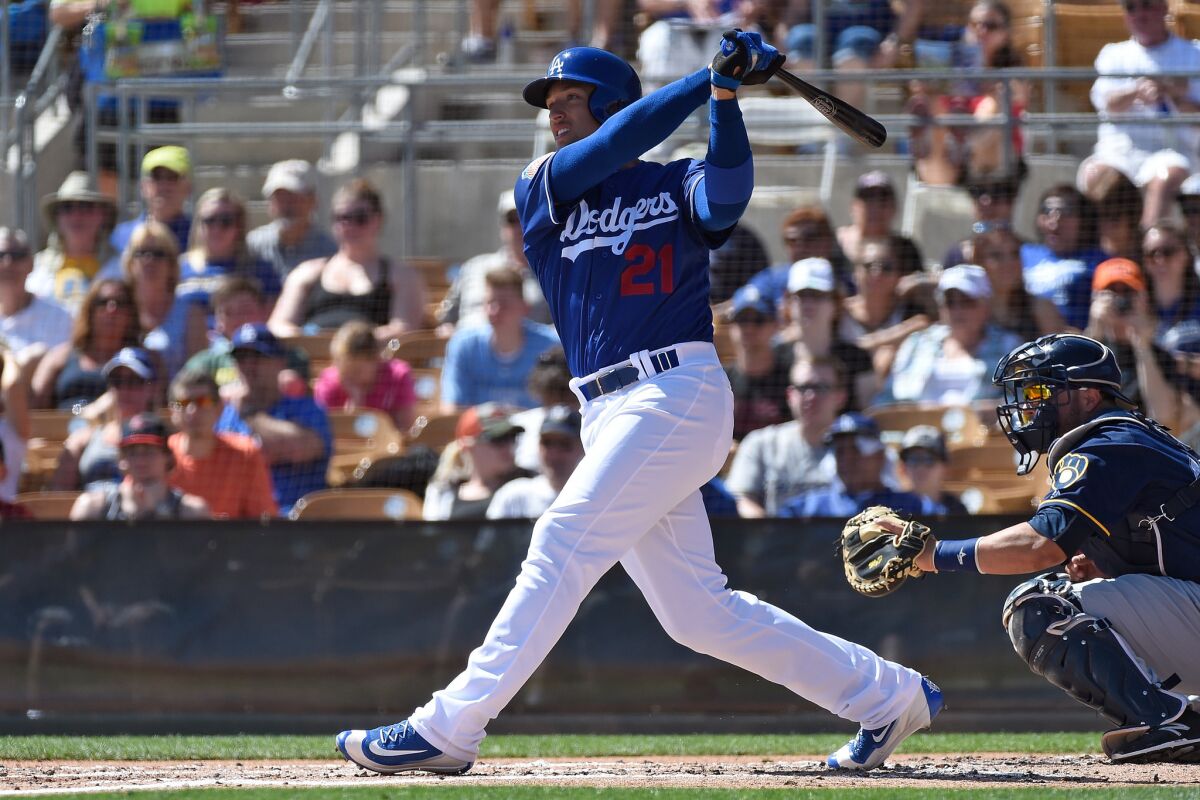 Trayce sought a different path, one that brought him to Dodgers camp this spring. He thrived in a childhood of endless competition. He weathered the travails of minor league life to debut in the major leagues last season at 24. Acquired this winter, he adds athleticism and possibility to the team's outfield hoard.
His arm and grace in the outfield make him a valuable defender. He made an intriguing cameo with an .896 on-base plus slugging percentage for the Chicago White Sox last summer. While scouts worry his propensity for strikeouts will confine him to a reserve role, his new team has not ruled out the chance for something more.
"He has a lot of really interesting components to his game," said Andrew Friedman, the Dodgers' president of baseball operations. "And we started to see it sync up last year."
The Dodgers employ a glut of outfielders, and Trayce Thompson will be punished for his rookie status. Because he has minor league options, he will almost certainly begin the season with triple-A Oklahoma City. The team still expects him to contribute this season, and when he does, he'll continue the Los Angeles sports lineage his father started three decades ago.
Growing up in the Bahamas, Mychal Thompson fell for the Dodgers. He learned the history of the club, the glories of Sandy Koufax and Maury Wills and Willie Davis, while memorizing batting averages and lineups. But his height carried him to the hardwood. He joined the Lakers in 1987 midway through his eighth season in the NBA.
That same year, Mychal married Julie Leslie, a former volleyball player at the University of San Francisco. The trio of boys soon followed: Mychel in 1988, Klay in 1990 and Trayce in 1991. They settled in a suburb of Portland, where Mychal had started his career.
Mychal became a broadcaster as they raised the family. Early on, he sensed Trayce's attraction to baseball. He watched Trayce clamber into the house after football games, grab a bat and practice his swing while still wearing shoulder pads.
During the summer, the Thompsons would gather the other kids in the neighborhood for whiffle ball games on their front lawn. Mychal acted as the designated pitcher and umpire. The boys carped about his calls, but Mychal implored them to swing the bat.
"Hey," Mychal told them, "if it's close, I'm calling it a strike."
Added Trayce: "It was always a competition. Someone always ended up crying."
Mychel often supplied the tears. Klay cracked up recalling when Mychel kicked a basketball and considered running away after losing to Trayce in a game of one on one. When Klay dueled with Trayce, his little brother utilized his girth as an advantage.
"He was a lot bigger than me," Klay said. "So he would just pull the Charles Barkley and back me down from the three-point line, until he got under the rim and could try to get a layup. I had to foul him."
The family moved in 2003 when Mychal joined the Lakers broadcast team. Mychel matriculated to Pepperdine. As a senior in 2008, Klay led Santa Margarita High to a state basketball title. Trayce started at forward during their playoff run. "I didn't get many shots," Trayce said. "Because we had Klay."
I really needed someone to hammer into my brain that I needed to focus, and I needed to focus on the right things.
— Trayce Thompson, on concentrating on getting hits and not swinging for the fences
Baseball remained his passion even as his frame stretched out. One day his junior year, his parents went to meet with baseball coach Kris Jondle. The family lacked sophistication about the game's intricacies.
"We are not baseball people," Mychal Thompson told the coach.
Jondle had coached a pair of future big leaguers, Evan Longoria and Bud Smith, at Bellflower St. John Bosco High. In Trayce, he told the parents, he saw a quality major-college player. "After that," he told them, "the sky's the limit."
Trayce quit the basketball team as a senior to concentrate on baseball. His athleticism had always carried him on defense, but now his swing acquired polish. Scouts credited him for assembling his best at-bats against the highest competition.
The package of promise and poise convinced the White Sox to choose Trayce in the second round of the 2009 draft. His trek to the majors lasted seven years as he grappled with the consequences of failure.
Trayce connected with White Sox executive Buddy Bell. Bell grew up the son of a big leaguer and raised two sons who later played in the majors. He understood the burden of a family's athletic prominence.
"You're really in a no-win situation, because people automatically expect that you're going to be the best," Bell said. "That you're never going to make a mistake. That you never have to work on anything. That you have a silver spoon in your mouth."
Trayce raged after strikeouts. He moped about losses. Mistakes consumed him. A bad game could mushroom into a bad week, a week into a month.
Bell offered counsel and forged a bond. He listened to Mychal on the radio and watched the Warriors to make conversation. "I would always ask Trayce, 'Hey, what about Klay last night?'" Bell said. "He'd say, 'Well, I fell asleep …'"
Thompson recalled another, less-nurturing approach, courtesy of a baseball lifer named Tommy Thompson (no relation). Tommy Thompson managed Trayce in the lower rungs of the minors, Class-A Kannapolis in 2011 and Class-A Winston-Salem in 2012. Trayce struck out in more than 28% of his at-bats in both seasons, enough for his manager to tease him in front of his teammates.
"It would bother me sometimes," Trayce said. "But looking back on it, I'm so thankful. It taught me not to take this game so seriously. Because if you let your at-bats dictate your mind-set and your attitude, you're going to be in trouble."
In the off-season, Trayce sometimes bumped into Mark McGwire, the former home run king and Dodgers hitting coach. Trayce lamented how his lanky limbs prevented him from developing a compact swing.
No, that's a blessing, McGwire told him. You'll have more leverage than everyone else.
It took years for his talent and his production to intertwine. After two seasons in double A, Trayce boosted his average in 2015 at triple A to .260 with flashes of power. He listened to the hitting coaches who asked him to search for open patches of grass rather than the fences. The White Sox rewarded him with a big league call-up last August.
"I really needed someone to hammer into my brain that I needed to focus, and I needed to focus on the right things," Trayce said. "And not focus on hitting home runs, or stuff like that."
Rival evaluators still question his ability to combat big league pitching. After a torrid two weeks in August, Trayce cooled in September. He fanned in 19.3% of his at-bats, and strikeout rates, in the words of one National League scout, "rarely lie."
Even so, Trayce looked likely to play often for the White Sox this season. Then Mychal Thompson received a call from his wife one day in December. Julie sounded "all frantic," he said.
"Trayce is getting traded to the Dodgers!" she said.
"Well," he replied, "that's a good thing, isn't it?"
It was and it was not. Trayce benefited from the homecoming during the winter, when he visited Dodger Stadium several days a week to practice with hitting coach Turner Ward and strength coach Brandon McDaniel. But as part of a three-team deal that sent former Cincinnati third baseman Todd Frazier to Chicago, Trayce landed in the sixth position on a depth chart where five outfielders will make the opening day roster.
The situation creates awkwardness for his father. Mychal Thompson hosts a morning radio show on 710 ESPN. Callers or other hosts sometimes suggest his son as a replacement for Joc Pederson, who tanked in the second half of 2015.
"I just let everybody else comment on it," Mychal said. "I just say, 'Well, I'm just pulling for Trayce, and hope he does well.'"
While Trayce searches for a foothold, Klay chases history. The Warriors began the weekend with 62 wins, 10 shy of the NBA season record set by Michael Jordan's Chicago Bulls in 1996.
Hours before the Warriors clashed with the San Antonio Spurs on Saturday night, Klay chuckled while remembering youth with his brother.
Klay played baseball until high school, even teaming in Little League with future NBA All-Star Kevin Love. He rooted for the Boston Red Sox and shortstop Nomar Garciaparra. He called watching Trayce at Yankee Stadium last season "one of the better moments of my life."
In the end, Trayce's plan to stunt his growth failed. He never became a running back in Pittsburgh. He outgrew Bettis.
The Dodgers do not mind.
andy.mccullough@latimes.com
Twitter: @McCulloughTimes
Get our Dodgers Dugout newsletter for insights, news and much more.
You may occasionally receive promotional content from the Los Angeles Times.