Column: Think Red? Justin Turner, an old-school Dodger, goes 'above and beyond' for others off the field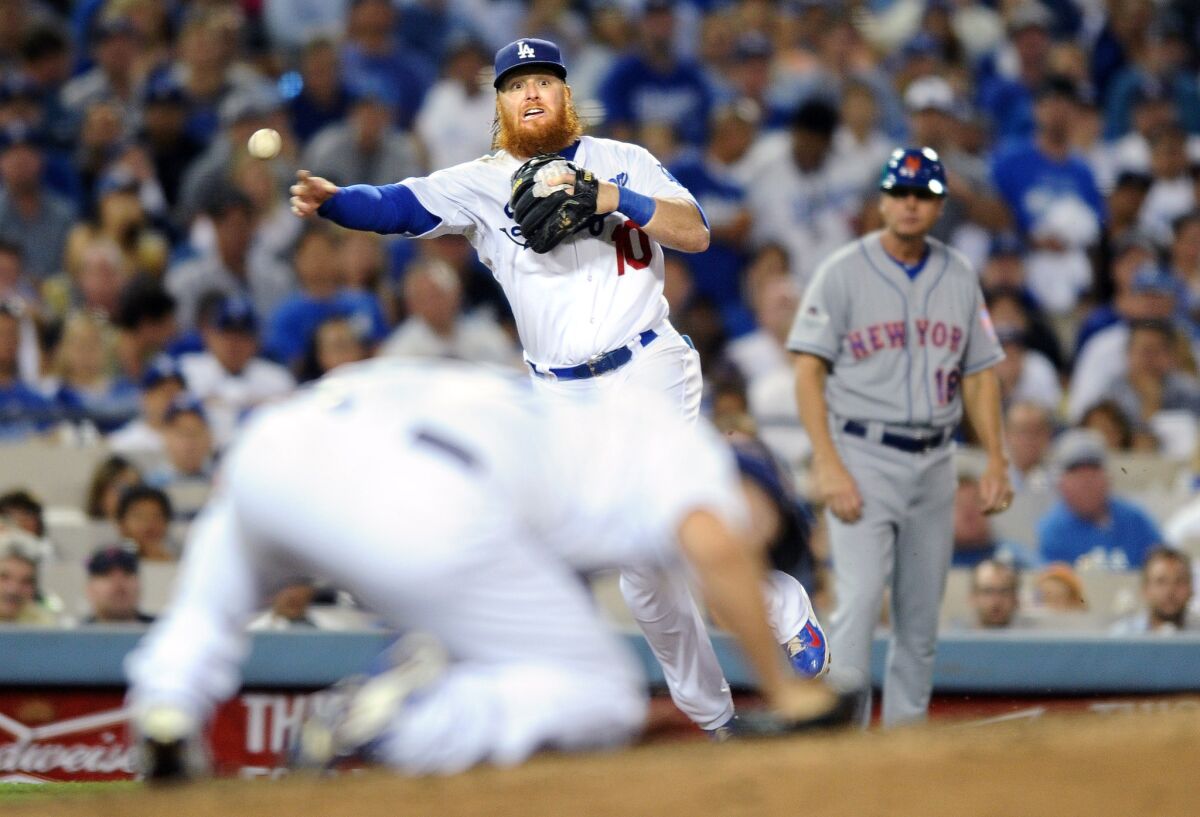 If the Dodgers are looking for a slogan this year, there is a good one hanging around third base. While it might be the wrong color, it has the perfect glow.
Think Red.
Think Justin Turner, the clementine cornerman, the tangerine titan, the dude whose flowing red hair and beard defied all synonyms in October when he hit .526 in the playoffs.
"There is no such thing as incognito for me," Turner said with a laugh.
See the most-read stories in Sports this hour>>
Indeed, while he sneaked on to the Dodgers landscape in 2014 as a utility guy signed just before spring training, he broke out last summer with 16 home runs, more than in his previous four major league seasons combined. He racked up a career-high 60 runs batted in, led all Dodgers regulars with an .861 on-base-plus-slugging percentage, then topped it off with a 1.392 OPS on a bum leg in the playoff series against the New York Mets.
Three months later, roaming the Southland with the swarthy resilience of those dozens of "Game of Thrones" characters he resembles, Turner is everywhere.
He's in the promotional catalog, being honored with the Dodgers' first Chia Pet night — like he needs help growing that hair.
"I mean, it sort of figures, right?" he said.
He's in all corners of the community, the guy working on food trucks for the homeless, the best friend of a young cancer patient, the kid from the heart of the Southland flowing through its troubled corners.
"Justin goes above and beyond the call of what's expected of a professional athlete," said Clint Carlton, the public relations director for Dream Center, a large Echo Park-based community outreach mission.
On the field, he could cut his hair and dye it blond and still be noticeable, as he is standing precariously in the middle of the Dodgers hopes for 2016. It's tough enough that he is trying to return from the first surgery of his career, a microfracture procedure on his left knee. What makes that tightrope even thinner is that, if he's not ready for opening day, there's really no good option to replace him.
Enrique Hernandez has played four major league games at third base. Chase Utley has played three. Howie Kendrick has played one.
"Every single day has been positive," Turner said of his rehabilitation. "The goal is to be 100% opening day."
The Dodgers need more than his bat, they need his leadership. In a clubhouse bereft of powerful everyday influences, if he can find his footing and repeat his numbers, he could emerge as that voice.
In scraping his way into the lineup last season, Turner epitomized the quiet professionalism that the Dodgers so desperately needed. In refusing to be sidelined by a bad leg, even lying on his back on the team plane during the playoffs to relieve the pain, Turner displayed the toughness that new Manager Dave Roberts was hired to instill.
Nothing against Don Mattingly, Turner said, but he can't wait for this new era to begin.
"I loved playing for Donnie, but hopefully we're going to kind of change the culture in there," Turner said. "We need to get away from it being about one guy. It's about everyone, all of us doing the right things, doing the little things."
He's 31, and finally has some statistical cred to back him up, so here's guessing Turner won't be afraid to speak out when those little things don't happen. If so, it would be something these Dodgers have long needed to hear.
"It's all about accountability, not being afraid to let guys know when you don't think they're doing what they should be doing," Turner said. "If somebody comes up to you and says you're not playing hard, you can't take that as a personal attack, you have to take it as constructive criticism. Everyone should be working hard and grinding and trying to win games, and if you're not playing hard, you should feel embarrassment."
If he sounds like an old-school Dodger, well, Turner has the soul of one: born in Long Beach, high school in Lakewood, college in Fullerton, eyes always on Chavez Ravine.
"One of my earliest memories was in 1988, laying on my grandparents' floor, seeing Gibby hit that homer," said Turner, whose story rings true even though he was one month shy of his fourth birthday at the time. "My entire family was diehard Dodger fans. I grew up with the Dodgers. That's why it was so great to come back home."
He has embraced the community in such a way that the Dodgers can rely on him for all sorts of events. He might be the most recognizable Dodger.
But seriously, about those locks.
"I'm afraid if I cut my hair, it won't grow back," Turner said. "The worst part is the beard. Trying to sleep, it gets a little itchy, sometimes it wakes you up in the middle of the night."
He went deep with Dream Center last season when, upon returning to Dodger Stadium on a Sunday night after a flight from Arizona, Turner went to Echo Park to pass out tacos to the homeless. He later raised $61,000 in his first charity golf tournament for homeless veterans.
"Everywhere you go, you see struggling veterans. On the streets, on the freeway exits, everywhere. It's terrible to see them go through tough times after sacrificing themselves for their country," Turner said.
His charity also extends to the struggling children, which made it no surprise last season when, on Justin Turner bobblehead night, the ceremonial first pitch was thrown by Luke Lang, an 8-year-old leukemia patient from Long Island, N.Y., that Turner befriended while playing for the Mets.
Turner and Luke are phone and texting buddies. Turner wears Luke's bracelet, "Losing Is Not An Option" on his wrist. Turner has hosted Luke twice, once spending a night off with him at a Dave & Buster's. Then on a trip to New York last summer, Turner surprised Luke by showing up at his youth league game.
"Here's a guy who could have just given Luke a baseball, but he gave him a part of his life," said Rich Lang, Luke's father. "It's impossible to fully explain how this amazing bond has strengthened my son."
Turner said, no, no, he is the lucky one.
"I loved Luke's outlook. It was very cool, it stuck with me," he said.
Sounds like Dodgers fans' view of Turner.
Very cool. Sticks with them. Thinking Red.
Follow Bill Plaschke on Twitter @BillPlaschke
Get our Dodgers Dugout newsletter for insights, news and much more.
You may occasionally receive promotional content from the Los Angeles Times.