Column: Dodgers can't be seen, but criticism of TV deal heard loud and clear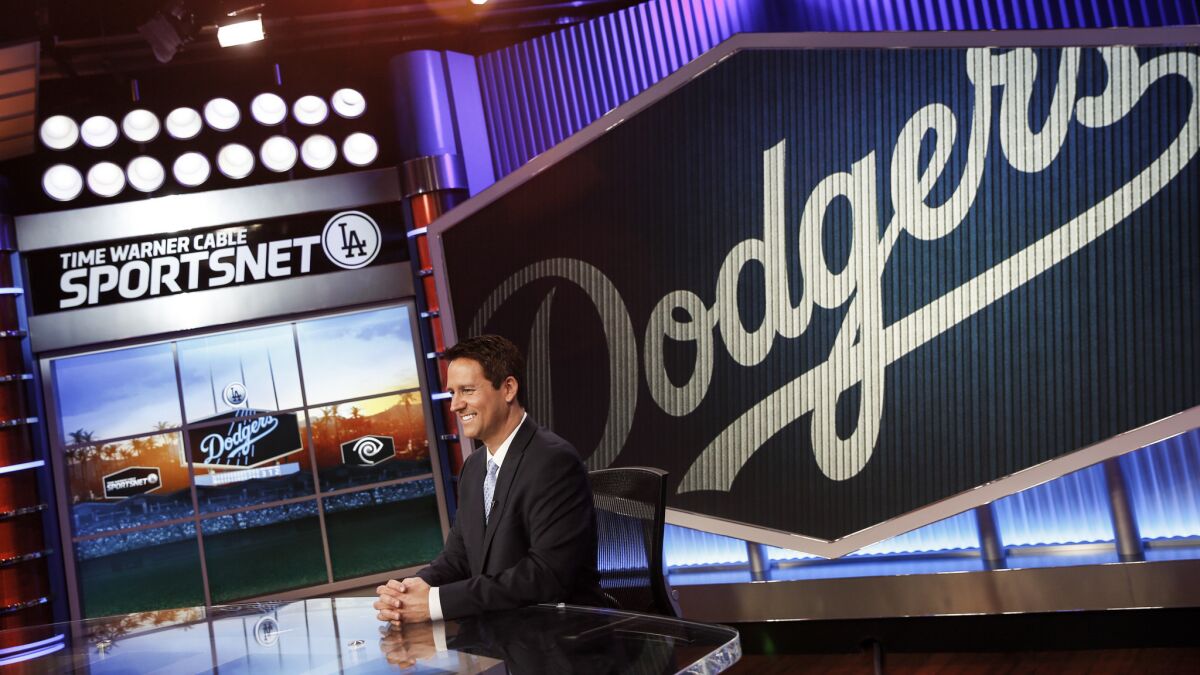 The Dodgers may be invisible to most of their fans, but their desperation to dodge the overwhelming criticism of their massively botched TV deal has become palpable.
In the latest news, the Dodgers and partner Time Warner Cable — the new Laurel and Hardy of the local business world — are pushing for an arbitrator to intervene in the dispute with local pay-TV operators to determine a fair price for SportsNet LA.
Yes, they are actually asking that DirecTV — and, by extension, the others — allow a third party to be injected into private business negotiations and decide how much everyone should pay to broadcast the Dodgers. Further, they are attempting to shame these companies and their subscribers into agreeing to this showboat solution.
---
FOR THE RECORD:
Dodgers television: An article in the July 29 Sports section about the Dodgers' cable television situation identified the congressman who led a move to encourage arbitration as a way to settle the impasse as Ben Sherman. Rep. Sherman's first name is Brad. —

---
"If you want to carry Dodgers baseball, this is obviously the way to do it," Dodgers President Stan Kasten said Monday night.
Really? The next time I plan to attend a game as a fan, would the Dodgers allow me to use an arbitrator to determine the price of my tickets?
No. This is not the way to do it. DirecTV, the largest holdout, has already said it wouldn't do it. It is surprising Time Warner Cable would agree to do it. It feels like yet another blue smoke screen to divert attention from the fact that Dodgers ownership is sitting idly while 70% of Southland homes have missed one of the most exciting Dodgers seasons in recent memory. It feels like an attempted steal of home with two out in the ninth inning with their team trailing by a dozen runs.
Here's a thought. Because it was the Dodgers who messed this up, why don't they fix it themselves? Instead of asking pay-TV operators to bail out Time Warner Cable, why don't the Dodgers grab a bucket and start scooping?
When Kasten was asked Monday whether the Dodgers would consider renegotiating this greed-laden deal with Time Warner Cable, he had no comment. He'll have to address it eventually. At this point, the Dodgers seemingly have little choice. They are the ones who created this nightmare. They were blinded by the sheer numbers of the 25-year, $8.35-billion deal with Time Warner Cable and didn't think about the ramifications.
If you were selling your widely cherished product to a TV network, wouldn't you make sure everyone could have access to that product before signing the deal? And if that network couldn't make those assurances, wouldn't you go to another network? The most important thing about a team-TV partnership is that the team actually appears on TV, right? The Dodgers could have signed with the established Fox for a bit less money, but they were insistent on getting richer while creating their own channel so they went elsewhere. And, it turns out, nowhere.
They should have known there was no way SportsNet LA could command its reported asking price of at least $4 per subscriber. They should have realized that the bubble was about to burst on the idea that the millions of pay-TV subscribers who don't care about sports would continue to support rate increases for sports networks.
And they should never, ever have compared themselves to the Lakers. The folks at Chavez Ravine seriously thought this scenario would play out like the Lakers' TV turmoil in the fall of 2012. After the Lakers signed a 25-year, $5-billion deal with Time Warner Cable, several local pay-TV operators refused to pay the high prices and thousands of fans missed the start of the season. But the stalemate lasted only a couple of weeks before DirecTV caved under huge public pressure.
The Dodgers thought history would repeat itself. But the Dodgers failed to realize that, while they had been essentially sleeping for the last 25 years, the Lakers were winning five championships, moving into a sparkling new arena, and becoming this town's most beloved team. The Lakers had become part of people's lives while the Dodgers under Fox's and Frank McCourt's ownership had become disconnected.
The outrage over the Lakers was swift and overwhelming. The anger over the Dodgers has been slow to build but is here now, and the Dodgers cannot use arbitration to scheme their way out of it.
Even the Federal Communications Commission is now involved, with its chairman sending Time Warner Cable a scathing letter Tuesday demanding documentation of its demands and calling for an end to the debacle.
"Inaction is no longer acceptable," FCC Chairman Tom Wheeler wrote to Robert Marcus, chairman of Time Warner Cable. "I strongly urge you to end the impasses that are depriving Los Angeles consumers from being able to watch their home baseball team."
That is the second time this week government has waded deep into the issue. The arbitration concept was actually first presented in a letter sent to both Time Warner Cable and DirecTV by six congressmen, led by Rep. Brad Sherman, a Democrat from Sherman Oaks. It's certainly a worthy attempt at creating positive spin for the Dodgers while painting DirecTV as the villain, and in some instances this sort of solution actually makes sense.
"I don't know that it's such a bad idea. On the surface it seems like a bona fide attempt to get the ball rolling," said Dan Lazaroff, who is on the faculty at Loyola Law School. "[Time Warner] must be confident that not only will this be good for public relations, but that a neutral arbitrator will come up with a price they find acceptable."
That confidence is clearly not shared by the holdout providers, about whom Lazaroff wondered, "What are they afraid of? That the number will come back too high?"
The fear here should rest with the Dodgers. While the TV folks battle it out, it is Kasten and his ownership group who are taking the barrage of public relations hits. So don't be surprised if General Manager Ned Colletti gets the green light to make the wildest of trades before Thursday's nonwaiver deadline.
More than ever, they need to win now. More than ever, they need to be playing in October. You know, in games available to all of Los Angeles on television.
Twitter: @billplaschke
Get our Dodgers Dugout newsletter for insights, news and much more.
You may occasionally receive promotional content from the Los Angeles Times.