Dodgers to start Julio Urias against the Rockies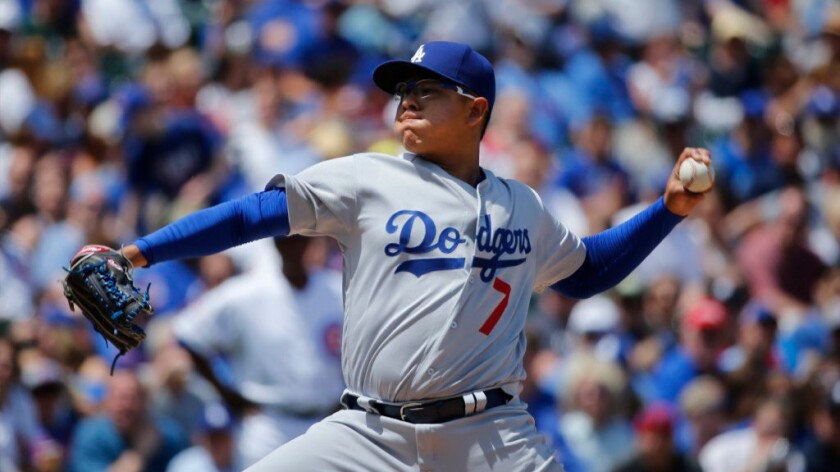 After waffling for a few days in the wake of Julio Urias' two rocky starts, the Dodgers have decided to give the 19-year-old left-hander another shot. Urias, rated the top pitching prospect in the game by Baseball America, will start against the Colorado Rockies on Tuesday night in Dodger Stadium.
"To get him a start here at home is great for him and great for us," Manager Dave Roberts said before Saturday night's game against the Atlanta Braves, which ended after this edition of the paper went to press. "He deserves it.
"He didn't get the results he would have liked the first two starts, but the way he threw the ball, the way he competes and the way he handled himself in New York and Chicago, we want to see him again."
See the most-read stories in Sports this hour>>
Urias made his first two starts on the road against two of baseball's best clubs, the Mets and Cubs. Neither went well.
Urias was roughed up for three runs and five hits in 22/3 innings against the Mets in a 6-5 loss May 27, with most of the damage coming during a three-run, eight-batter first inning.
Urias lasted five innings against the Cubs on Thursday, but his mistakes were punished by Javier Baez, Jason Heyward and Kris Bryant, who homered in a 7-2 victory. The Cubs notched five earned runs and eight hits against Urias.
"I don't really know if there's an ideal situation," Roberts said, when asked if he would have preferred Urias make his debut in Los Angeles. "You can paint it any way you want, but these are still very good hitters, no matter the opponent or where you're playing."
Roberts thought Urias made progress from his first to second start.
"I think his composure was better," Roberts said. "He elevated pitches to Bryant and Heyward. When you make 80 pitches and you don't execute 10 of them, you get exploited up here. That's something he will learn."
Before the home runs, Urias was "getting some strikeouts, some soft contact," Roberts said. "The game sped up a little on him with those back-to-back homers, but I think he got better."
The Dodgers are closely monitoring Urias' workload and psyche. Urias, who has a 9.39 earned-run average, has not thrown more than 872/3 innings in any of his first three professional seasons, and the Dodgers don't want to push him much beyond 100 innings this season.
They also don't want a few rough big league outings to hurt his confidence or stunt his development. Urias went 4-1 with a 1.10 ERA in 41 innings at triple-A Oklahoma City and had a 27-inning scoreless streak before he was called up.
"We believe in the player, in the person," Roberts said. "He can follow a game plan. It's just more of getting his feet wet, continuing to calm his nerves and make pitches. … We just want Julio to be Julio, because if he's executing pitches, he can get anyone out."
With Hyun-Jin Ryu and Brandon McCarthy not expected back until around the All-Star break, and Ross Stripling (lower-body fatigue) on the triple-A disabled list, the Dodgers don't have many options besides Urias.
Ryu's rehabilitation from shoulder surgery is on hold — again — after the left-hander was scratched from his fourth minor league start in late May. He has resumed throwing at 90 feet to 120 feet but there is no timetable to resume his rehab stint.
McCarthy, recovering from elbow ligament-replacement surgery, is scheduled for a three-inning, 60-pitch simulated game against hitters this week but will need another similar workout before starting a rehab assignment.
Follow Mike DiGiovanna on Twitter @MikeDiGiovanna
---
Get our Dodgers Dugout newsletter for insights, news and much more.
You may occasionally receive promotional content from the Los Angeles Times.