Ever-confident Walker Buehler is raring to deliver for Dodgers against Brewers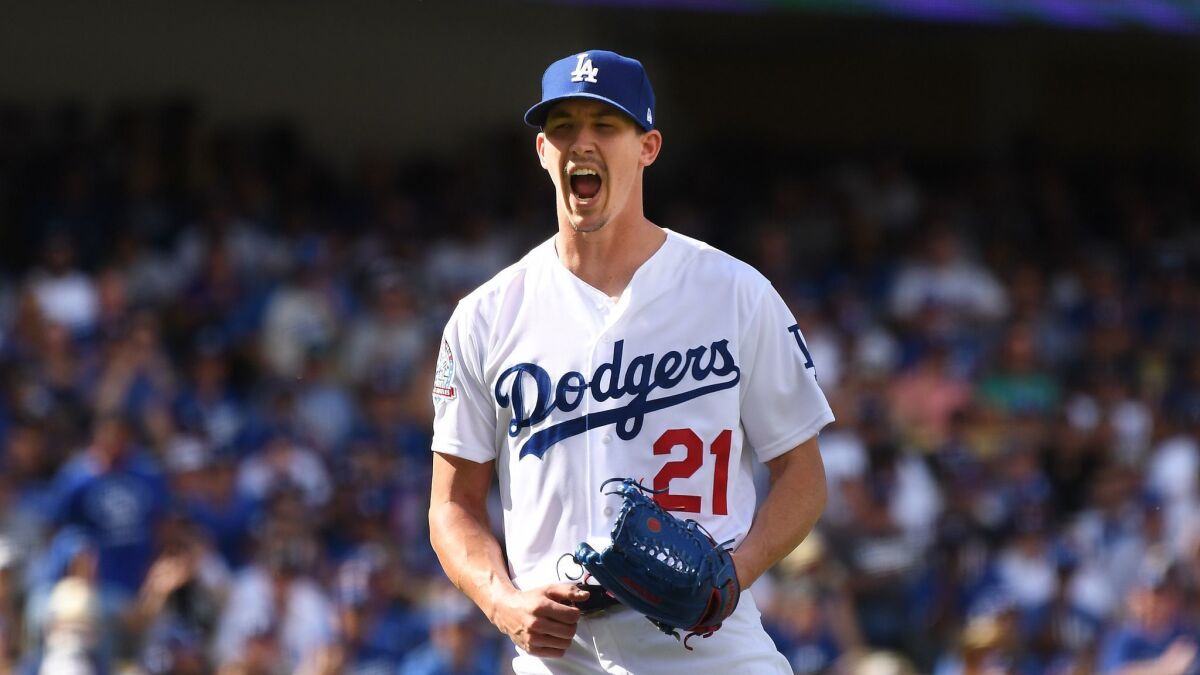 In the fall of 2012, a gangly 18-year-old from Lexington, Ky., matriculated to Vanderbilt. He had turned down an offer to sign with the Pittsburgh Pirates so he could play college baseball. His stature would draw comparisons to Tim Lincecum, and his arsenal would one day remind his big league catcher of Justin Verlander. But Vanderbilt coach Tim Corbin saw a different pitcher when he watched the teenaged Walker Buehler.
"I thought he looked like Orel Hershisher," Corbin said of the former Dodgers ace. "The arm stroke was similar. He had similar movements. The body type is similar. Orel might be a little taller, but I thought they were very alike, in terms of how they went about pitching."
Buehler grew from a skinny freshman into a first-round draft pick, impressing Dodgers scouts despite the damage in his right elbow. After undergoing elbow ligament-replacement surgery in 2015, Buehler rocketed through the farm system. He debuted in the majors last season and joined the rotation in 2018. As Corbin followed Buehler's journey, which continues Monday with a start in Game 3 of the National League Championship Series against Milwaukee, he noted the progress and evolution of his former player.
"He had a really quick arm here," Corbin said. "But I see a quicker arm now, and I see the ball just doing things that it didn't do here. He's created more movement to the fastball and the breaking balls. His ball, it's just got more life to it than he had here. And he had a lot of life here."
The explosiveness of his arsenal separated Buehler from other Dodgers starters. It separated him from the rest of the sport, too: Only four starting pitchers threw a fastball harder than Buehler's 96.2-mph version, and only one starter pumped a cutter harder than Buehler's 91.7-mph version, according to FanGraphs.
Which is why Hershiser chuckled when he heard the comparison.
"This guy's got way better stuff than me," he said. He noted one similarity: "I just think we just both have long, narrow faces, and Norman Rockwell, boyish good looks," he said.
Buehler will be on display once more at Dodger Stadium on Monday as the Dodgers look to pull ahead of the Brewers after splitting two games at Miller Park. The weekend featured ups and downs. The Dodgers roughed up Milwaukee's bullpen in both games. Yet, the duo of Clayton Kershaw and Hyun-Jin Ryu managed only 7 1/3 combined innings, exposing Dodgers relievers to extended duty.
Buehler will aim to end that trend in his second career postseason start. He will also hope to better the results from his debut, when he gave up five runs in one inning to the Atlanta Braves in a Game 3 loss during a National League Division Series. Buehler rebounded to last five innings.
He insisted afterward his confidence was not bruised by the outing. On Sunday, Buehler reiterated he was able to move on after the game without much difficulty.
"I don't go back and watch a whole lot," Buehler said. "I know what happened. I was there. I know some guys are big into that, but I'm more of a positive feedback guy. So the only games I really watch are the good ones."
So, which starts appealed to Buehler? Was it the first six innings of a combined no-hitter against San Diego in May? The eight scoreless innings in St. Louis in September? The division-winning performance over Colorado in Game 163?
Buehler pointed to a moment just before the All-Star break, when he gave up six hits in five innings to the Angels. After the game, Buehler huddled with pitching coach Rick Honeycutt to watch video of all of Buehler's strikeouts from the season. The footage led to a series of mechanical adjustments that aided Buehler.
After the break, Buehler posted a 2.03 earned-run average in 13 starts. He did not have to look far for positive reinforcement.
"To be honest with you, man, the kind of roll I've been on in the second half, I feel like I'm throwing the ball pretty well," Buehler said. "I haven't really needed to do a whole lot of that."
The Dodgers showed their faith in Buehler by trusting him for the one-game playoff to decide the NL West.
"It's just been incredible watching him play contender after contender and really dominate," general manager Farhan Zaidi said. "He's reached the status where when it's his day, everyone expects to win. That's really the strongest endorsement you can give of a starting pitcher."
Hershiser may not see himself in Buehler. But he sees plenty to admire.
"We've had a lot of great arms come through the big leagues with the Dodgers," Hershiser said. "But I think he's had the fastest learning curve, understanding what it's going to take to be successful at the big league level, realizing it really quickly. Understanding that having great stuff is not a path for success — it's just a tool."
Twitter: @McCulloughTimes
---
Get our Dodgers Dugout newsletter for insights, news and much more.
You may occasionally receive promotional content from the Los Angeles Times.