One way or another, the Dodgers plan to add a veteran catcher this offseason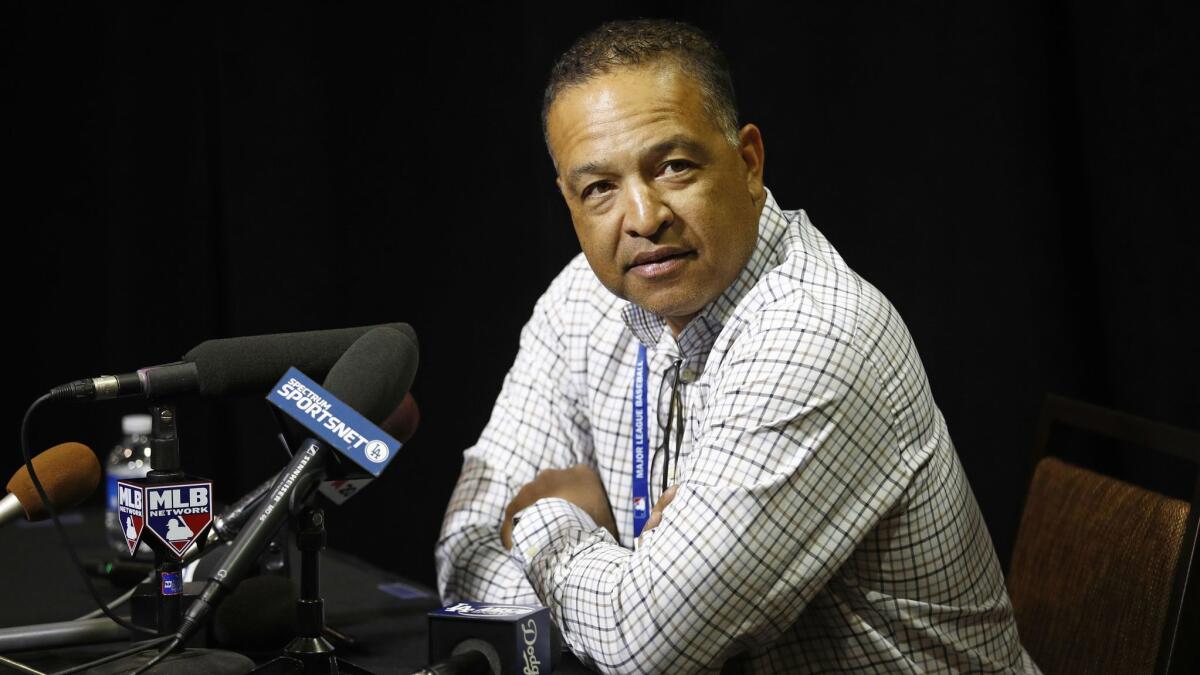 Reporting from Las Vegas —
Uncertainty has surrounded the Dodgers at the winter meetings this week. They have the assets and deep pockets to unleash shock waves in the industry. Speculation has swirled. Rumors are rampant. But one thing is certain: The Dodgers are adding a veteran catcher, either in free agency or via trade, this offseason.
"There are enough interesting names that we feel good about the outcome," Friedman said, "because of the number of guys out there."
As currently constructed, the Dodgers' starting catcher would be Austin Barnes, who enjoyed a breakout 2017 season before spiraling downward in 2018. In 2017, Barnes compiled an .895 on-base-plus-slugging percentage in 102 games and seized the starting job from Yasmani Grandal before the playoffs. Then he posted a .619 OPS in 2018 and only started again in the postseason when Grandal's immense struggles forced the Dodgers' hand. The Dodgers believe his talent level is somewhere in the middle, which would make him a serviceable starter but a downgrade from the production Grandal supplied during the regular season.
"I don't think there's any more pressure that we can or I can put on Austin," Dodgers manager Dave Roberts said. "I think that he's so competitive and expects a lot of himself. And he had a bad year offensively. And he knows it. And he's going to be considerably better this year. So him behind the plate, blocking, receiving, relationship with the pitchers, is next level, is elite. So I expect him to come back ready to compete."
While Grandal's confounding postseason performance drew considerable criticism, the switch-hitter was arguably the best catcher in baseball not named J.T. Realmuto in 2018. His 24 home runs were the most for a catcher. His 3.6 FanGraphs WAR was second. His extreme streakiness and dismal postseason history – he's slashed .107/.264/.200 in 92 career playoff plate appearances and had a defensive breakdown in the NLCS this October – fogs his value and his absence leaves a void the Dodgers must replace for the 162-game marathon after he turned down the team's $17.9-million qualifying offer.
The Dodgers have two catching prospects – Will Smith and Keibert Ruiz -- in the upper minors they believe will eventually become quality major leaguers, but neither are ready to contribute at the start of 2019. Smith is closer – Friedman said his glove is major-league ready and Smith will help the team in 2019 – but he will start the season in triple-A to accrue more at-bats. Ruiz, who is from Venezuela, is considered the organization's second-best prospect but he's just 20 and hasn't played above double-A.
"Keibert is a guy who, obviously is really young but is extremely mature," Friedman said. "Special hit ability, and has worked extremely hard to learn English just because of the pitcher-catcher relationship and him appreciating how important that is. Every development hurdle we've thrown at him, he's handled extremely well. And I think he's tracking extremely well and we feel he's a guy who we feel like could really impact a major league game on both sides of the ball."
The ultimate prize is Realmuto, who posted his best season in 2018 and has two years of control remaining. But the Miami Marlins' asking price has been extravagant – some believe they've been stubborn because the consensus is they didn't get enough when they traded Christian Yelich to the Milwaukee Brewers last winter – and the Dodgers can look elsewhere for a stopgap until Smith or Ruiz takes the reins in 2020.
Grandal isn't returning unless his market craters, but there are other options. The Pittsburgh Pirates' Francisco Cervelli is entering the final year of his contract and has been good when healthy – he posted an .802 on-base-plus-slugging percentage in 104 games last season. Martin Maldonado, a strong defender, is a free agent. So is the bat-first Wilson Ramos, though his knee injury history makes him more suitable for a part-time DH role in the American League. The possibilities don't end there. The Dodgers have plenty. Whom they choose and when they'll strike remains to be seen.
Twitter: @jorgecastillo
Get our Dodgers Dugout newsletter for insights, news and much more.
You may occasionally receive promotional content from the Los Angeles Times.