Dodgers pitching prospect Dustin May continues taking the right steps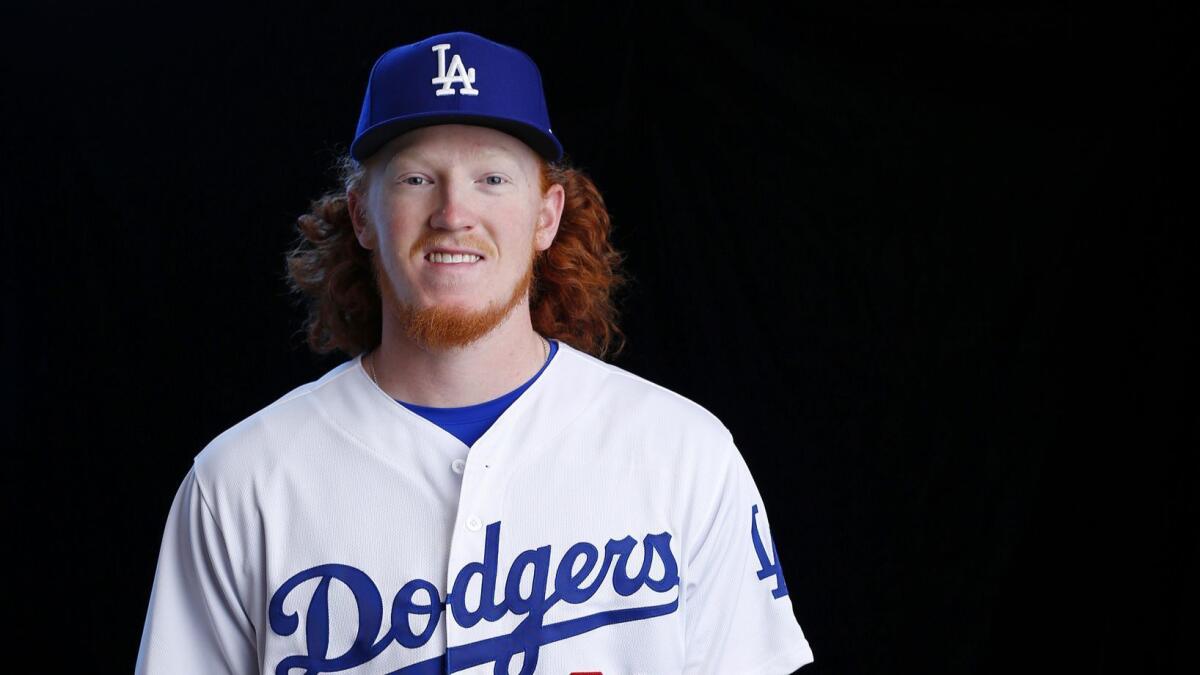 Reporting from Phoenix —
The other guy with a red beard and red locks in Dodgers camp took a moment to reflect.
"If it wasn't for that," Dustin May said, "I wouldn't be here today."
The 21-year-old May, one of the organization's top pitching prospects, is referring to the pitching performance that changed his life. It happened the weekend before his senior year of high school.
He was, until then, a very good but unspectacular pitcher at Northwest High School in Texas. He occasionally reached 90 mph. He had received just one Division I scholarship offer — from Texas Tech, because his high school coach, John Herrick, had a connection. He committed to play there immediately. He was surely headed to Lubbock.
Then, after the nondescript outing in a local tournament, he received a text from a scout.
"He was like 'Hey, do you want to meet sometime? '" May recalled. "And I was like, 'What do you mean? I throw 88 miles an hour.' He came over to my house and was telling me I was 92, 94 [mph] and I was like, 'I don't know where that came from, but OK.' "
May's starts became events his senior season. Scouts descended in droves. His high school had to place restrictions on where they could stand.
"All of a sudden he started putting it together," Herrick said. "It was like, 'Who the heck is this kid?' It was just unbelievable, what he did. And that was really early in his senior year. From then on, it was just like he owned people."
The Dodgers selected him in the third round of the draft in June 2016. He didn't think twice about signing. He was a prospect then but also a project, long and lanky — 6-foot-6 after a growth spurt between his junior and senior years — with untapped potential. He was throwing at 91 to 92 mph.
Last summer, in his second full season, he discovered another gear and sat between 93 and 96 mph with the ball featuring heavy sink and a downhill angle. He began the season with single-A Rancho Cucamonga and rose to double-A Tulsa. He finished with a 3.39 earned-run average in 132 ⅔ innings between the two levels. The performance amplified the hype; he's widely regarded as a top-100 prospect across baseball. Baseball Prospectus ranked him No. 27 on its latest list.
"Just growing into my body, I guess," May said when asked how his velocity rose. "I honestly have no idea. I just woke up one day and it was there."
May carried the momentum into his first major-league camp this spring. On Thursday, he had three strikeouts in three scoreless innings. He's yet to allow a run in six innings. Beyond the numbers, Dodgers manager Dave Roberts noted May's willingness to absorb information and grow in confidence.
"He knows what to do to big-league hitters," Roberts said. "He can strike with secondary pitches. He has weapons to attack guys, left and right. He's a … guy with a lot of stuff."
Roberts said May isn't a finished product, but he wouldn't be surprised if he breaks into the major leagues this season. He said the same about Tony Gonsolin, another highly regarded pitching prospect who has impressed this spring.
To take that next step, May said he's striving to become less dependent on his fastball and rely more on his cutter, curveball and change-up. The formula has worked in the minors, but he knows the chances are significantly lower in the majors.
"I don't try to think of it as a pressure thing," May said. "Because you can't be nervous about it. You got to go out and do your best and do what you can. That's kind of my mentality going into it so [I] try not to let it get to me."
Short hops
Walker Buehler is slated to make his Cactus League debut on Tuesday, Roberts said Saturday. Buehler will be limited to three innings or around 45 pitches. The 24-year-old right-hander, who threw a 35-pitch bullpen session on Saturday, has been handled with care this spring after "not feeling right" at the beginning of camp. ...Corey Seager went 0-for-3 and didn't field a ball at shortstop in five innings in a minor-league game Saturday. Roberts said he is scheduled to play seven innings on Sunday and will play for the Dodgers "at some point" in the next week.
Sign up for our Dodgers newsletter »
Twitter: @jorgecastillo
Get our Dodgers Dugout newsletter for insights, news and much more.
You may occasionally receive promotional content from the Los Angeles Times.