Column: After unwisely trading Matt Kemp, heat is on Dodgers' Andrew Friedman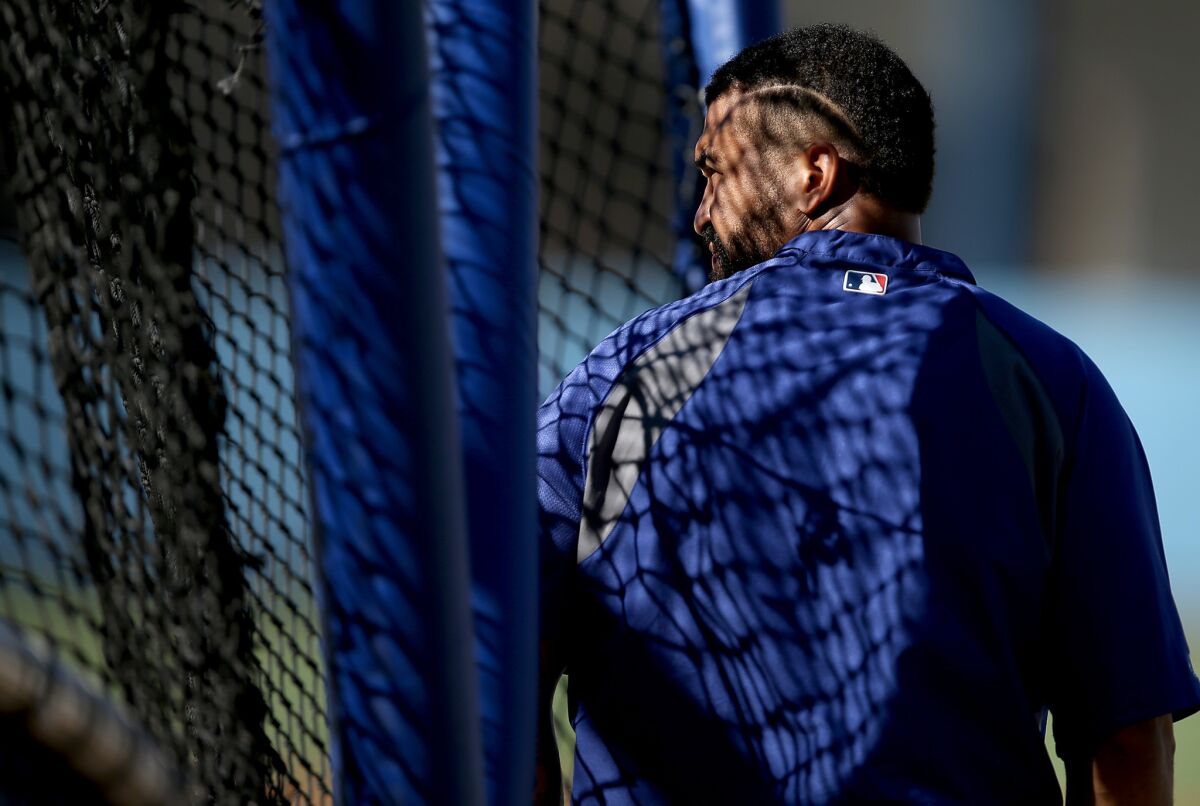 Quick, somebody tear down that Matt Kemp billboard on the corner of Sunset and Elysian Park and throw up a new one featuring a stranger with a jackhammer.
Live. Breathe. Friedman.
The Dodgers are no longer a reflection of two playoff appearances in two seasons. They are no longer a symbol of a Guggenheim rebirth that led to a league-leading attendance of 3.7 million. They are no longer connected to anything, it seems, but one man who appears intent on blowing them up.
This is Andrew Friedman's team now. The Los Friedman Dodgers.
After moves made by the Dodgers' new baseball boss this week, their immediate future will be his glorious triumph, or his thunderous failure, and there will be nothing in between. Forget Don Mattingly, forget Yasiel Puig, it will be Friedman's shoulders that will bear the weight of the bold — or is it boneheaded? — reworking of a lineup that was just getting used to October.
Ten years ago, while also trying to rebuild an already-winning team in his image, kindred spirit Paul DePodesta was crushed by that weight, and lasted just two seasons. If nothing else, give Friedman credit for the brashness to ignore that shaky history and swing for the fences.
He began baseball's winter meetings with three nice drives. But then ended with one giant whiff.
Bringing in Jimmy Rollins to play shortstop was smart. Trading Dee Gordon at the probable peak of his value was savvy. Replacing him with Howie Kendrick was sound.
But the Matt Kemp trade was nuts.
First, to be fair, it was not actually a trade. It is not a trade when you give the other team $32 million to take the guy. It is not a trade when the only proven major leaguer acquired is a .225-hitting catcher who threw out 13% of baserunners and has been suspended for use of performance-enhancing drugs.
Matt Kemp to the San Diego Padres for Yasmani Grandal and a couple of prospects is not a trade, it's a salary dump by owners stinging from the losses incurred by that lousy television deal. It's a clubhouse cleanse of a guy who wasn't close to being the biggest problem in there. And, oh yeah, maybe it's also the revenge of those Padres owners known as the O'Malleys.
Kemp had been everything from amazing to infuriating in his nine years as a Dodger. But as of last summer's All-Star break, he had been healthy, happy and arguably the best hitter in baseball. During that time he was second in the major leagues in both home runs (17) and runs batted in (54) while finishing with the biggest Dodgers hit of the season, a game-winning homer in Game 2 of the division series against the St. Louis Cardinals.
The Dodgers obviously felt that at age 30 and with his injury history, Kemp may have peaked. He may never again be an outstanding outfielder. He isn't always great in the clubhouse. As with Gordon, the Dodgers were clearly trying to sell high.
But didn't we also hear some of those same things back in 1998 about a 29-year-old Dodgers slugger who had also seemingly peaked? Guy by the name of Mike Piazza.
Kemp's numbers will most likely decline in spacious Petco Park, but that won't compensate for the giant right-handed power hole he left in a lineup where the cleanup hitter is now … Kendrick? The absence of Kemp places huge pressure on Adrian Gonzalez to reverse the aging process and Yasiel Puig to grow up. And since when is short-armed Carl Crawford a huge defensive upgrade in left field?
About that defense, Friedman is taking a huge risk that Joc Pederson is ready to play center field after a difficult stay in Chavez Ravine last September. And while Grandal will supposedly help the defense with his strong ability to frame pitches — turning balls into strikes — here's guessing the top of the Dodgers' rotation will still insist on pitching to A.J. Ellis, who mostly frames low earned-run averages.
Friedman's other move this week, essentially trading pitcher Dan Haren for free-agent pitcher Brandon McCarthy, doesn't seem to noticeably help a team that seems no better right now than at the end of last season. The good news for Dodgers fans is, there's a sense that Friedman isn't done, that maybe he can somehow wrangle a top starting pitcher with his acquired prospects, that maybe Kemp's departure will not be in vain.
"Our intent coming in was to field as dynamic and complementary of a roster as we could," Friedman said Thursday afternoon. "Obviously we still have the rest of the winter to do that."
Impressively, the new guy isn't afraid of the heat. Friedman returned a phone call even though he knew I would be criticizing the Kemp trade. He couldn't speak specifically of the Kemp deal because it had not yet been formalized, but he spoke confidently of his vision.
"We came into this situation with no hard and fast rules, we wanted to be open-minded and nimble in terms of opportunities that presented themselves," he said. "The last couple of days, we've had the opportunity to add players that complement our existing group of players very well."
He was asked if he understood how quickly the increasingly impatient Dodgers fans will turn on him if the Kemp trade doesn't work. He was asked if he understood how, just a couple of months into his journey, he was already treading in the sort of deep water not found off the shores of St. Petersburg. Once again, he tackled the tough issue with calm.
"We are incredibly passionate about what we do, and we certainly understand and appreciate the fan's passion, and that's part of the motivating factor for us," Friedman said. "We want to put ourselves in the best position to be the best we can."
The only position that concerns Dodgers fans would be a spot in the World Series for the first time in 27 years. Two years ago, they were two victories from that spot. With Kemp gone, they're not getting any closer.
Twitter: @billplaschke
---
Get our Dodgers Dugout newsletter for insights, news and much more.
You may occasionally receive promotional content from the Los Angeles Times.