Dodgers' focus on future could waste Clayton Kershaw's best years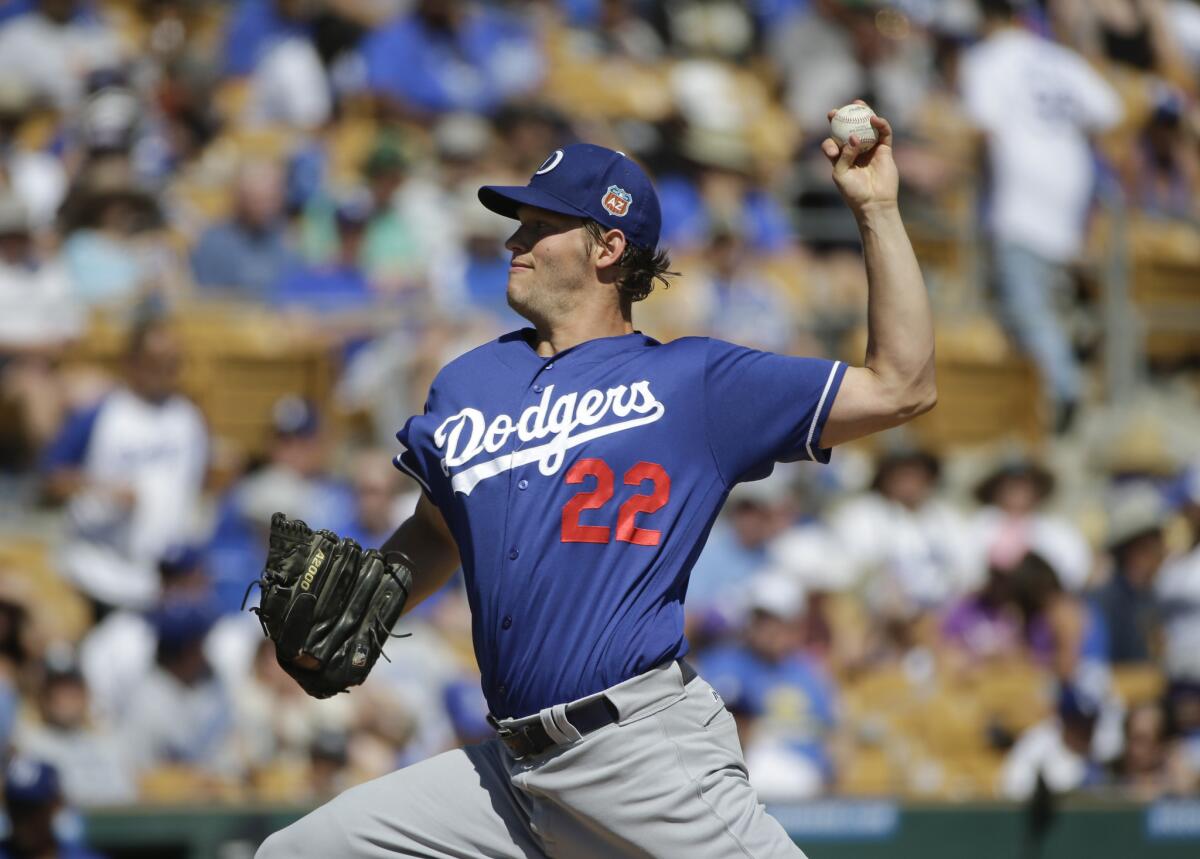 from PHOENIX —
The Dodgers rotation is starting to unravel, which should be no surprise. It's not as if a medical degree was required to predict that a group of broken-down pitchers would break down again.
This was the risk the front office assumed with its long-term plan, which is to be in 2020-something what the World Series favorite Chicago Cubs are now. That strategy explains why the pitching staff consists of primarily spare parts while tens of millions of dollars are being invested in Latin American teenagers.
There's some logic to the idea, except you wonder if the team's decision makers are looking too far ahead to recognize the opportunity right in front of them — specifically, that Clayton Kershaw is theirs for at least three more seasons.
At the end of the 2018 season, Kershaw will have the option of doing what Zack Greinke did over the winter and void the remainder of his contract. Greinke didn't return. Kershaw might not, either.
The three-year period coincides with Kershaw's prime years; the three-time Cy Young Award winner turned 28 on Saturday.
It's puzzling why the Dodgers aren't maximizing their chances of winning a World Series while this once-in-a-generation pitcher is on their roster.
General Manager Farhan Zaidi claims they are, pointing to the pitching depth the Dodgers added over the winter.
A surplus of serviceable arms is certainly useful over the course of a 162-game season. Mike Bolsinger and Zach Lee types can pick up wins that help the team reach the playoffs. But what about when they get there?
Recent history suggests the Dodgers have been short a frontline starter. They were competitive in the four games Kershaw and Greinke started last October in their National League division series against the New York Mets. They were blown out in the one pitched by Brett Anderson. The Dodgers lost the series, three games to two.
But rather than add an ace, the Dodgers subtracted one, allowing Greinke to sign with the Arizona Diamondbacks and failing to replace him with someone of his caliber.
"I guess my counter to that would be look at the Royals rotation," Zaidi said. "They went all the way."
The Kansas Royals compensated for mediocre starting pitching last year with a dominant bullpen, which the Dodgers lack. (In fairness to the Dodgers, they made an admirable decision to abandon a trade for Aroldis Chapman after learning the All-Star closer was accused of domestic abuse.)
Zaidi said an improved offense could help make up for that. While the Dodgers didn't make any big-name additions to their lineup, they are counting on Yasiel Puig and Yasmani Grandal to have bounce back seasons.
"The improvement-from-within argument doesn't always resonate well as an off-season storyline, but those are often the ones that play out best over the course of the season," Zaidi said.
The front office better hope that message resonates with Kershaw.
Kershaw was drafted by the Dodgers and should retire with them. If he feels the organization wasted his best seasons and decides to go elsewhere in three years, the team will have a public-relations nightmare that will evoke memories of the infamous Mike Piazza trade.
Kershaw was predictably diplomatic on the subject.
"When you are a player, you have the luxury of not looking at all sides of things," he said. "You don't have to worry about depth, you don't have to worry about your minor league organization, you don't have to worry about prospects, all you have to worry about is the team that is assembled and gets put on the field.
"I can only speak for what's happened since I've been here, and every single year I feel we've had the chance to win. That's really, as a player, all you can ask for. You're not going to always agree with everything that happens with your team. There's always some things that I don't agree with. But once again, I have the luxury of not seeing the two sides of it."
::
UCLA basketball Coach Steve Alford voluntarily voided the one-year contract extension he previously signed, saying his team's performance this season was "unacceptable."
It was a nice gesture, but one that won't do anything to calm some of the program's most outspoken fans, who still want him fired.
If Alford were coaching almost anywhere else, he would have some leeway by virtue of reaching regional semifinals the two previous seasons and landing a top recruiting class. But UCLA's delusional fan base refuses to move on from the John Wooden era and continues to hold coaches to unreasonable standards.
Whatever his faults, Steve Lavin reached regional finals five times in six years. He was fired. Ben Howland reached three Final Fours, and was fired. Short of Sam Gilbert returning to bankroll the team without any NCAA oversight, nothing will satisfy the fan base.
It's an environment that, coupled with economic realities, makes it unlikely the Bruins will ever convince a Tom Izzo or John Calipari to coach them. And the landscape makes it equally unlikely that UCLA will ever again rank alongside Kentucky or Duke as a modern-day dynasty.
::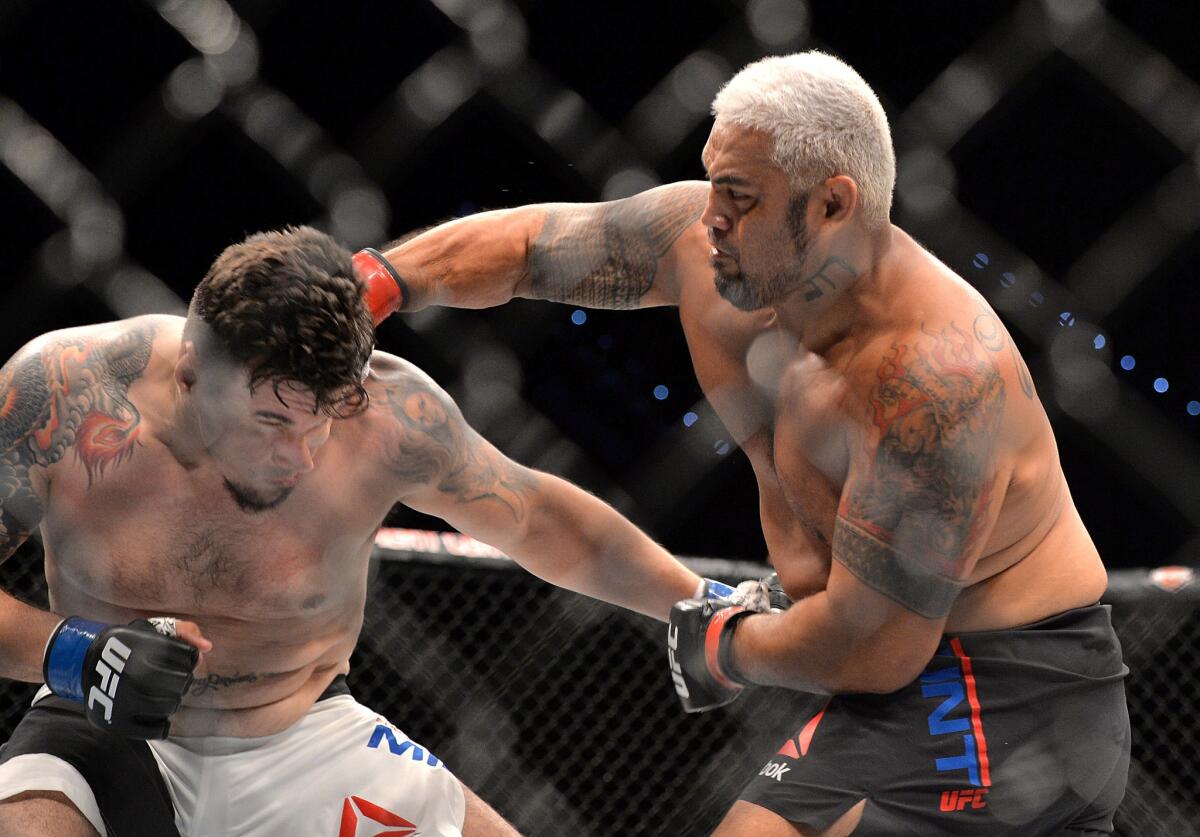 UFC heavyweight Mark Hunt scored a one-punch victory over Frank Mir on Saturday and promptly dedicated the first-round stoppage to Jesus Christ.
"All for you!" Hunt screamed in the post-fight television interview.
I'm sure Jesus appreciates it whenever an act of violence is committed in his name.
::
The quarterfinal pairings of the European Champions League were supposed to be random.
Interesting, though, that star-studded Barcelona, Bayern Munich, Real Madrid and Paris St.-Germain magically avoided one another in this round.
What an incredible run of luck.
Twitter: @dylanohernandez
Get our Dodgers Dugout newsletter for insights, news and much more.
You may occasionally receive promotional content from the Los Angeles Times.