MLB reaches deal that will allow Cuban players to sign with teams without defecting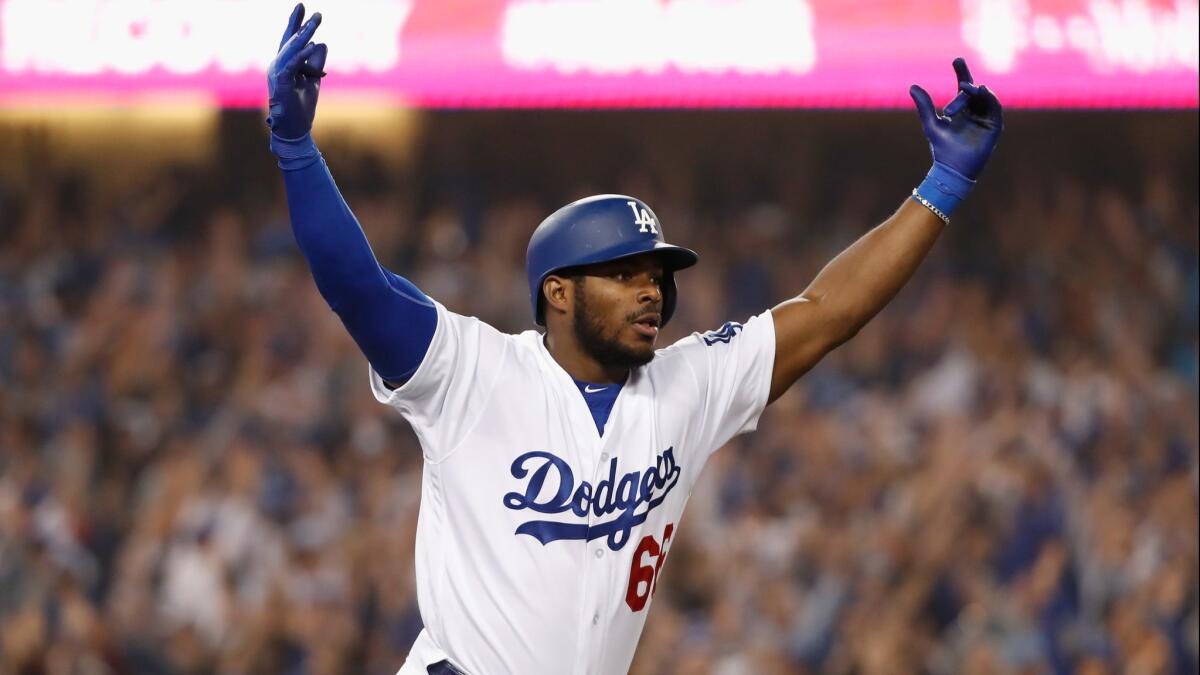 Major League Baseball, the Major League Baseball Players Assn., and the Cuban Baseball Federation (FCB) agreed to a groundbreaking deal Wednesday that would permit players in Cuba to sign with major league clubs without needing to defect from the island.
The pact, finalized after years of negotiations between the parties, runs through October 2021. MLB received confirmation from the Treasury Department that it is permitted to enter the agreement with the FCB under an existing general license, according to a person with knowledge of the situation.
On MLB's end, the deal, which creates a posting system similar to the one already in place for players from Japan and Korea, is intended to halt the treacherous journeys involving smugglers and human traffickers Cuban players have often had to brave for decades to play in the majors.
"I welcome Major League Baseball's work in reaching this agreement to safely and easily allow Cuban players to play for American teams," Sen. Patrick Leahy (D-Vt.), said in a release. "This agreement will end top players' reliance on human traffickers and offer them a legal path to fulfilling their dreams of playing baseball in America, the baseball capital of the world. This is a welcome development for players and fans, and like countless other Americans I look forward to seeing world-class Cuban players compete in the United States."
Under the pact, the FCB must release in each offseason players who are at least 25 years old and have had at least six years of experience in Cuba's top league. The FCB could also release players under 25 at their discretion. Once a player is released, he is treated like any international player and is free to negotiate and sign with a major league team. To sign a Cuban player, major league teams must pay a "release fee" to the FCB in addition to the compensation in the player's contract. Any Cuban player not affiliated with the FCB will be considered an international amateur and will be eligible to sign with any MLB club.
Players with the FCB can still choose to leave Cuba to establish residency elsewhere before signing with an MLB club, but they would have to wait up to two years and the MLB team would still be required to pay a release fee to his former team in Cuba.
The fee's amount is calculated using the same formula MLB uses for players from the top professional leagues in Japan, Korea and Taiwan. For major league contracts, teams must pay between 15% and 20% of the total guaranteed value of the deal to the FCB. For minor league contracts, teams must pay 25% to the FCB. Additional release fees could be required if bonuses, escalators or options are activated.
Players would report to the U.S. or Canada with a standard work visa, allowing them to travel with their families and return to Cuba during the offseason. Those players will be allowed to play in offseason tournaments or leagues in Cuba, something defectors were not permitted to do. Players, however, must go through the standard procedure for Cuban nationals and apply for a U.S. visa in a third country, according to a State Department spokesperson.
Cuba once had a thriving professional baseball scene, highlighted by the Havana Sugar Kings, a club in the triple-A International League from 1954 through 1960. But the Cuban government eradicated professional baseball and the U.S. implemented an embargo on the island in the early 1960s after the Fidel Castro-led revolution, forcing Cuban players to defect and establish residence in another country before being allowed to sign with a major league club. The requirement often forced players and their families to risk their lives to play in the U.S.
Despite the perils, Cuban players began defecting in bigger numbers in the early 1990s. The pool included the Dodgers' Yasiel Puig and stars such as Livan Hernandez, Orlando Hernandez, Jose Abreu, Aroldis Chapman and Yoenis Cespedes.
Puig's escape is one of the most harrowing. Smugglers working for Los Zetas, a crime syndicate in Mexico, reportedly picked up Puig and three others in a speedboat and took them to the Yucatan Peninsula. Puig was held there until his representatives paid $250,000 for his release. He signed a seven-year, $42-million contract with the Dodgers in June 2012, but reportedly continued receiving death threats from the smugglers.
"Today is a day that I am extremely happy [about]," Puig said in a statement released by MLB. "Thank you MLBPA, MLB and the Cuban Federation for reaching an agreement to give Cuban Baseball players an opportunity to leave Cuba safely and come to the United States to play baseball. To know future Cuban players will not have to go through what we went through makes me so happy."
Twitter: @jorgecastillo
---
UPDATES:
2:50 p.m: This article was updated throughout.
This article was originally published at 1:20 p.m.
Get our Dodgers Dugout newsletter for insights, news and much more.
You may occasionally receive promotional content from the Los Angeles Times.