Farhan Zaidi thinks Connor Joe can follow the Max Muncy model with Giants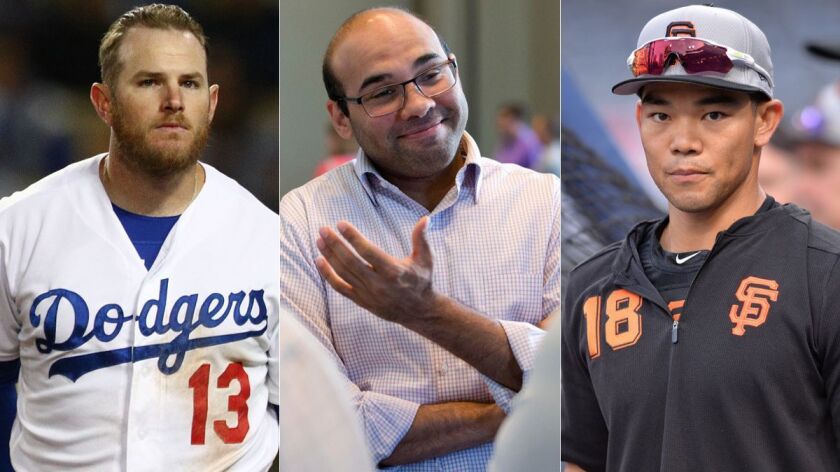 In the final week of February, in a hotel in Las Vegas, Farhan Zaidi lobbied free-agent outfielder Bryce Harper to spend the next decade with the San Francisco Giants. When Harper declined San Francisco's $310-million offer for a more lucrative contract with the Philadelphia Phillies, Zaidi pivoted toward less luminous options for his outfield, attempting to traverse the hurdles in his path as he rebuilds a prideful franchise.
In the final week of March, on his first opening day as San Francisco's president of baseball operations, Zaidi unveiled a roster with 26-year-old rookie Connor Joe starting in one outfield corner and 26-year-old rookie Michael Reed starting in the other. The duo was as unlikely as they were anonymous.
"I would not have bet on our opening day outfield being our opening day outfield — until we made those acquisitions," Zaidi said before a game at Dodger Stadium this week.
Joe and Reed were former prospects acquired in the final week of spring training. They were the same age as Harper, and they played the outfield. The similarities ended there. A more useful comparison would be Max Muncy, who toiled in minor league obscurity until flourishing with the Dodgers last season.
Sign up for our daily sports newsletter »
Zaidi, the former Dodgers general manager, spent his first winter with San Francisco mining for gems similar to Muncy and Chris Taylor. Handcuffed by the albatross contracts he inherited, unimpressed by the organization's depth, Zaidi has tinkered with his roster at a frenetic pace. The tweaking figures to continue during the season, as Zaidi aims to create openings for players undervalued elsewhere.
The first week with Joe and Reed demonstrated the risk of that approach. Reed was cut Tuesday when Zaidi acquired Toronto Blue Jays outfielder Kevin Pillar. Joe clung to his roster spot after opening his career 0 for 13. As a Rule 5 pick, Joe would be returned to the Dodgers organization if he doesn't remain on the Giants' 25-man roster all season.
Back in the Bay Area, fans wondered about why the Giants parted ways with homegrown hitter Mac Williamson and ignored free agents such as Carlos Gonzalez and Adam Jones.
Zaidi did not completely overlook veterans this offseason, but he avoided multiyear commitments in deference to the organization's bloated payroll. The Giants owe $92 million in guaranteed salary for the 2021 season, more than any team in baseball except the Boston Red Sox ($136.7 million) and the New York Yankees ($94.7 million). Given the difficulty in moving the contracts of players such as Brandon Crawford, Evan Longoria and Jeff Samardzija, the team must search other avenues for talent.
"It's important for us to get some other guys over the hump, and have them become important big league contributors," Zaidi said.
Zaidi excelled in this area while in Los Angeles. Two years earlier, Zaidi contacted Muncy shortly after the Oakland Athletics released him. Zaidi believed Muncy possessed excellent bat speed and a discerning eye, but was stifled with Oakland. Muncy took a minor league deal with the Dodgers, made a series of swing alterations in triple-A Oklahoma City in 2017 and bashed 35 homers for the Dodgers in 2018.
After being called up last April, Muncy benefited from the infrastructure created by Zaidi and president of baseball operations Andrew Friedman. Muncy credited the front office and the coaching staff for being direct about their expectations and the specifications of his role. He felt cocooned by both the talent of his teammates and the warmth of their reception.
"You always hear stories about other teams, you know, the young guy has to carry the bright pink backpack out to the bullpen," Muncy said. "We don't care about any of that here.
"They do a very good job here of throwing that out the window, and saying, 'Hey, we want you to be able to be yourself. We want you to do whatever it is you need to do to put yourself in a position to go out there and perform for us.'"
Taylor, the Dodgers' power-hitting utility player, expressed similar gratitude during his breakout campaign in 2017. Zaidi aimed to import that atmosphere to San Francisco, but has learned that task cannot be accomplished in one winter. His organization is in flux: Giants Chief Executive Officer Larry Baer was been suspended without pay until July after a public altercation with his wife, while manager Bruce Bochy announced he will retire after the season.
During the spring, Bochy sounded amused by the volume of new faces shuttling in and out of Giants camp. He took to quoting Sgt. Schultz from the old "Hogan's Heroes" sitcom, quipping, "I know nothing!" when asked about moves. Before opening day, he did not sugarcoat his unfamiliarity with Joe and Reed. "It's a unique position, no question," Bochy said. "I haven't done this before."
A week later, Reed was gone and Joe was seeking his first big-league hit. Joe did not join a lineup stacked with weapons, as Muncy did in 2018 and Taylor did in 2017. Brandon Belt is the only Giant to produce an on-base plus slugging percentage above .750 in 2018, and he finished at .756. Inside a pop-gun lineup, a slump-ridden rookie still stands out.
Zaidi pursued Joe because of the on-base skills he displayed in the Dodgers minor league system last season. He hinted at the promise the Pittsburgh Pirates saw when they drafted him out of the University of San Diego with the 39th overall pick in 2014. The Pirates traded Joe to the Atlanta Braves for utility infielder Sean Rodriguez in the summer of 2017; Atlanta shipped him to the Dodgers that September for international bonus money.
Given a chance in 2018, Joe posted a .408 on-base percentage and a .935 OPS between double-A Tulsa and triple-A Oklahoma City. Cincinnati took him in the Rule 5 draft this winter, and Zaidi reacquired him in late March.
"Last year he seemed to unlock power that he didn't have earlier in his career," Zaidi said. "He's a strong, physical guy, so it's not surprising that he was able to figure out how to hit with more damage."
The Giants have yet to benefit from that ability. Joe struck out in four of his eight at-bats in the season-opening series against the San Diego Padres. He went hitless against the Dodgers on Monday and again Tuesday. Pillar joined the Giants in the middle of Tuesday's game. He will likely siphon at-bats from Joe.
Joe had bounced from the minor-league shadows with the Reds to the big-league spotlight with the Giants. He was not worried about adjusting to his new environment. He was more concerned about getting on base.
"I've checked a lot of these boxes in my short career," Joe said. "And it's something that I've been able to do fairly well. At the end of the day, it's a clubhouse full of a bunch of dudes. Once you step onto the field, it's the same game."
Twitter: @McCulloughTimes
---
Get our Dodgers Dugout newsletter for insights, news and much more.
You may occasionally receive promotional content from the Los Angeles Times.