And the award for best supporting actor in a walk-on role goes to ... Brewers pitcher Wade Miley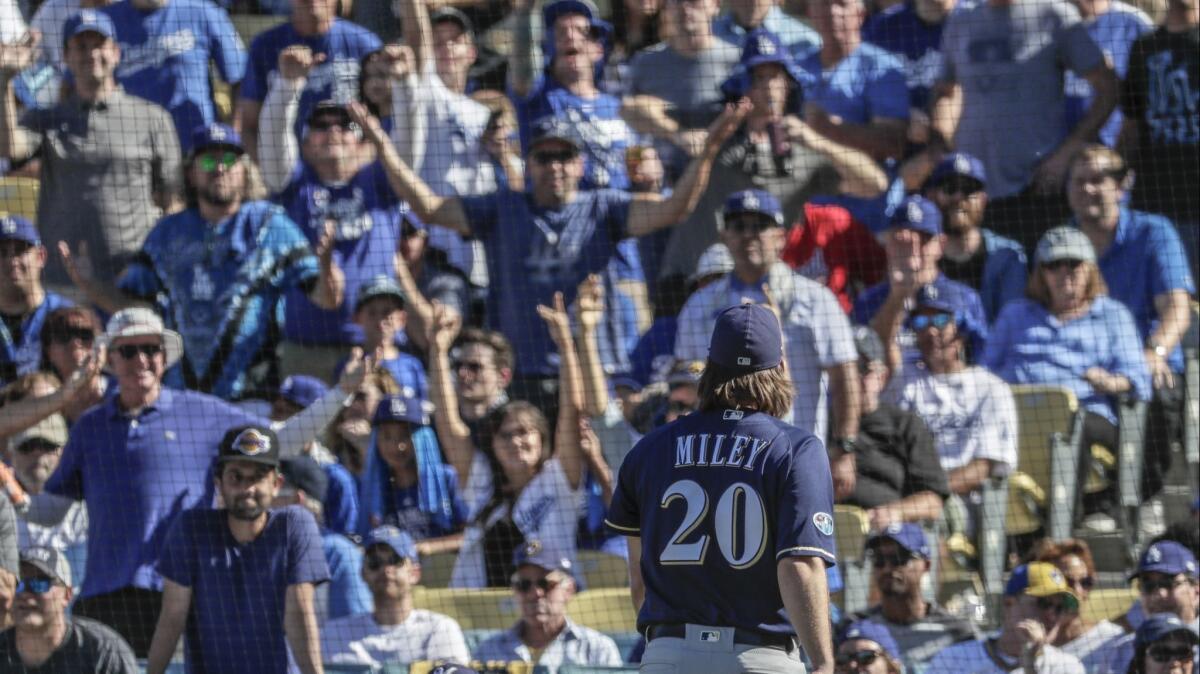 Wade Miley might not have won the game, but he won best supporting actor.
The Milwaukee Brewers gave Miley a mission a couple days ago and told him to keep it secret. He would start Wednesday's game, but only in a cameo role. He could tell only a very few people within his circle of trust. He could not even tell all of his teammates.
When he went to the visiting bullpen at Dodger Stadium on Wednesday afternoon, he had to look the part of a legitimate starting pitcher. There could be no suspicion, and no accomplice. He had to warm up as if it were any old start, and he had to sell it.
As he warmed up, the fans were buying it.
"The fans were yelling at me that I sucked," Miley said. "Just another day."
That was the first scene in one of the oddest acts in postseason history. Miley would start the game, face one batter, and exit. Not because he was injured, mind you, but because the Brewers had hidden a bit of subterfuge under their caps.
"I don't know what 'subterfuge' means," Brewers manager Craig Counsell protested, but not convincingly.
Once the teams had exchanged their lineup cards, the Brewers' bullpen coach signaled to a pitcher waiting in a bullpen shed. Brandon Woodruff emerged, and he started warming up.
The first pitch had not yet been thrown, but Miley had left the bullpen, the lineups were official, and the Dodgers could not scratch a player without losing him for the day.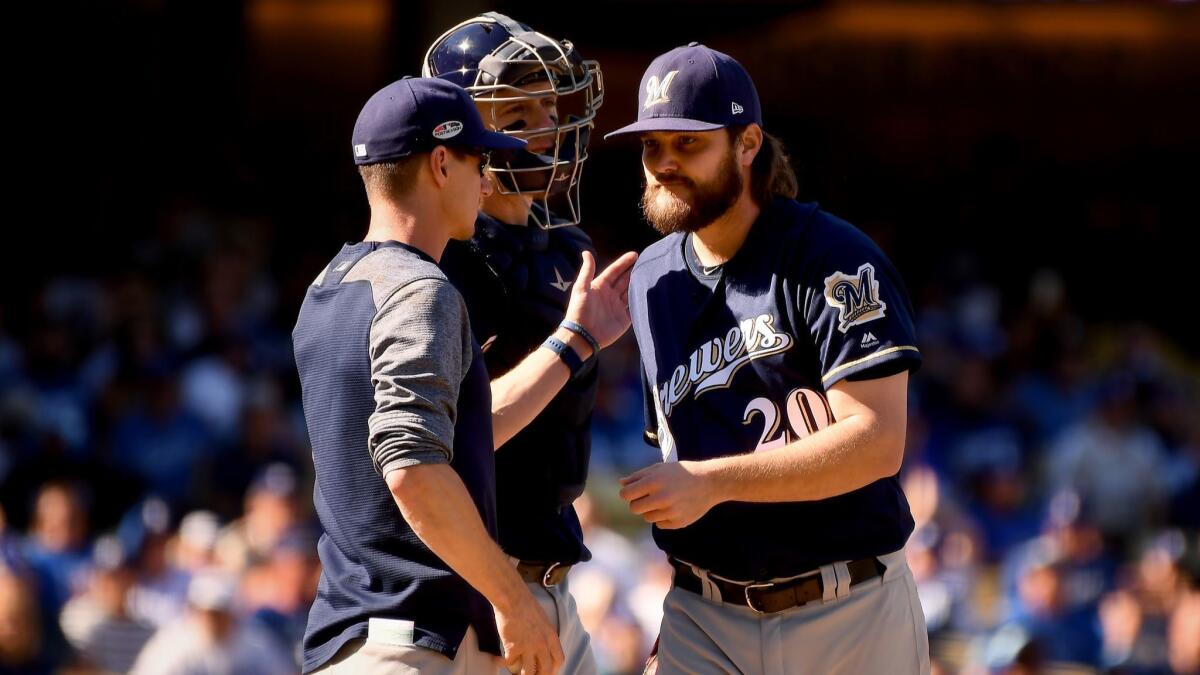 The Dodgers had a sense something might be up, even if they were not sure exactly what that might be. They knew that Miley would be starting on short rest, and that any start probably would be short anyway because the Brewers rely on their relievers.
And, with Zach Davies replacing an injured Gio Gonzalez on the Milwaukee roster on Wednesday, the Dodgers knew that the Brewers had a fresh arm, so Miley would not be needed to eat up innings on the day after a 13-inning game.
When the Dodgers faced the left-handed Miley in Game 2, they did not include a left-handed bat in their starting lineup. Miley pitched into the sixth inning. The Dodgers suspected he would not go as long on Wednesday, so they included the left-handed Cody Bellinger and Max Muncy in their lineup.
"You've got to prepare for the unexpected," manager Dave Roberts said.
The Dodgers did not know how right they would be. Bellinger led off, for the second time this season. Miley walked him, and he was done. He had become the first starting pitcher in postseason history to leave after one batter without being injured.
Call it subterfuge or call it strategy, but Milwaukee catcher Erik Kratz saw no reason to call the plan foul.
"Is it against the rules?" he said. "Is it bush league? We've got a lot of bush league.
"If it's bush league, you can call it bush league. I don't think it is. They're all on our team. This isn't like — what's the movie? — 'White Men Can't Jump,' where they're picking guys out, like ringers and stuff. Brandon Woodruff is a really good pitcher."
The Brewers' Lorenzo Cain stood in center field, caught off guard. He had no advance notice that Miley would face the first batter and Woodruff the second.
"It's playoff baseball," he said. "If that's what you need to do to win, do it."
And that's the thing. The Brewers did not win.
Woodruff did well enough. He pitched into the sixth inning, gave up two earned runs, and struck out eight. The Brewers bet that they could force the Dodgers into losing too many players too soon, and the Brewers lost.
"They're a very tough team to get matchups against," Counsell said. "And we weren't able to give Woody some matchups."
Necessity is the mother of invention, and the Brewers are extraordinarily inventive. They are in the National League Championship Series because they have maximized the use of a talented bullpen, but they are one defeat from winter because they have no choice. They have no starter to counter Clayton Kershaw, or for that matter Justin Verlander or Chris Sale.
"Pick the five best starters in baseball — [Jacob] deGrom, Verlander, [Max] Scherzer — if we had those three guys at the top of our rotation, I think Craig would be really comfortable," Brewers general manager David Stearns said. "I don't think he'd have a problem letting those guys run out there."
What the Brewers had, instead, was Miley, pitching on his bullpen day, for one batter. The Brewers will start him again, on Friday, in a game that will end their season if they do not win.
Kershaw pitched seven innings on Wednesday. In the Brewers' seven postseason games, none of their starters has completed six innings. In three of those games, the Milwaukee starter has not even worked beyond the second inning.
That is Plan B, for Brewers.
Miley, asked how long he might go on Friday, offered an answer that could fairly be categorized as beyond optimistic.
"Nine innings," he said.
He paused, taking in the bemused faces in the semicircle of reporters that surrounded him.
"Why are you all laughing?" he said.
Follow Bill Shaikin on Twitter @BillShaikin
Get our Dodgers Dugout newsletter for insights, news and much more.
You may occasionally receive promotional content from the Los Angeles Times.