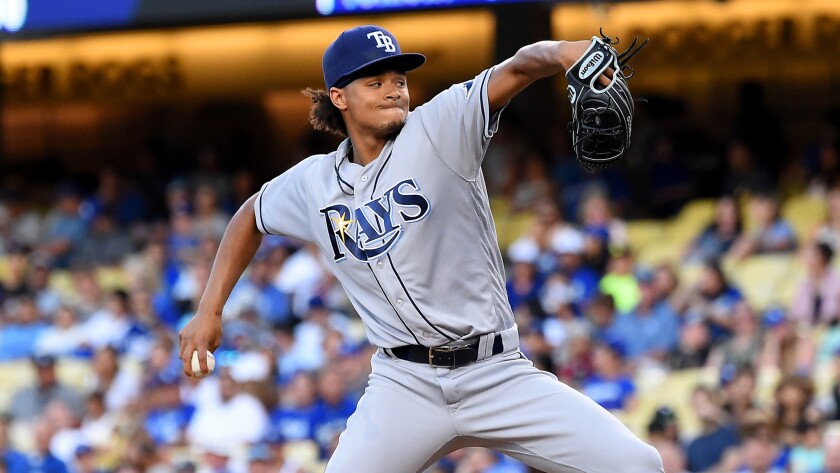 As the final 24 hours approached before baseball's trade deadline, the Dodgers continued to engage the Tampa Bay Rays about pitchers Chris Archer and Matt Moore and the Cincinnati Reds about outfielder Jay Bruce.
The Dodgers also find their way into other reports — the Chicago White Sox about pitcher Chris Sale, the Oakland Athletics about pitcher Rich Hill and outfielder Josh Reddick, the Milwaukee Brewers about catcher Jonathan Lucroy — in large part because a team with a top payroll, top prospects and a creative front office shows up everywhere in trade rumors.
However, Dodgers Manager Dave Roberts said Sunday morning that he was prepared to brace his players for the possibility that a major trade might not take place.
"It might not," Roberts said. "There's obviously a lot of speculation."
The Dodgers made one internal move Sunday, activating utilityman Enrique Hernandez from the disabled list and returning catcher Austin Barnes to triple-A Oklahoma City. Hernandez was in the lineup Sunday in center field, with Yasiel Puig in right field. Puig, who has been hobbled by a sore hamstring, is making his first start in 11 days.
Roberts said he did not know whether a trade would take place. He said any team could get better but argued the Dodgers had no obvious need to fill.
"Our club is as balanced as any club is in baseball," he said. "There's really no one area that is bigger than the other for us."
Really?
See the most-read stories in Sports this hour »
"We have depth with starting pitching," he said. "The 'pen has been very good. Our offense has come alive."
Starting pitching might need more than depth, with the uncertainty over when Clayton Kershaw might pitch again. Andrew Friedman, the Dodgers' president of baseball operations, has said he is focused on "elite-level talent," which in the starting pitching market means Archer and Sale.
"You have to weigh what you give up for a starter," Roberts said. "To get something special like that — there are a couple names everyone has talked about — you've got to give up something really special."
Roberts also said Alex Wood, who started 10 games this season before going onto the disabled list in June and undergoing elbow surgery in July, would be used as a reliever if he can return this season. Brett Anderson, who has not pitched this season after back surgery, is scheduled to make two more minor league rehabilitation starts and is expected to rejoin the Dodgers' rotation thereafter.
Roberts also said he did not expect reliever Chris Hatcher to pitch again this season. Hatcher, who has a 5.53 earned-run average, was put on the disabled list July 19 because of a strained oblique.
Twitter: @BillShaikin
MORE FROM SPORTS
Rams' first official practice since their return to L.A. is a reality show, in the best sense
Fencer Ibtihaj Muhammad is about to make U.S. Olympic history
Reading the waves: U.S. Open of Surfing hopes for big swells for quarterfinals
---