Disappointment reigns in the Dodgers clubhouse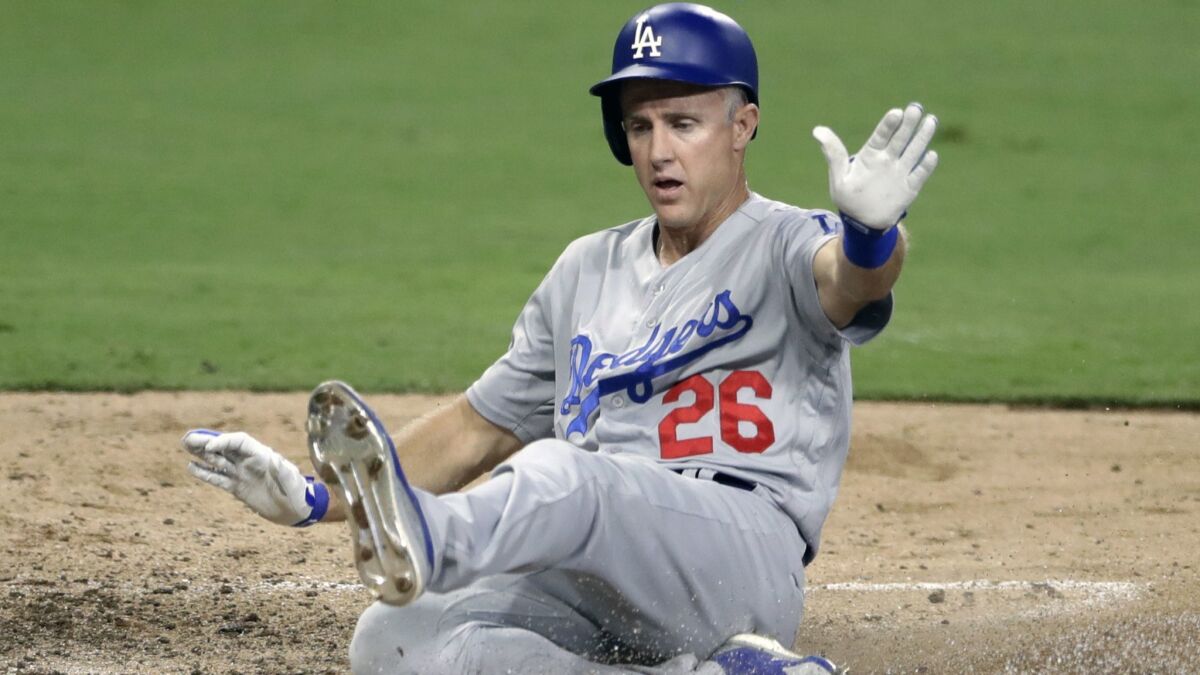 It was quiet in the clubhouse that didn't see baseball players shoot corks at the ceiling Sunday night.
So quiet the noise clubhouse attendants made stretching packing tape over boxes was heard clearly on the other side of the room.
After a second consecutive World Series defeat, some Dodgers, like red-eyed reliever Pedro Baez, were too overcome by emotion to grant interviews.
"I'm sorry, not right now," he told one reporter in Spanish as he moved away from his locker.
Others milled about their clubhouse just long enough to share their reactions.
"Watching them run out on that field sucks," infielder Max Muncy said. "It's a crushing feeling. It's defeating. There's only one team every year that gets to go home after a win. Really wanted to be it and it wasn't us, so it's very disappointing."
Muncy's walkoff homer in Game 3 to end a low-scoring affair in the 18th inning was one of just six hit by the Dodgers in the World Series. They ranked second in baseball with 235 home runs during the regular season, but the Red Sox out-homered them in the final round. Boston, which led the major leagues with a .453 slugging percentage, hit eight home runs in the World Series. Steve Pearce, who earned most-valuable-player honors, hit three of them.
No Dodgers player had more than one.
"Every year is a little different, but the sting, the hurt is pretty similar, to be honest," catcher Austin Barnes said. "You don't know how many times you'll get a chance like this."
Slugging wasn't the Dodgers' only problem. They batted .200 (four for 20) with runners in scoring position and never got a hit in three chances with a runner at third base. The Dodgers' offense shriveled with runners on base; they hit just .169 (11 for 65).
But Boston was dominant in situational hitting from the beginning of the playoffs. The Red Sox finished with a major-league record for batting average (.420), on-base percentage (.567) and slugging percentage (.780) with runners in scoring position and two outs in the postseason. In the World Series alone, the Red Sox batted .471 and slugged .882 in the same category.
"The team that played better won the Series, that's for sure," Muncy said. "That's all that matters. It doesn't matter who's the better team. All that matters is they played better."
The Dodgers gave up 28 runs and allowed a .222 batting average. Their 4.85 earned-run average was higher than Boston's by more than two points.
From the moment they took control in Game 1, Dodgers relievers struggled to put out fires. Two of the five earned runs Clayton Kershaw was charged in the World Series opener crossed the plate with reliever Ryan Madson on the mound. Madson allowed three more inherited runners to score in Game 2 and another two in Game 4. The Dodgers bullpen, which had been charged seven earned runs during the first two rounds of the playoffs, also gave up 14 of its own runs in the World Series.
The Red Sox's bullpen had been written off before the playoffs began, but their relievers hardly faltered in the postseason. Buoyed by the performance of starter Nathan Eovaldi in the bullpen, they permitted the Dodgers only four earned runs in 25 2/3 innings.
The formula yielded disaster, and it sent the Dodgers packing earlier than they'd hoped.
Still, Dodgers second baseman Chase Utley, who announced in July he was retiring at the conclusion of the 2018 season, reminded his teammates of a few positives when they gathered in the clubhouse.
"We talked a little bit after the game, a few guys said some things," Utley said. "This group should — I know we lost in the World Series but this group should be proud of what they accomplished. The adversity that we went through during this year, and to put that aside and get to the World Series is pretty special. So I hope everyone in here can hold their heads high and be proud of what they accomplished. It'll make them better for it."
---
Get our Dodgers Dugout newsletter for insights, news and much more.
You may occasionally receive promotional content from the Los Angeles Times.