Matt Kemp on wall crash: 'Now I know how football players feel'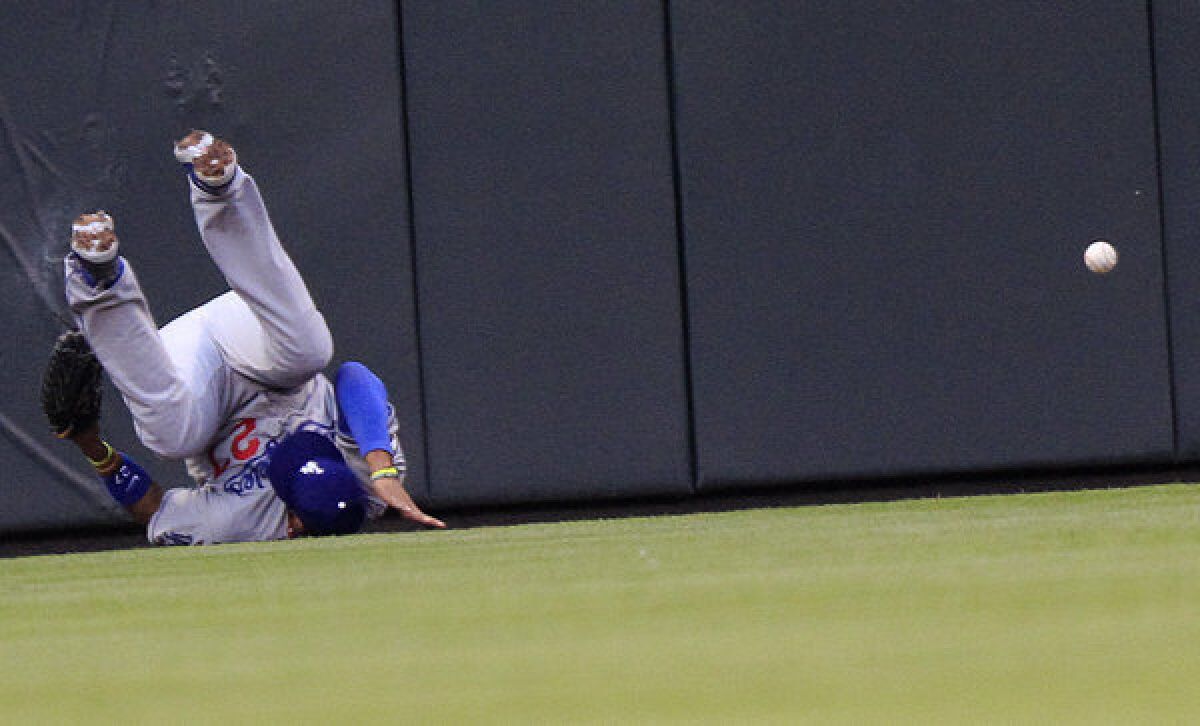 DENVER -- Matt Kemp was back in the Dodgers clubhouse Wednesday morning, still sore from his head-on crash with the center-field wall at Coors Field the previous night.
"Now I know how football players feel, when the wide receivers come up the middle and get hit and not know," he said.
Kemp was relieved by the results of the tests he underwent Tuesday night. A CAT scan on his jaw came back negative and an MRI exam on his left knee showed nothing more than a bruise.
"It could have been way worse so I'm definitely lucky," Kemp said. "I feel pretty blessed."
Kemp was out of the lineup and said he didn't know when he could play again.
"I don't know how much time," he said. "I just know that my knee … it's sore right now. … Hopefully, just a day. We'll see how everything goes."
Kemp joked about the crash, which happened in the first inning of the Dodgers' 8-4 loss.
"Hey, I made it on ESPN, I think," he said. "That's going to be 'Not Top 10 Plays.'"
Kemp remained in the game for two more plays. Both times, the ball was hit to him.
"The crazy thing is, right after I do that, I'm thinking to myself, 'Please, don't hit the ball to me,'" he said. "And then two times in a row."
Kemp also made light of how he crashed into a different part of the wall in the series opener Monday.
"I survived the first day," he said. "The second day, the wall got me. So we're tied. Hopefully, we don't have to fight any more. We just stay tied."
Kemp said the incident wouldn't change his all-out playing style.
"Not at all," he said. "I just play the game."
He also said he had no interest into moving to a corner outfield position, where his body could take less of a pounding.
"I'm a center fielder, man," he said.
ALSO:
Test show no serious injury to Matt Kemp's knee or jaw
Dodgers need to play Hanley Ramirez at third, Luis Cruz at short
Dodgers payroll for 2013 already $100 million more than this season
Get our Dodgers Dugout newsletter for insights, news and much more.
You may occasionally receive promotional content from the Los Angeles Times.