Mark McGwire officially named Dodgers hitting coach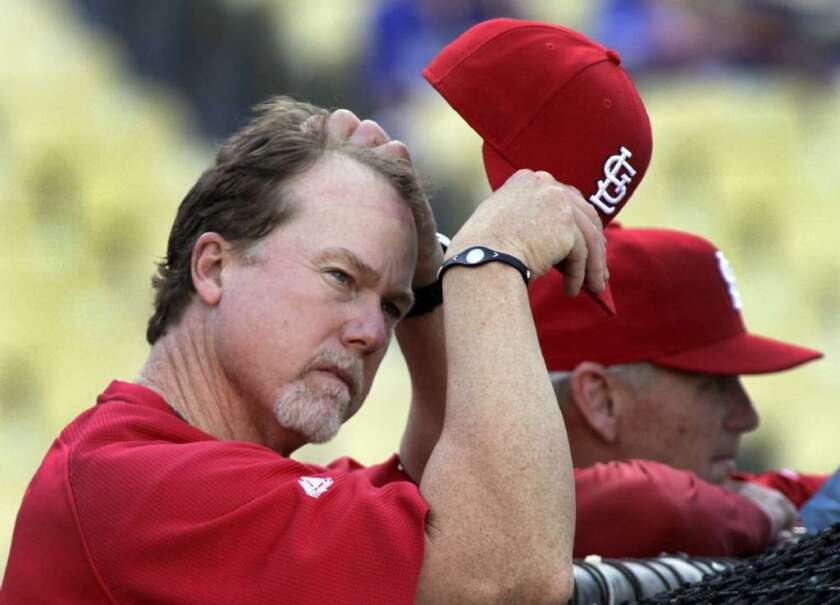 INDIAN WELLS -- Mark McGwire was officially named the Dodgers' hitting coach on Wednesday.
A former single-season home run record holder, the 49-year-old McGwire was the St. Louis Cardinals' hitting coach the last three seasons. McGwire, whose legacy was tainted by steroid use, will replace Dave Hansen, who was fired last month.
This will be a homecoming for McGwire, who graduated from La Verne Damien High and played at USC. He has an off-season home in Orange County.
In 1998, both McGwire and the Chicago Cubs' Sammy Sosa pursued and broke Roger Maris' 37-year-old single-season home run record of 61. McGwire, then playing for the Cardinals, finished the season with 70 home runs to set a new standard. Sosa belted 66 homers.
But that memorable season came under scrutiny in subsequent years when former teammate Jose Canseco accused McGwire of using steroids in a 2005 book. Later that year, McGwire testified in front of Congress in a hearing on steroids. While fellow witnesses Sosa and Rafael Palmeiro denied ever using steroids, McGwire repeatedly sidestepped the issue by saying he didn't want to talk about the past.
In 2010, McGwire admitted to using performance-enhancing drugs throughout his career. The public confession came before he was about to start his first season as the Cards' hitting coach.
Over his three seasons coaching Cardinals batters, the team led the National League in hitting (.269) and on-base percentage (.337) and were second in runs (2,263).
"Mark has been able to translate his success as a big league hitter into his work as hitting coach with the Cardinals," Dodgers General Manager Ned Colletti said in a statement. "He earned the respect of both veterans and young players while in St. Louis and the offensive numbers the Cardinals produced under his tutelage speak for themselves. We're excited to have him join our coaching staff and anticipate great things from his work with our hitters in 2013 and beyond."
ALSO:
Mark McGwire expected to be Dodgers' hitting coach
The short career of Tagg Romney, Dodgers executive
Dodgers marketing genius continues: 10 more bobbleheads!
---
Get our Dodgers Dugout newsletter for insights, news and much more.
You may occasionally receive promotional content from the Los Angeles Times.