The high cost of the Dodgers signing a free-agent pitcher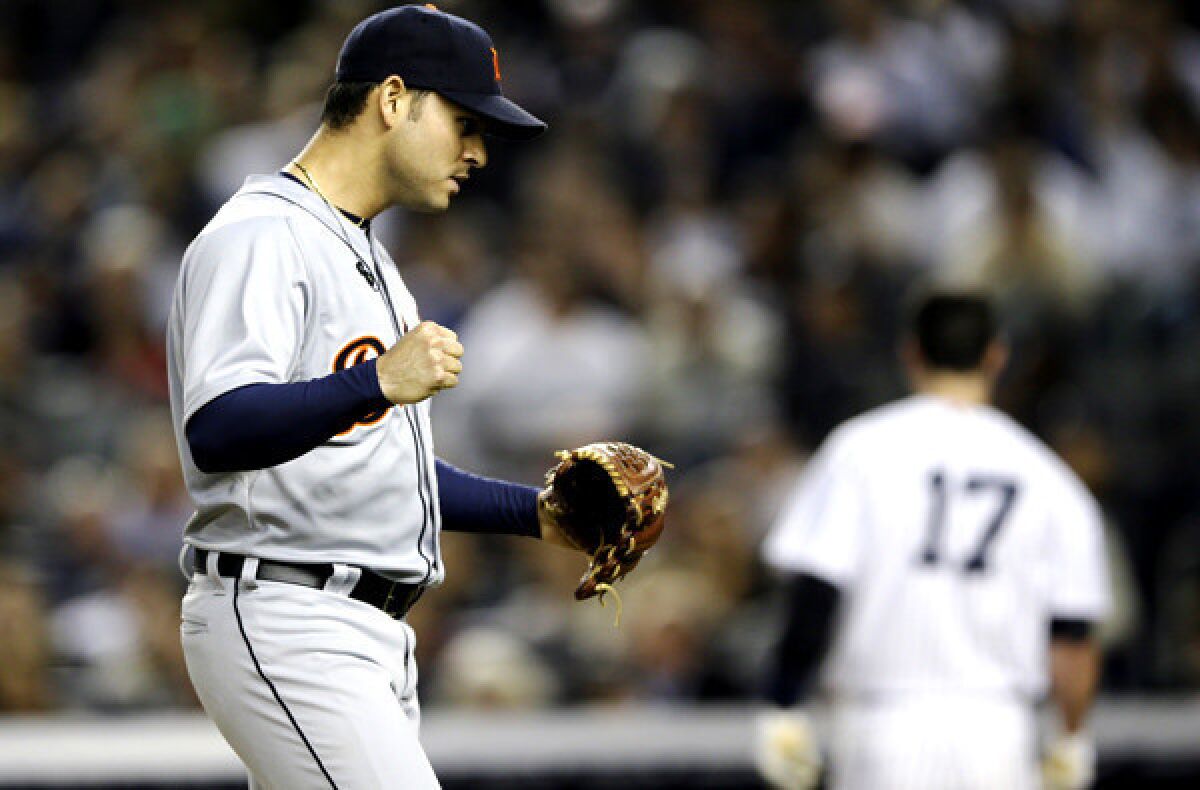 Now, if you are the Los Angeles Dodgers and have determined you need an additional starting pitcher, what exactly do you do? Ah, the choices.
Every other team fears you right now, not necessarily because of the team you've put together but because of a displayed willingness to spend whatever it takes to put it together. Like the Dodgers are operating with play money.
This makes them very intimidating on the free-agent market. And to various degrees, the Dodgers have been linked to three free-agent starting pitchers — Zach Greinke, Anibal Sanchez and Hiroki Kuroda.
All have their pluses and minuses.
Of the three, only Greinke would qualify as an ace, who could truly give the Dodgers' rotation that one-two punch along with Clayton Kershaw that becomes feared in the postseason.
But one report has Greinke looking for a six-year, $150-million deal. And, of course, there is Dodgers controlling partner Mark Walter's late-season comment on his reluctance to offer pitchers long-term contracts: "Pitchers break."
Sanchez, who like Greinke will be 29 to start the season, is reportedly searching for a five-year, $90-million contract. Honest.
Kuroda, the former Dodger who was well regarded during his four seasons in Los Angeles, continues to be linked to the team, though it's hard to imagine.
Kuroda will be 38 in February. Unlike Greinke and Sanchez who were traded mid-season, making their teams ineligible for draft-pick compensation, signing Kuroda for a year or two would cost the Dodgers their next first-round pick. Where exactly is the logic in signing an old pitcher at the cost of a first-rounder?
Sanchez might offer middle-ground attraction to the Dodgers, but not at his reported asking price. He went a combined 9-13 with a 3.86 earned-run average and a 1.27 WHIP last season. He is a very good pitcher, but has always seemed a bit of an underachiever.
The Dodgers could take a flier at Sanchez at maybe three years and an option, but if he's going to insist on five years and close to $100 million, they would seem better served to look at Greinke.
Over his last five seasons, Greinke is 70-43, with a 3.39 ERA, 1.19 WHIP and has averaged 207 innings. Yeah, pitchers break. But conventional wisdom might not be appropriate in an unconventional time for the Dodgers, a time when they're trying to build an instant contender while fortifying their farm system.
The other avenue is to trade for a starting pitcher. But teams are reluctant to part with quality starters, particularly at the current cost of attempting to replace them. And that costs quality players going out.
ALSO:
Dodgers' Adrian Gonzalez draws a big crowd in Tijuana
Fox's decision to sell Dodgers could cost it fortune in TV rights
Daily Dodger in Review: Bobby Abreu was a minor risk worth taking
---
Get our Dodgers Dugout newsletter for insights, news and much more.
You may occasionally receive promotional content from the Los Angeles Times.